Cultural Heritage Certificate Program
Professional Certificate Program in Cultural Heritage Tourism
September 30, 2019 – November 17, 2019
In partnership with the George Washington University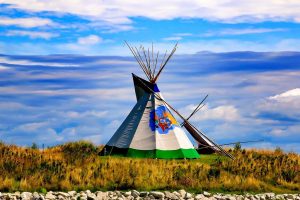 Increasingly, travelers are interested in authentic experiences that allow them to witness firsthand the lives and traditions of indigenous people. For these communities, which are often struggling to find ways to increase their livelihoods, tourism can provide an economic incentive to sustainably maintain cultural and natural resources while fostering a sense of cultural pride.
The Professional Certificate Program in Cultural Heritage Tourism, produced by AIANTA in partnership with the George Washington University, is designed to provide tourism entrepreneurs and community leaders with tools to identify assets and develop tourism programs that preserve cultural identity and authenticity.
Requirements
Designed to be flexible and meet the needs of busy individuals interested in professional development and career advancement, the Professional Certificate in Cultural Heritage Tourism program is comprised of six courses. One course is scheduled per week during two three-week blocks with a one week break between the two blocks.
Each week typically features a course lecture, a guest lecture and selected readings. Participants are also required to contribute to a chat-style forum with other classmates as well as complete a written assignment at the end of each course.
Upon successful completion of the six courses, students will receive a Professional Certificate in Cultural Heritage Tourism from The George Washington University School of Business. This is a non-credit, non-degree program.
"I thoroughly enjoyed the six weeks of learning about Cultural Heritage Tourism. Now that I have finished this course, I feel confident to be able to discuss with our tribal and treaty council different avenues which can be taken to develop a quality tourism destination program.
I highly recommend the course for all who are involved in any aspect of tribal tourism!"
–Dorothy FireCloud
Superintendent of Montezuma Castle and Tuzigoot National Monuments
National Park Service
Courses
Intro to Cultural Heritage Tourism
September 30 – October 6, 2019
Examine the range of cultural heritage assets that can help to attract and engage visitors, which in turn can drive economic development and cultural preservation. The curriculum covers best practices for planning, management and shared stewardship, which are all components of successful cultural heritage tourism.
Tourism Planning and Management
October 7 – October 13, 2019
The rapid growth of tourism worldwide has created many challenges and opportunities for established and emerging destinations. This module focuses on conducting destination assessments to evaluate tourism potential and examining the costs and benefits of a sustainable tourism development program.
Community-Based Tourism
October 14 – October 20, 2019
Participants are introduced to the issues and challenges involved in developing a community-based tourism program in order to plan and implement their own program.
Tourism Marketing
October 28 – November 3, 2019
Marketing plays a critical role that in tourism development. Learn basic promotional techniques that can help effectively raise awareness of a new or existing tourism product or destination.
Workforce Development
November 4 – November 10, 2019
Outstanding customer relations is critical in the hospitality industry. Learn strategies that can be used to deliver the highest levels of service.
Best Practices in Event Management
November 11 – November 17, 2019
Learn industry best practices on research, design, planning, coordination, risk management and evaluating a successful conference, meeting or event.
About The George Washington University
As a global leader in tourism education and research, The George Washington University's International Institute of Tourism Studies has been guiding businesses, communities, governments and nonprofits toward sustainability for thirty years. The Institute advances critical industry issues through thought leadership and research, and we offer professional-level certificate programs, courses and workshops in destination management and cultural heritage tourism.
More Information
For more information, email culturaltourism@gwu.edu or contact Sherrie Bowman at sbowman@aianta.org or (505) 209-2479 or Glenda Toledo at gtoledo@aianta.org or (505) 433-2120.