2019 Go International Agenda
Part of AIANTA's International Marketing Program, the two-day Go International seminar is designed to prepare tribes and Native-owned tourism businesses for the international marketplace.
Sunday, January 27
9:00 a.m. to 4:00 p.m.
Mobile Workshops to Kasha-Katuwe Tent Rocks National Monument and Cochiti Pueblo
The Kasha-Katuwe Tent Rocks National Monument offers an opportunity to observe, study and experience the geologic processes that shape natural landscapes. Our workshop hosts will be representatives from the national park and the Pueblo of Cochiti, offering insight on their partnership on managing the park. So, pack your sneakers or hiking shoes and wear comfortable clothes for a day on the trail.
Fee: $60 per person, includes lunch | Limited to 50 participants
Monday, January 28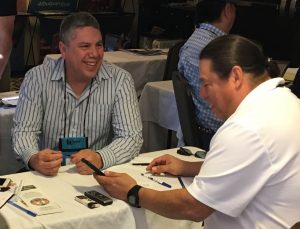 Welcome and Introduction
8:00 a.m. Welcome and Introductions | Camille Ferguson, Executive Director
8:15 a.m. Program Overview | Emerson Vallo, Board Member (moderator)
8:30 a.m. AIANTA's International Programming | Camille Ferguson and International Outreach Coordinator
Introduction to International Tourism
9:00 a.m. Funding through the NATIVE Act | Ed Hall, BIA
9:30 a.m. Break & Networking
9:45 a.m. Data Information for International Market | Julie Heizer, Industry Relations National Travel and Tourism Office
10:45 a.m. Product Ready | Valerie Dulin, Tauck Tours
12:00 p.m. Lunch
Preparing and Welcoming Your International Guests
1:00 p.m. Creating Itineraries | Valerie Dulin, Tauck Tours
2:00 p.m. The Strategy of Familiarization Tours | Dawn Melvin, Arizona Department of Tourism
3:00 p.m. Break and Networking
3:15 p.m. Working with Tour Operators | Mary Motsenbocker, International Tourism Marketing
4:30 p.m. End of Day
Tuesday, January 29
Legal Issues
8:00 a.m. Legal Framework for Contracts | Scott Sypolt, Akerman Law
9:00 a.m. Exporting Your Tourism Services | Robert Queen, U.S. Commercial Service Export
9:30 a.m. Break and Networking
Reaching the International Marketplace
9:45 a.m. Promoting Your Destination on NativeAmerica.travel | Sandra Anderson, AIANTA
10:45 a.m. Developing A Cultural Experience | Seleni Matus, George Washington University
11:45 a.m. Lunch
Marketing and Packaging Opportunities
1:00 p.m. Preparing for Successful Trade Show | Mary Motsenbocker and Camille Ferguson
2:00 p.m. Pitching Your Product or Destination | Monica Poling, AIANTA
2:45 p.m. Break and Networking
Hands-on Workshop
3:00 p.m. Build and Pitch Your Custom Itinerary | Mary Motsenbocker, Dawn Melvin, Valerie Dulin, Monica Poling and Camille Ferguson
5:00 p.m. Safe Travels
Click here to view a downloadable version of the 2019 Go International Agenda.
Go International Sponsors
AIANTA extends a warm thank you to all our valued sponsors and partners who help make Go International possible.
AIANTA's International Program is made available in partnership with the U.S. Department of Commerce International Trade Administration, through the Market Development Cooperator Program.