AIANTA CEO to Curate GoUSA TV's "Native Voices" Playlist
AIANTA CEO Sherry L. Rupert will curate the "Native Voices" playlist at GoUSA TV, the streaming entertainment platform operated by BrandUSA, the nation's travel marketing organization.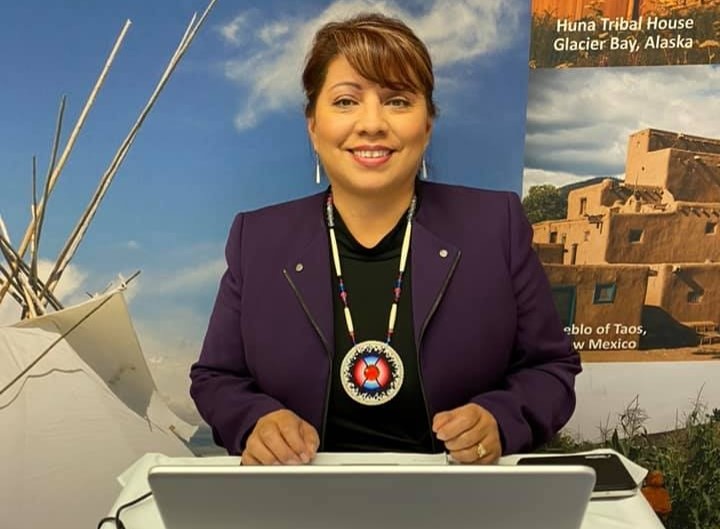 AIANTA CEO, Sherry L. Rupert
Just in time for Native American Heritage Month, GoUSA TV has launched its Native Voices playlist. The collection of streaming videos highlighting culture and traditions of American Indians, Alaska Natives, and Native Hawaiians is curated by Sherry L. Rupert, the Chief Executive Officer of the American Indian Alaska Native Tourism Association (AIANTA).
The GoUSA TV streaming platform is operated by BrandUSA, the nation's international tourism marketing organization.
"I'm thrilled to be curating this list in partnership with BrandUSA," said Rupert. "We're seeing a dramatic increase in the number of international visitors who are interested in authentic, Indigenous experiences. These videos showcase a variety of travel ideas, from the Hawaiian Islands—the birthplace of surfing—to studying Native American art through the eyes of a Navajo silversmith, and will leave all travelers excited to explore and learn more about the indigenous visitor destinations throughout the country."
For those who are seeking even more ways to honor American Indian and Alaska Native heritage this month, AIANTA has also launched its own Native American Heritage Month webpage, which highlights major happenings this month, including the opening of the new National Native American Veterans Memorial on November 11.
Just in time for Native American Heritage Month, AIANTA has also introduced its proprietary Jingle Dress thumb drive, which is available free of charge to all new and renewing AIANTA members. (AIANTA's members help support AIANTA's programming, including the American Indian Tourism Conference and AIANTA's free webinar series, which help Native American-owned businesses thrive in the tourism marketplace.)
Individuals who use November as a launching pad for their holiday shopping, can also find inspiration at AIANTA's Shop Native page, which features Native-crafted gift ideas from tribally owned and operated museums and cultural centers around the country.
More travel inspiration can also be found at www.NativeAmerica.travel, the only consumer website promoting Indian Country tourism, which provides ideas and inspiration for what to do in indigenous communities around the country.
– 30 –
About AIANTA
For nearly two decades, the American Indian Alaska Native Tourism Association (AIANTA) has served as the national center for providing tourism and recreational travel technical assistance, training and capacity building to American Indian nations. AIANTA is a 501(c)(3) national nonprofit association of Native American tribes and tribal businesses and was incorporated in 2002 to advance Indian Country tourism. AIANTA's mission is to define, introduce, grow and sustain American Indian, Alaska Native and Native Hawaiian tourism that honors traditions and values.
About GoUSA TV
Because every place has a story. Imagine a channel that features a constant source of authentic, compelling, and entertaining travel stories from across the USA. GoUSA TV is the premier destination to discover all the possibilities the USA has to offer told from the diverse perspectives of real people.
GoUSA TV is powered by Brand USA, the destination marketing organization for the United States, and is available for download on your iOS or Android smartphone or on Roku, Apple TV, Amazon Fire TV and YouTube.
For more information and images, contact:
Monica Poling
Marketing & PR Manager