Tentatively: February 6-7, 2024
8th Annual Go International February 6-7, 2024 Expanding Native Cultural Tourism Globally Successful Engagement in the International Travel and Trade Markets
AIANTA offers the annual two-day Go International training conference, designed to introduce the international market to Tribes, Tribal businesses, and Native Hawaiian businesses and support participants to identify their tourism product(s) for pricing, packaging, and selling to markets overseas.
Tribal tourism professionals, industry representatives and entrepreneurs gather to:
Hear from expert speakers from throughout the national and international tourism industry
Connect and network with one another around shared vision and goals for business, Indian Country and tourism development
Advance and develop their businesses, careers and tourism ventures
Gain an understanding of what is needed and how to participate in international markets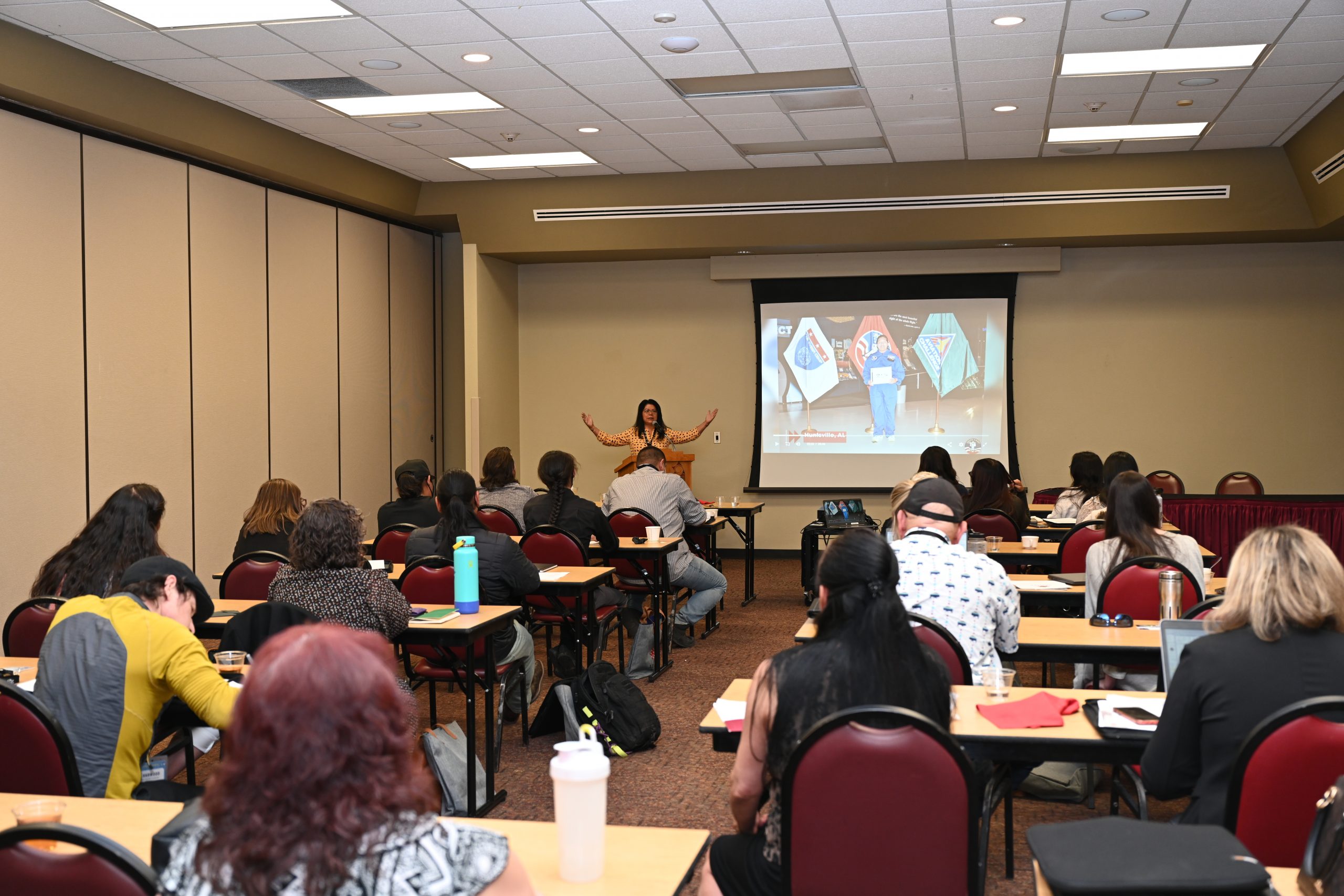 Journalist, Patty Talahongva

2022 Go International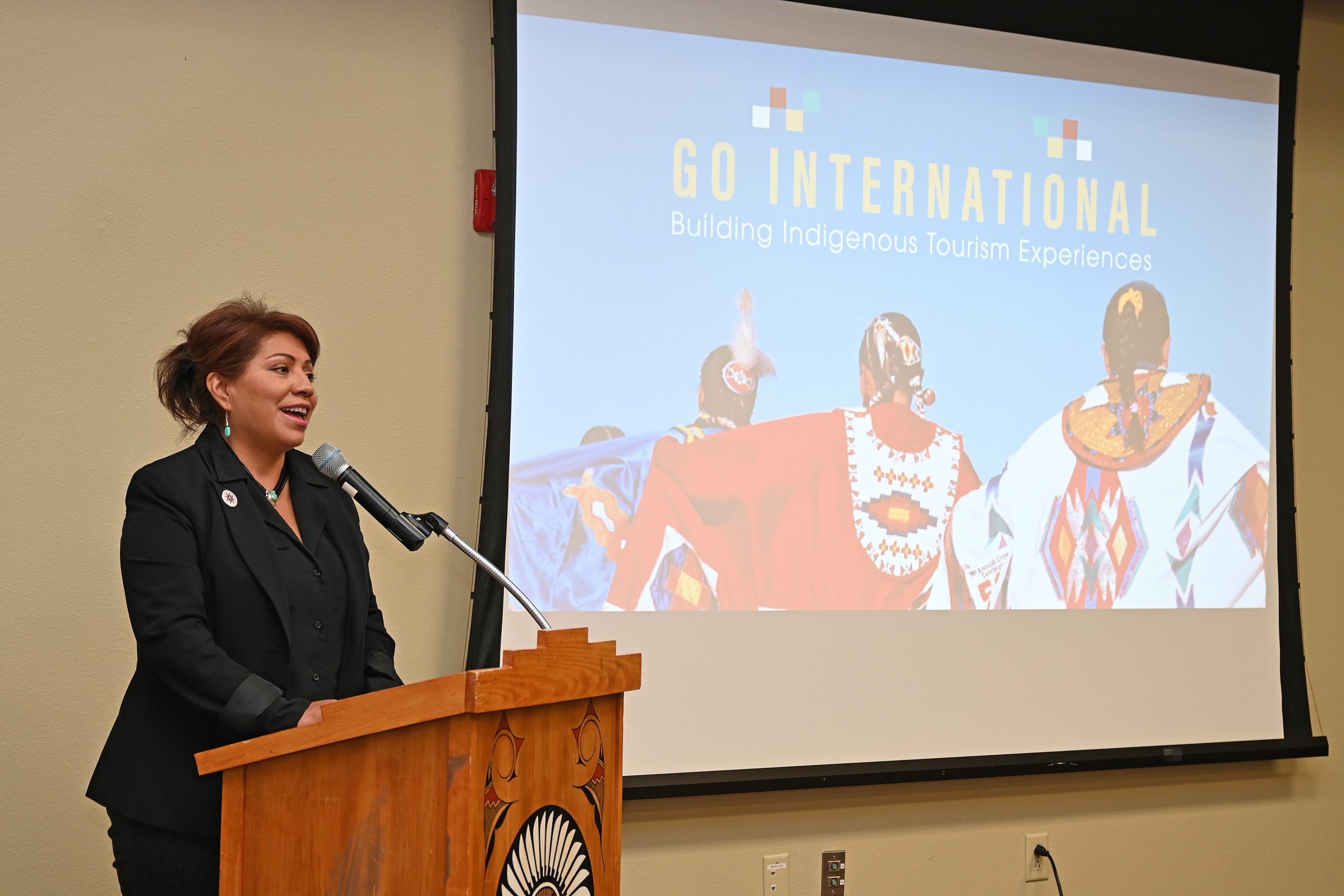 AIANTA CEO, Sherry L. Rupert

 2022 Go International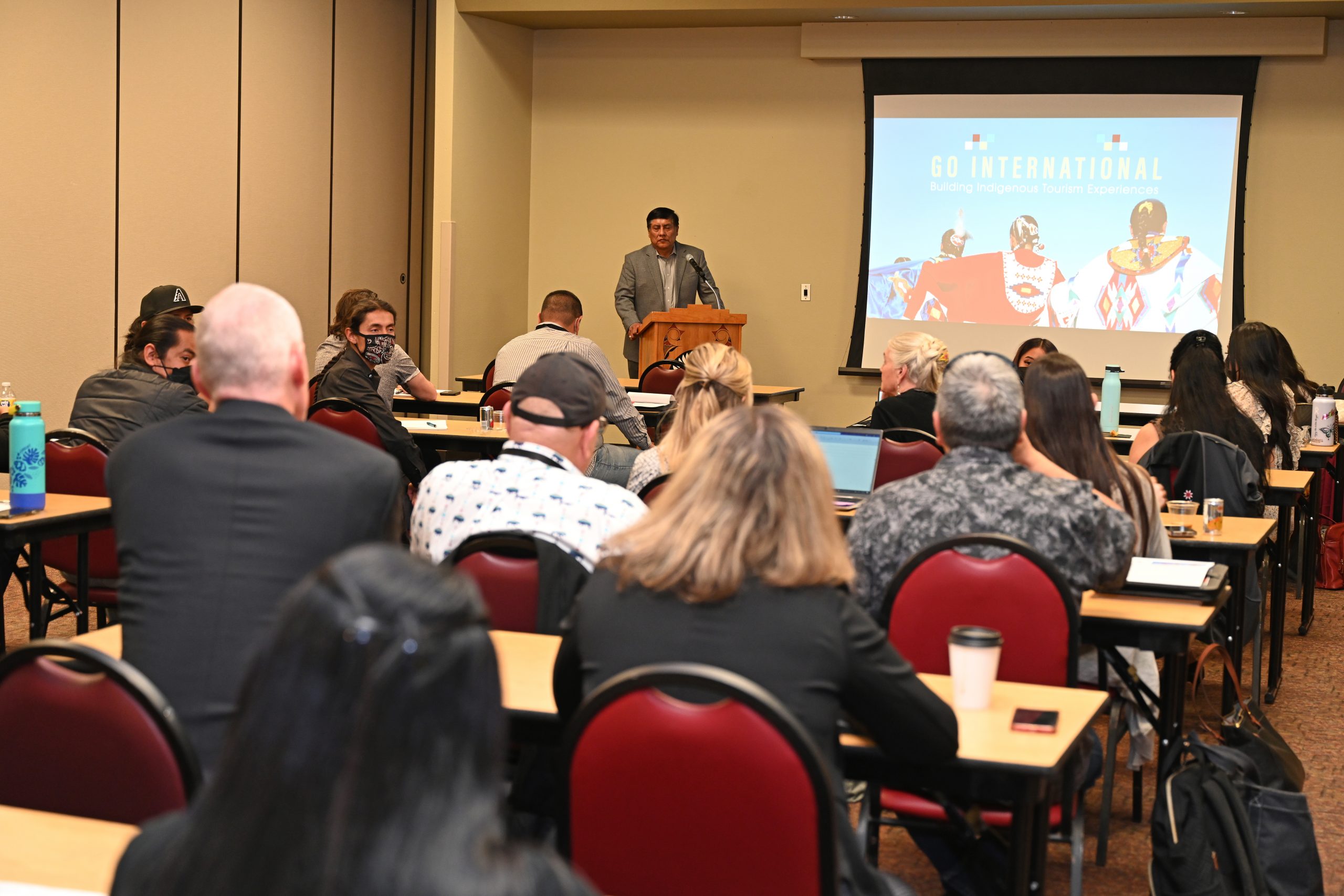 Why Attend Go International?
Expert speakers and hands-on presentations showcase how to build itineraries, how to attract domestic and international group travelers and how to work with global tour operators.
Identify your market readiness, prepare your destinations and experiences for the international visitors, and assure quality relationships with international tour operators and media to advance your products globally.
Why Sponsor Go International?
As a sponsor of the 8th Annual Go International, you will have the opportunity to promote your organization throughout the event.  Your organization will also be featured on the AIANTA.org website and all AIANTA social media platforms leading up to and throughout the event. You will also be allowed to provide brochures for placement in our attendee conference bags, along with signage throughout the conference venue. Please visit the Go International Sponsor page for more information.
Go International Venue
Albuquerque, New Mexico
7:30 – 8:30 a.m.
Registration/Check-in & Antelope Canyon Navajo Tours Sponsored Breakfast
7:30 – 10:00 a.m.
Opening Session –  Welcome & Introductions
Emerson Vallo (Pueblo of Acoma), Board President, AIANTA
Sherry L. Rupert (Paiute/Washoe), CEO, AIANTA
Fulfilling the International Desire for Indigenous Destinations and Experiences
Skylar Clark, Brand USA
Indalecio (Indy) Vallejos, Director – NM, US Commercial Services
Sherry L. Rupert, CEO, AIANTA (Moderator)
Creating a deluxe itinerary for groups may mean adding exclusive experiences such as passes to a powwow or an evening with tribal elders. In this session, AIANTA CEO Sherry Rupert discusses the many ways Indigenous communities can share their culture with visitors by building better packages.
10:00 – 10:15 a.m.
Break
10:15 – 11:45 a.m.
Special Session TBA
10:30 – 11:45 a.m.
Tradeshow from Start to Finish
Ciarra Greene, Visitor Outreach Manager, AIANTA (Moderator)
Dee Dee McGowan, Cultural Tourism and Tour Bussing Manager, Coeur D'Alene Casino & Resort
Charles Meeks, Senior Sales Manager, Inn of the Mountain Gods Resort & Casino
This conference session is designed to help attendees prepare for and make the most of their tradeshow experience. From first-timers to seasoned professionals, we will review pre-show, show, and post-show tasks to ensure a successful experience. We will discuss important topics such as selecting and scheduling appointments (matchmaking), booth planning and outreach materials/methods (considering language differences), on-site navigation and record keeping, and following up (securing buys and online booking software). Tips and best practices from experienced tradeshow goers will be shared throughout the session. Attendees will have the opportunity to ask questions and engage in conversations about their own unique experiences.
10:00 a.m. – 10:15 a.m.
Break
2:45 – 4:15 p.m.
Elevating your Destination/Experience with Indigenous Cultures Using Creative Methods of Communication, Education, and Consistency
Tianna Yellow Hair, Owner, Tatanka Rez Tourz
Elizabeth Walsh, US Commercial Service, Frankfurt (in-person/virtual)
As cultural tourism continues to increase in popularity, the international travel landscape is also seeing the rise of a phenomena called the "Experience Economy." International visitors to the United States have nearly countless "experiential" opportunities, but few offer as rich an experience as visiting an Indigenous community.  This session helps you identify unique cultural components to elevate your destination/experience, including creative methods of communication to be expressive beyond language, and maintain consistency in your tours throughout the season.
7:30 – 8:30 a.m.
Breakfast–Sponsored by Isleta Resort & Casino
8:30 – 10:30 a.m.
Welcome Back
AIANTA
Emerson Vallo (Pueblo of Acoma), Board President, AIANTA
Sherry L. Rupert (Paiute/Washoe), CEO, AIANTA
Developing Visitor Guides and Toolkits
Mālia Sanders, Executive Director Native Hawaiian Hospitality Association/AIANTA Board Member
How to develop a visitor's guide based on cultural values, care for the land/community, what visitors should know before they come, and how to incorporate these into all aspects of cultural tourism.  Consider how to honor the integrity of culture in communications and resources for visitors prior to, during, and after their visit.  The Ma'ema'e Toolkit will be shared offering a template for a cultural resource that has recently been enhanced for the visitor industry, businesses, and community organizations to portray The Hawaiian Islands in a manner that is accurate and authentic.
10:00 a.m. – 10:15 a.m.
Break
10:15 a.m. – 11:45 a.m.
Developing Your Export and Marketing Plan (Interactive/Workshop)
Monica Poling, Founder, Sounding Line Data & Consulting
This presentation will explore how to create a 1-3 year plan to boost global sales and effectively market a Native community's destination and experience. A developed export plan increases your success in landing contracts with the international travel trade.  Additionally, we will go over how to create and implement a solid marketing and media relations plan, which includes a strategy of list-building, website updates, social media postings, and more. We will discuss ways to craft a timely story about visitor experiences, which can help elevate your destination and lead to increased visitation and revenue. By the end of the session, attendees will have the tools and resources they need to create a plan to promote their own destination and experience.
11:45 a.m. -1:15 p.m.
Inn of the Mountain Gods Resort & Casino Sponsored Luncheon
1:15 – 2:30 p.m.
Define, Promote and Grow Your Operation Using One-Sheet (Interactive)
Stacia Morfin, Nez Perce Tourism CEO
To successfully promote your cultural tourism destination product you need to develop a personalized company one-sheet. A one-sheet is a single-page document that showcases specific products or services with the goal of promotion. During this interactive session, you will learn how to define and promote your unique value proposition including a list of tours, products and/or services emphasizing their unique attributes. Use the power of interactive high resolution photo/video collateral and create itinerary options for individual guests, groups, travel writers, etc. Identify captive information to include on your one-sheet: creative content, minimum/maximum capacity, travel seasons, nearest major cities, and international and domestic airports. Learn how to promote your one-sheet digitally and to secure bookings.
2:45 p.m. – 4:15 p.m.
Creating Videos to Market Your Destination/Experience
Edsel Pete, Program Manager I, Navajo Nation TV & Film
While high-quality images capture the essence of your destination/experience, video (motion media) can drive visitor decisions from simply being interested in your product to actually booking and even creating and sharing their own content.  Videos can express your brand, differentiate you from any competitors, evoke emotion, and offer a firsthand perspective of the destination/experience.  While high-cost productions are available, simple videos can be produced right from your mobile device and create a memorable moment that captures the attention of potential visitors, increasing their retention of the message by 85%. This session will offer techniques and an overview to drive your video production and grow your brand and destination/experience.
4:15 p.m.
Closing
Ciarra Greene, AIANTA Visitor Outreach Manager
For more information,  please contact Ciarra Greene, Visitor Outreach Manager at cgreene@aianta.org or call 505-724-3592
AIANTA Travel Trade Manual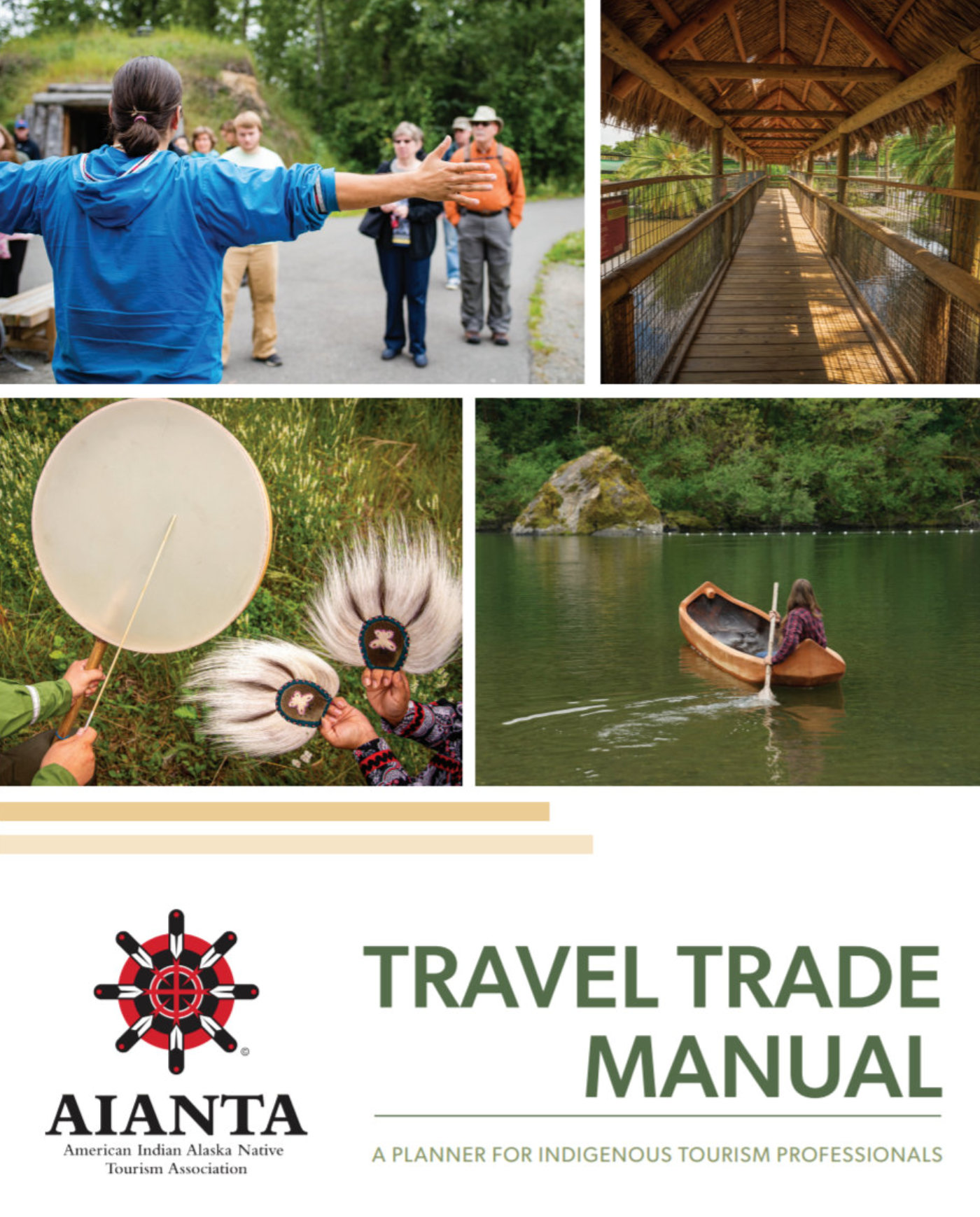 Meet Our Go International Sponsors
Bureau of Indian Affairs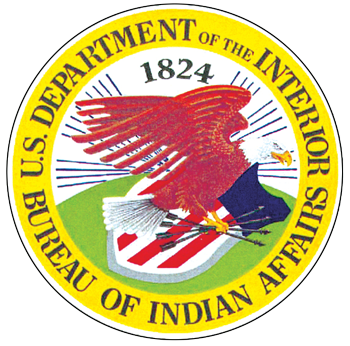 Juan Bautista de Anza National Historic Trail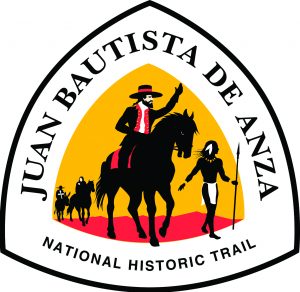 Native American Agriculture Fund

Lewis & Clark National Historic Trail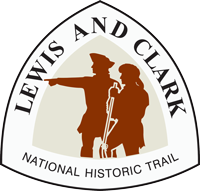 Bureau of Land Management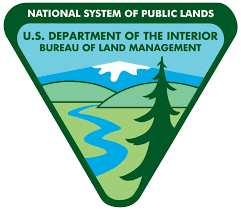 National Endowment of the Arts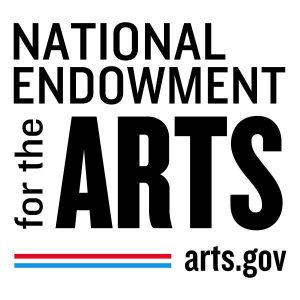 National Park Service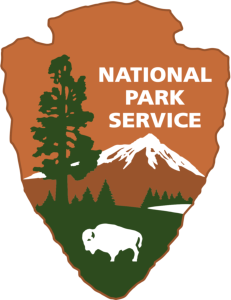 United States Forest Service