Are You Ready to Welcome the International Market?
Go International
January 27 – 28, 2020
Albuquerque, New Mexico
Overseas Travelers to Indian Country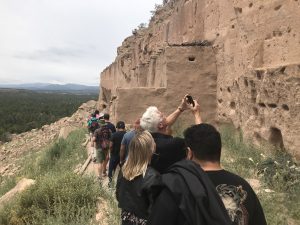 In 2018, nearly five percent of the 40 million overseas visitors to the United States reported visiting an American Indian community (VAIC).
These VAIC travelers are known to stay longer in the U.S. than the average overseas traveler, visit more destinations and spend more money.
Native American visitor destinations and experiences not incorporating overseas marketing in their business plans risk missing out on a lucrative customer segment.
Why Attend Go International?
If you're interested in targeting the international market, AIANTA's Go International two-day workshop is perfect for you.
Designed to help tribal tourism businesses find success in the international marketplace, Go International will help Tribes, tribal communities and tourism professionals conceptualize and develop their tourism product(s) and promote them to international travelers.
Agenda
Discussion topics at this year's Go International include:
Introduction
Which international markets are right for your Tribe?
Itinerary Planning
How to develop an itinerary that international visitors can't wait to experience.
Visitor Assessments
Will your product be successful? Learn how to ask your existing customers what they think.
Plan Your Pitch
Break into small groups and work with other Tribes to perfect your sales pitch.
Pricing
Correctly pricing your product is one of the most important roads to success in the tourism industry.
Marketing
Define your target market and develop a marketing plan to match.
Feedback
Present your product to industry experts and get ideas on next steps.