Professional Certificate Program in Cultural Heritage Tourism
In partnership with the George Washington University
October 5, 2020 – November 22, 2020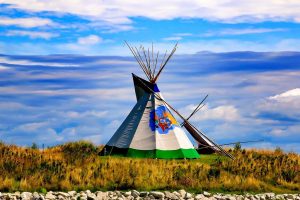 Increasingly, travelers are interested in experiences that allow them to witness firsthand the authentic traditions and cultures of Native Americans. Explore the fundamentals of Tribal tourism planning with the Cultural Heritage Tourism Certificate Program offered by AIANTA in partnership with the George Washington University.
The online program brings together industry experts who help students explore the importance of including authentic Native American cultural experiences in their tourism planning.
Courses include narrated presentations, live webinars, online discussions, and practical tools and resources participants can apply in their day-to-day experiences planning tourism programs.
Designed to be flexible and meet the needs of busy individuals interested in professional development and career advancement, the Professional Certificate in Cultural Heritage Tourism program is comprised of six online modules. One module is scheduled per week during two three-week blocks with a one week break between the two blocks.
Each week typically features a course lecture, a guest lecture and selected readings. Participants are also required to contribute to a chat-style forum with other classmates as well as complete a written assignment at the end of each course.
Upon successful completion of the six online modules, students will receive a Professional Certificate in Cultural Heritage Tourism from the George Washington University School of Business. This is a non-credit, non-degree program.
"I thoroughly enjoyed the different speakers and instructors each week. The homework load for each week's classes was very doable, even with my busy schedule. I appreciate all the knowledge I gained from this program."
–Rilda Means
Director of Community Relations & Marketing
Red Cloud Indian School
Intro to Cultural Heritage Tourism
October 5 – October 11, 2020
Tourism Resilience 
October 12 – October 18, 2020
Tourism Planning & Management
October 19 – October 25, 2020
Community-Based Tourism Product Development
November 2 – November 8, 2020
Tourism Marketing
November 9 – November 15, 2020
Workforce Development
November 16 – November 22, 2020
About the George Washington University
As a global leader in tourism education and research, the George Washington University International Institute of Tourism Studies has been guiding businesses, communities, governments and nonprofits toward sustainability for thirty years. The Institute advances critical industry issues through thought leadership and research, and we offer professional-level certificate programs, courses and workshops in destination management and cultural heritage tourism.