AIANTA Introduces 'Tribal Row' at IPW 2019
With the theme #DiscoverNativeAmerica, the American Indian Alaska Native Tourism Association and five partners will showcase the diversity of Native American cultures across the United States.
FOR IMMEDIATE RELEASE
Albuquerque, New Mexico (May 15, 2019) – Native nations from around the United States will showcase their new accommodations, tours, exhibits and programs at IPW Anaheim in June 2019. Collectively a part of the American Indian Alaska Native Tourism Association (AIANTA) booth, five exhibitors will team together under one theme, #DiscoverNativeAmerica.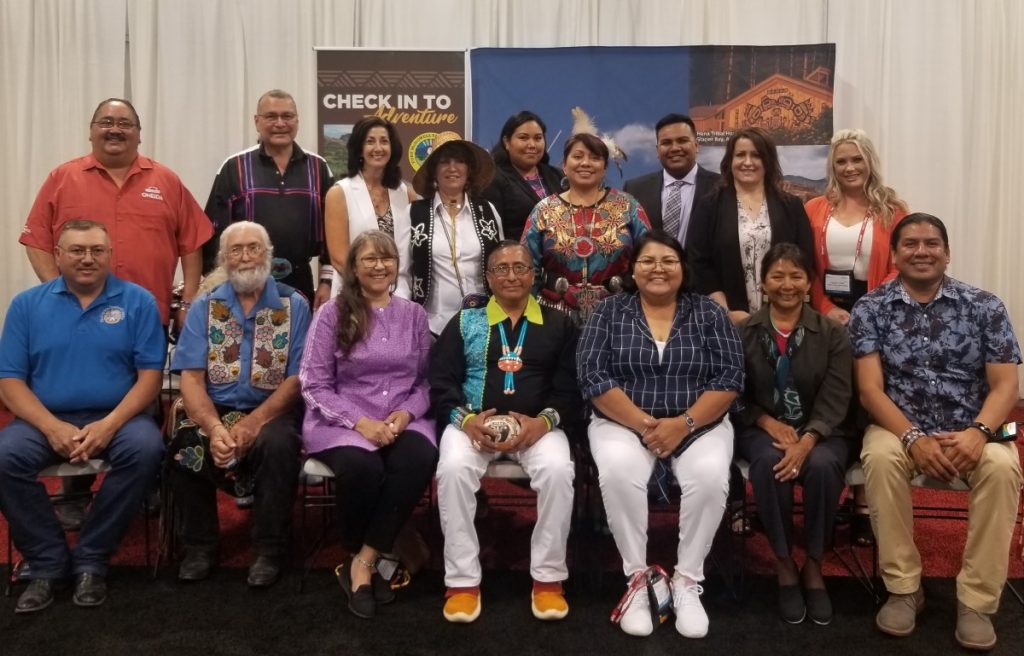 Located in Booth #3229 in IPW's National Section, AIANTA will showcase the diversity of cultures and tourism offerings that can only be found in Native American locations across the United States.
"AIANTA is thrilled to introduce Native America through its first-ever Tribal Row at IPW," said Sherry L. Rupert, AIANTA executive director. "As our Native American partners look to expand awareness for their tourism programs internationally, they are joining IPW in order to meet with international tour operators, media and other buyers to showcase the special, authentic experiences visitors can only find in Indian Country."
This year, the AIANTA IPW booth partners include:
Acoma Pueblo "Sky City" (New Mexico), a Native American pueblo reservation, is considered to be the oldest continuously inhabited community in North America. Dating back to 1150 A.D., Acoma Pueblo is registered as a historical site with the National Trust for Historic Preservation in Washington D.C. Located 60 miles west of Albuquerque, New Mexico, Acoma sits atop a sandstone mesa 370 feet above ground level. The Acoma people continue to live in the pueblo village and observe the traditional way of livelihood, including the preservation of native culture, tradition and the Keres language. Also a must-see is the Sky City Cultural Center & Haak'u Museum, which serves as a welcome center for all visitors that come to Acoma. The Sky City Cultural Center & Haak'u Museum admissions packages includes a pueblo guided tour, admission to the Haak'u Museum and a camera permit. www.acomaskycity.com
The Fort McDowell Yavapai Nation (Arizona) is home to some of Arizona's finest visitor destinations  The Fort McDowell Yavapai, Abaja the "People" are one of three Yavapai tribes in Arizona. The nation, which has lived and prospered in central Arizona for thousands of years, was granted a 24,000-acre reservation 35 miles northeast of Phoenix in 1903. Today, it is home to the AAA Four Diamond We-Ko-Pa Casino Resort, two award-winning 18-hole golf courses at the We-Ko-Pa Golf Club, some of the Valley's finest state-of-the-art gaming at the Fort McDowell Casino, a relaxing resort and spa at the Poco Diablo Resort nestled in the shadows of the beautiful red rocks of Sedona, and the upscale Eagle View RV Resort. In June of 2018, the Fort McDowell Yavapai Nation broke ground for a new casino that will be connected to the existing We-Ko-Pa Casino Resort, bringing all-new amenities to guests. The new facility is set to open in late Spring of 2020. The Yavapai people take pride in their community and invite you to experience Fort McDowell. www.fmyn.org
The Pine Ridge Area Chamber of Commerce (South Dakota), the primary tourism marketing entity for the Pine Ridge Reservation, sits at the gateway of South Dakota's famed Badlands National Park, home of the world's "Richest Mammalian Fossil Beds." The chamber provides information on the rich Native American history and heritage of the area, including the Wounded Knee Massacre site, the Wounded Knee Museum, Oglala Lakota College Historical Center, the Red Cloud Heritage Center and the Crazy Horse Memorial. At the chamber's Visitor Center, explore the popular wildlife exhibit and learn what significance animals played in the Lakota culture. Also browse original works of art created by Oglala Lakota artisans. www.pineridgechamber.com
The Keepers of the Sacred Tradition of Pipemakers (Minnesota) believe in preserving their tribal arts and culture by educating their own people and sharing their culture with the world. They are based near the Great Pipestone Quarries of Minnesota, a place where tribal people have come to obtain the famous red stone for their prayer pipes for more than 3,000 years. The Pipemakers' annual culture camp is open to the public as is the Pipestone Heritage Fest every July, where woodworking, beadwork, basket making, hide tanning and many other arts and crafts are showcased. The Pipemakers also offer guided tours to the nearby Pipestone National Monument. www.pipekeepers.org
NativeAmerica.travel, a consumer travel planning website created by AIANTA, connects travelers directly to tribes across the country. The site gives all 573 federally recognized tribes a chance to tell the world their stories in their own words. The experiences section of the site provides distinctive trip ideas to users planning a trip to Indian Country. www.nativeamerica.travel
In addition to AIANTA's Tribal Row partners, more than 20 Native-owned or tribally owned entities were in attendance at this year's IPW.
– 30 –
About AIANTA
For more than two decades, the American Indian Alaska Native Tourism Association (AIANTA) has served as the national center for providing tourism and recreational travel technical assistance, training and capacity building to American Indian nations. AIANTA is a 501(c)(3) national nonprofit association of Native American tribes and tribal businesses and was incorporated in 2002 to advance Indian Country tourism. AIANTA's mission is to define, introduce, grow and sustain American Indian and Alaska Native tourism that honors traditions and values.
Contact Information
Monica Poling
Marketing & PR Manager, AIANTA
mpoling@AIANTA.org
505.724.3578