AIANTA Releases Ground-Breaking Tribal Agritourism Educational Handbook
First manual of its kind, Case Studies in Tribal Agritourism features six successful tribal agrtitourism business models from around the country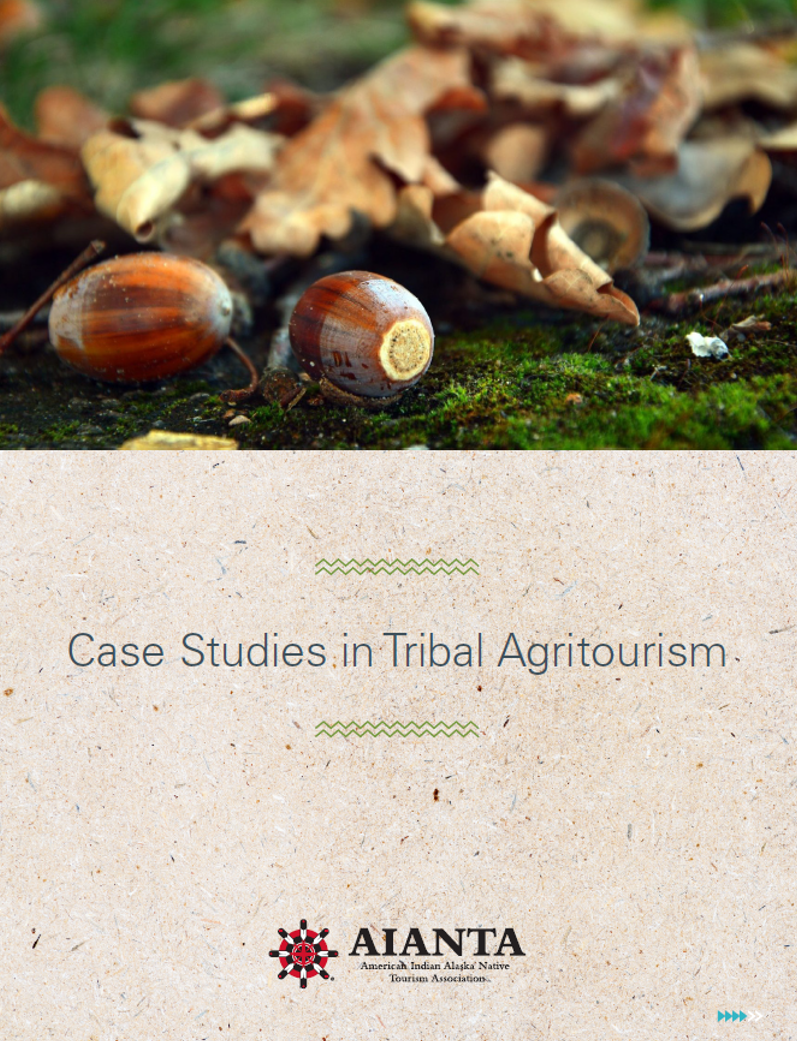 ​
FOR IMMEDIATE RELEASE
ALBUQUERQUE, N.M. (May 12, 2021) – The American Indian Alaska Native Tourism Association (AIANTA) has announced the release of a groundbreaking new educational handbook, Case Studies in Tribal Agritourism.
The first guide of its kind, Case Studies in Tribal Agritourism was created to serve as an inspiration for indigenous farmers, ranchers and other food producers interested in expanding their agricultural operations to include visitor components.
"The new Case Studies in Tribal Agritourism is truly a one-of-a-kind handbook," said Sherry L. Rupert, AIANTA CEO. "The original articles showcase experienced tribal producers who graciously share their years of wisdom in order to help those who are new to the field. I'd like to extend a warm thank you to everyone who gave their time and knowledge to make this handbook happen."
Divided into six, two-part chapters, the handbook features six case studies from successful Native-owned agritourism enterprises across the United States, including Choctaw Nation (Chahta Yakni) of Oklahoma, Yocha Dehe Wintun Nation (California), Icy Strait Point (Huna Tlingit, Alaska), Santa Ana Pueblo (New Mexico), Big Apple Fest (Oneida Nation of Wisconsin), and the Iroquois White Corn Project (Seneca Nation of Indians, New York). Each study includes background information on how the enterprise started as well as first-person interviews with the project managers for each program.
Each case study is followed by an educational module that provides additional inspiration for food producers looking to create, develop or expand their own agritourism programming.
"Although the guide was designed as an educational tool for indigenous food producers, the case studies also offer amazing insider information for visitors who like to truly personalize their travel experiences," said Rupert.
The handbook was previewed last September at the 22nd Annual American Indian Tourism Conference. The conference, held for the first time on a virtual platform, featured numerous tribal agritourism panels and sessions, including one entitled "Stories around Food: Blending Agriculture and Tourism," which featured speaker Janie Simms Hipp, the CEO of the Native American Agriculture Fund (NAAF), who has since been nominated by President Joe Biden to serve as General Counsel at the U.S. Department of Agriculture.
NAAF was a major partner in helping fund the guidebook.
Case Studies in Tribal Agritourism is being released in tandem with major upgrades to AIANTA's Tribal Agritourism Resource page, which includes links to original AIANTA agritourism content as well as external links to tribal agritourism information, including articles and research on the growing field of agritourism.
Case Studies in Tribal Agritourism is available for free download at www.aianta.org/agritourism. A print version of the guidebook can be requested by emailing Amy Meak at ameak@aianta.org.
– 30 –
About AIANTA
For nearly two decades, the American Indian Alaska Native Tourism Association (AIANTA) has served as the national voice for American Indian nations engaged in cultural tourism. In addition to serving as the voice for Indian Country tourism, AIANTA provides technical assistance and training to Tribal nations and Native-owned enterprises engaged in tourism, hospitality and recreation.
For more information and images, contact:
Monica Poling
Marketing & PR Manager
mpoling@aianta.org