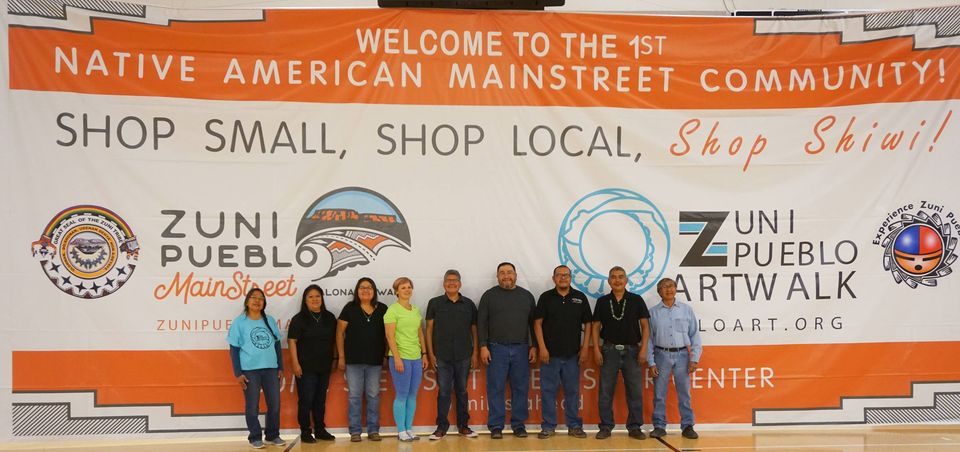 Members of the Zuni Pueblo MainStreet  board and members of the Zuni ArtWalk stand in front of the Zuni Pueblo MainStreet billboard before it was placed on NM-53 before entering Zuni. 
Building a MainStreet Community in Indian Country
Building a MainStreet Community for Indian Country Tourism
Tuesday, September 14, 2021; 10 am MDT
Join AIANTA as we introduce you to the nation's first Native American MainStreet community: Zuni Pueblo MainStreet in New Mexico was established in 2012 to encourage the revitalization of the local economy while continuing to preserve their unique traditional and historic events. An example of this is Zuni Pueblo's MainStreet Artwalk, which promotes local artists and their art, and is a vital economic driver for their community.
This webinar is presented in partnership with Zuni Pueblo MainStreet, New Mexico MainStreet and Main Street America.
Zuni Pueblo MainStreet was developed in cooperation with Main Street America, a program of the National Main Street Center, which is committed to strengthening communities through preservation-based economic development in older and historic downtowns and neighborhood commercial districts.
Additionally, New Mexico MainStreet, a program of the New Mexico Economic Development Department, works throughout the state to help local organizations create an economically viable business environment while preserving cultural and historic resources. The program's core objective is downtown revitalization and redevelopment and the mission is to develop local capacity to engage people, rebuild places and revitalize economies resulting in economically thriving downtowns, greater business and employment opportunities and a higher quality of life.
Mario Hooee (Pueblo of Zuni), Executive Diector, Zuni Pueblo MainStreet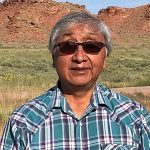 Mario is from the Pueblo of Zuni and comes from the Frog Clan and Child of Parrot Clan. He worked as an electrician for the Zuni Housing Authority from 1993 to 2012. Mario had higher aspirations to serve the community of Zuni by assisting with economic sustainability which led to an undergraduate program while still working full time and having a family and earning a BBA in Finance from the University of New Mexico in 2014. He did not intend to pursue further formal education but was encouraged by family to pursue a graduate degree. Mario earned a graduate degree in Public Administration in 2018, also from the University of New Mexico. Joined the Zuni Pueblo MainStreet board in 2012 after providing a resume on a 2×2 Post-It note and served as vice president until December 2018 when asked to serve as interim director. Mario was then hired as director in March 2019 for the Zuni Pueblo MainStreet.
Norma Ramirez de Miess, Vice President, Main Street America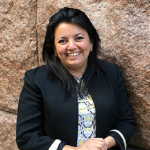 Norma serves as the Vice President of Main Street America's revitalization services, leading the delivery of technical assistance that helps communities build, grow, and sustain successful revitalization programs across the country. She offers over 20 years of direct leadership experience in downtown revitalization and nonprofit management and an inspiring passion for the value of Main Street in comprehensive community economic development. Norma's experience as a former Main Street director provides deep understanding on the critical role that Main Street staff and volunteers play in leading local revitalization and drives her support to leadership development. She helped launch Main Street America Institute, the Center's professional development program and thoroughly enjoys conducting trainings at state-wide and national conferences as well as in local communities all across the country (which Norma will always attest are her most favorite and most rewarding places to be).
Daniel J. Gutierrez, Director, New Mexico MainStreet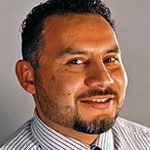 Daniel is the Director of the New Mexico MainStreet Program, State Coordinator of the New Mexico Arts & Cultural District Program, and Coordinator of the Frontier and Native American Communities and New Mexico Historic Theaters Initiatives. He joined the State Coordinating Program in 2014 and served as Assistant and then Co-Director before his appointment as Director of New Mexico MainStreet in 2019. Daniel has extensive grant writing, research, and community economic development experience in implementing comprehensive community–based planning, asset-based economic development strategies, and permanently affordable housing.
Daniel holds a BA in Anthropology and Native American Studies from University of California Davis and an MA/PhD Candidacy in Cultural Anthropology from University of Illinois at Urbana-Champaign. Past academic research experience includes six-years of fieldwork studying the impacts of revitalization and gentrification on low-income communities, New Mexican identity, space and place, and cultural citizenship in Albuquerque's Historic Barelas Neighborhood. He is also one of the founding members of the Barelas Community Coalition, a non-profit community-based planning and development organization where he helped initiate and served as the first Executive Director of the Barelas MainStreet program.
Tom Kennedy, Director of Tourism (retired), Zuni Pueblo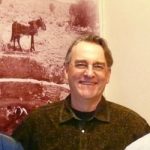 Since 2001, Tom Kennedy served as Director of Tourism for the Zuni Tribe, where his responsibilities included developing tourism initiatives as well as the administration and preservation of the historic Our Lady of Guadalupe Mission and developing educational tours to local venues, including the Hawikku and Village of the Great Kivas archaeological sites.
Tom's personal experiences—from growing up in West Africa, to his work in Guatemala and in the Caribbean and his interest in culture and the arts—have brought a diverse background to his 30+ year career as a museum and tourism professional. His most recent project with the A:shiwi A:wan Museum at Zuni Pueblo was created as a major NEH-funded exhibit on the ancestral village of Hawikku.
The culmination of Tom's professional career was the development of the MainStreet program. This project resulted in a proclamation signing on July 5th, 2012, designating Zuni Pueblo as not only a bona-fide New Mexico MainStreet program but the very first Native American MainStreet in the United States. Tom retired in December 2020 to concentrate on family and home projects, however he remains involved and connected to both Zuni Pueblo MainStreet and the Zuni Tourism program as needed.
Bianca Mitchell (Pueblo of Acoma), Education Manager, AIANTA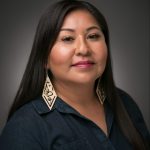 Bianca Mitchell (Pueblo of Acoma) joins AIANTA as the organization's Education Manager. With an extensive background in events management, donor development, communications and marketing, Bianca brings years of experience to AIANTA. In her role as the Education Manager, she will identify, develop, implement, market and promote technical assistance and training programs, webinars and certificate programming. Bianca's goal is to assist in growing and enhancing the program model for and with AIANTA.