Webinar: Building Collaborative Tourism in Hawai'i
Webinar: Building Collaborative Tourism in Hawai'i
August 30, 2022; 2 p.m. (Mountain); 10 a.m. (Hawaii)

Through partnerships, collaboration and most importantly, communication, learn how the Hawaiian Islands are weaving cultural tourism into branding and messaging. Additionally, Hawai'i is offering new product to visitors, based on ancient wisdom and cultural practices. Join Malia Sanders, Executive Director of the Native Hawaiian Hospitality Association (NaHHA) and Kainoa Daines, Senior Director of Brand of the Hawai'i Visitors and Convention Bureau (HVCB) as we explore the Malama Hawai'i Program, an initiative designed to bring community, industry and visitors together.
Speakers/Panelists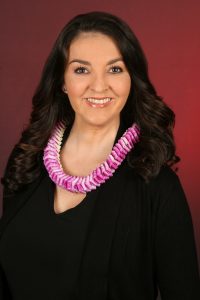 Malia Sanders,
Executive Director, Native Hawaiian Hospitality Association (NaHHA)
Malia Sanders is a detail oriented and goal driven performer in the field of Cultural Tourism. She is currently the Executive Director of the Native Hawaiian Hospitality Association (NaHHA), a non-profit organization deeply rooted in perpetuating the authenticity of the Native Hawaiian culture and values in Hawaiʻi's visitor industry through advocacy, education, training and program development.
Malia Sanders is a kanaka 'ōiwi (Native Hawaiian) and graduate of the Kamehameha Schools Kapālama Campus, the University of Hawaiʻi, and has over 20 years of upper management experience. She has held various positions on the island of Hawaiʻi, honing her craft within the Hospitality Industry in all areas of guest service. In 2011 she returned to Oʻahu and was offered an opportunity to gain experience in the non-profit arena. Malia recently celebrated her eleventh year with NaHHA in July of 2022.
Malia is a founding member and Alakaʻi of ʻAha Pūlama Pāʻū Hololio, a Hawaiian Pāʻū Riding Club and dedicates her personal time to civic engagement and perpetuating authentic Native Hawaiian practices and cultural preservation.
Malia currently serves on the Board of Directors and is the Vice President of the Hawaiian Civic Club of Honolulu and is the Chair of the annual Holokū Ball. Malia was awarded the Social Impact Entrepreneur of 2022 by the Hawaiʻi Venture Capitalist Association, was recently nationally featured as a 2022 Native American Women Leaders in Cultural Tourism by the American Indian Alaska Native Tourism Association and is a 2022 Pineapple Award recipient which recognizes her contributions in hospitality leadership in Hawai'i. Malia is an experienced horseman and enjoys her time with her ʻohana (family) in Kapolei, O'ahu where she currently resides.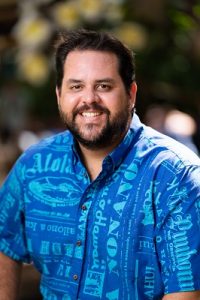 Kainoa Daines,
Senior Director,
Brand for the Hawai'i Visitors & Convention Bureau
Kainoa was recently promoted to Senior Brand Director of the Hawai'i Visitors & Convention Bureau. In this role, Kainoa oversees all Hawaiian cultural aspects within the Visitors Bureau, for HVCB Members and manages their Warrior Marker signage program, statewide.
Prior to this role, he was the Director of Culture and Product Development for HVCB, and before that Director of Sales for the Oʻahu Visitors Bureau, a subsidiary and Island Chapter of the Hawaiʻi Visitors & Convention Bureau since 2011, covering both Leisure and MCI sales.
Before joining the Visitors Bureau, he held sales roles at the Queen Kapi'olani Hotel and the now-razed Miramar At Waikīkī.
He is also currently Chair of the King Kamehameha Celebration Commission representing the Royal Order of Kamehameha I and has voluntarily chaired the King Kamehameha Celebration Floral Parade since 2011. Kainoa is a former board member of the Friends of 'Iolani Palace and a current member of the King Kamehameha V Judiciary History Center's executive board.
Hawaiʻi Business Magazine selected Kainoa as one of "20 For the Next 20" in 2011 and Pacific Business News included him in the prestigious "40 Under 40," Class of 2018. Meeting Professionals International, Aloha Chapter honored him as Cultural Leader of the Year in 2019. His book, "Island Wisdom" published by Chronicle Prism releases October 25, 2022.
A resident of Honolulu, Kainoa holds a bachelor's degree from the University of Nevada, Las Vegas in Hospitality Management, with an emphasis on Tourism and Convention Administration.
Moderator(s)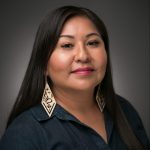 Bianca Mitchell
(Pueblo of Acoma)
, 
Education Manager, AIANTA
Bianca Mitchell (Pueblo of Acoma) joins AIANTA as the organization's Education Manager. With an extensive background in events management, donor development, communications and marketing, Bianca brings years of experience to AIANTA. In her role as the Education Manager, she will identify, develop, implement, market and promote technical assistance and training programs, webinars and certificate programming. Bianca's goal is to assist in growing and enhancing the program model for and with AIANTA.