Enriching Alaska Tourism Through First People's Voices
Enriching Alaska Tourism Through First People's Voices
Tuesday, August 24, 2021
While travelers to Alaska are lured by the state's sense of adventure, few are familiar with Alaska's sweeping narrative from a Native lens. The cruise industry, which delivers more than one million visitors a year, has only recently started offering "Meet the Locals" type programs, providing passengers a deeper, more fulfilling experience. Partnering with Native culture bearers is not an option limited to cruise lines, however. But the key to creating an authentic narrative is working directly with Native organizations and not speaking on their behalf. Learn from Camille Ferguson, Economic Development Director of the Sitka Tribe of Alaska, Keneggnarkayaaggaq Emily Edenshaw, EMBA, President & CEO, Alaska Native Heritage Center and Mary Goddard, Regional Catalyst for Regenerative Tourism, Southeast Alaska and Patuk Glenn, Executive Director, Arctic Slope Community Foundation, on how adding authentic Native Voices to tourism programming can enrich the Alaska visitor experience.
Camille L. Ferguson (Sitka Tribe/ Kiksadi Clan), Economic Development Director, Sitka Tribe of Alaska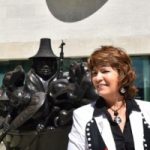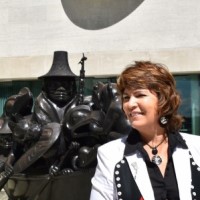 Camille L. Ferguson is the Economic Development Director for the Sitka Tribe of Alaska where she is responsible for developing new projects as well as overseeing the Tribes' tourism program, gaming operations, the Tribal tannery and the Community House Convention Facility.
Previously, she served as Executive Director of AIANTA for more than six years. Under her direction, AIANTA expanded its international marketing and outreach program and also grew its training programs; improved its public outreach program, broadened its public lands partnership program and was instrumental in gaining support for the passage of the NATIVE Act along with the advocacy needed to support the appropriation to implement the unfunded mandate. Her work as executive director for AIANTA was completed with the signing of the MOU with the Department of Interior and securing a cooperative agreement with the Bureau of Indian Affairs
Ferguson, a citizen of the Sitka Tribe of Alaska and a member of the Kiksadi Clan  served on the National Advisory Committee on Transportation Tourism Infrastructure (NACTTI) and currently serving her second term on the U.S. Travel Association's Board of Directors. Her two year period will run through 2023. During her term, she plans to augment her work with elected officials in advocating for the importance of including tribal tourism in the national tourism message.
Keneggnarkayaaggaq Emily Edenshaw (Yup'ik/Iñupiaq), President and CEO, Alaska Native Heritage Center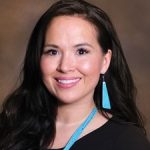 With roots in Emmonak, Alaska, Keneggnarkayaaggaq Emily Edenshaw (Yup'ik/Iñupiaq) is the President and CEO of the Alaska Native Heritage Center (ANHC), a renowned, statewide living cultural center located in Anchorage, Alaska. For the last several years, Keneggnarkayaaggaq has led cultural tourism efforts across our state with the end goal of advancing the entire Alaska Native community. In 2020, Keneggnarkayaaggaq was named Vice President of the Alaska Travel Industry Association (ATIA) Arts, Cultural and Heritage Statewide Chapter Board, elected to the ATIA Board of Directors, elected to the Alaska Humanities Forum Board of Directors, and appointed to the Anchorage Public Safety Commission. Outside of work and public service, Keneggnarkayaaggaq is a third year Ph.D. Indigenous Studies student at the University of Alaska Fairbanks. Keneggnarkayaaggaq also holds an Executive Master of Business Administration (EMBA) degree in Strategic Leadership from Alaska Pacific University, and a Bachelor's degree in Journalism and Public Communications from the University of Alaska Anchorage. Since graduating with her EMBA, Keneggnarkayaaggaq has worked for both public and private sectors the Central Council Tlingit & Haida Indian Tribes of Alaska, First Alaskans Institute, VICE Media, The National Native American Boarding School Healing Coalition, and Southcentral Foundation. Her Yup'ik name Keneggnarkayaaggaq means a person with a beautiful persona, spirit, aura and friend. Keneggnarkayaaggaq and her husband Devin have three beautiful sons and two adventurous daughters.
Mary Goddard (Tlingit), Regional Catalyst, Regenerative Tourism in Southeast Alaska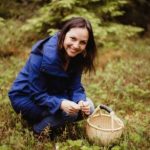 Mary Goddard is Regional Catalyst for Regenerative Tourism in Southeast Alaska. She is an advocate for helping small business and communities thrive in the tourism industry in a way that benefits all involved. She believes that when done correctly, tourism can help improve the environment, strengthen communities, celebrate culture and learn a great deal from Alaska natives on values and nature cycles.
Mary is known for her art. Her art includes contemporary carved and woven jewelry using traditional materials and metals, it also includes installation art, film and television projects. Mary's hobby www.forestfreshalaska.com promotes knowledge and cooking tips utilizing indigenous foods from the rainforest to the ocean forest.
Mary co-owns MidnightRun, a film production company in Sitka, Alaska. She received a degree of completion from American Musical and Dramatic Academy in New York. Mary has worked on various film television productions such as Fireproof, The Grace Card, ABC's show Lost and she was also a Camera Woman for the show Coast Guard Alaska.
Mary not only has a passion for the arts, but also for youth, she worked as a Family Teacher for Father Flanagan's Boys and Girls Home and continues to be involved with community outreaches. Currently Mary lives in Sitka with her husband Lucas and their son Ryker. She continues to work on art and film projects.
Patuk Glenn (Iñupiaq), Executive Director, Arctic Slope Community Foundation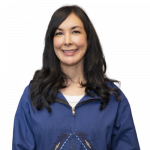 Patuk Glenn is the Executive Director of the Arctic Slope Community Foundation (ASCF). Patuk has a Bachelor's Degree in Rural Development from the University of Alaska Fairbanks and is currently studying for her Master's Degree in Mass Communications at South Dakota State University.
Over the years Patuk has worked to help promote and preserve Inupiat way of life in various capacities. She has worked as Museum Curator for the Inupiat Heritage Center and served as a Project Manager for the Arctic Slope Regional Corporation in Community Economic Development. She believes her greatest achievements to date are the relationships she has developed with community members of the Arctic Slope region. In her capacity as ASCF Executive Director she hopes to continue the vision of the ASCF Board of Directors to work hard and help support positive development in the Arctic Slope region of Alaska. In early 2020, at the realization of the life changing world pandemic, Patuk began creating cultural, educational and generally fun video productions for TikTok. Seemingly overnight the videos went viral. One video in particular, a short one minute video created about her families' ice cellar used to store subsistence foods such as bowhead whale, caribou and seal was featured on national media sites that created a following of over 125,000. Patuk uses her influence to uplift Inupiaq culture, and teach the world about the beauty and challenges of life in the Arctic.
Bianca Mitchell (Acoma Pueblo), Education Manager, AIANTA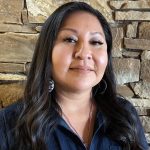 Bianca Mitchell (Pueblo of Acoma) joins AIANTA as the organization's Education Manager. With an extensive background in events management, donor development, communications and marketing, Bianca brings years of experience to AIANTA. In her role as the Education Manager, she will identify, develop, implement, market and promote technical assistance and training programs, webinars and certificate programming. Bianca's goal is to assist in growing and enhancing the program model for and with AIANTA.