Image by Amber Avalona from Pixabay
Exploring AIANTA Visitor Outreach Department
Exploring AIANTA Visitor Outreach Department
Join AIANTA in a special webinar introducing AIANTA's Visitor Outreach program and our plans to market to domestic and international travelers for 2022. Visitor Outreach Manager Maureen Chavez (Pueblo of Acoma) will lead the conversation on top overseas markets to Indian Country, top travel trade shows to attend next year, and how to prepare for the return of international visitors.
Maureen Chavez (Pueblo of Acoma), Visitor Outreach Manager, AIANTA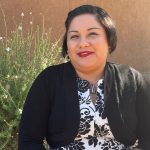 Maureen is a member of the Acoma Pueblo. She has spent most of her 10+ year career in tourism, hospitality and destination sales.  Maureen has worked with group tours and meeting planners (both national and international) as a representative for the city and partners of Visit Albuquerque. During her tenure, she worked to assist small groups in locating properties around the city of Albuquerque to host meetings, as well as, participate in familiarization tours and site visits. She also worked with group tours to assist with the creation of itineraries, locating accommodations and ensuring all groups were prepared for their visit to the area. 
At the start of her career, Maureen worked with the Sky City Cultural Center & Haak'u Museum as the Haak'u Museum Education Coordinator and later moved to a Sales Associate for Acoma Business Enterprises.
Maureen holds a Bachelor of Arts in English with an emphasis in Professional Writing from the University of New Mexico.
Bianca Mitchell (Acoma Pueblo), Education Manager, AIANTA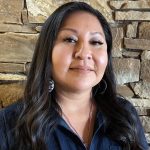 Bianca Mitchell (Pueblo of Acoma) joins AIANTA as the organization's Education Manager. With an extensive background in events management, donor development, communications and marketing, Bianca brings years of experience to AIANTA. In her role as the Education Manager, she will identify, develop, implement, market and promote technical assistance and training programs, webinars and certificate programming. Bianca's goal is to assist in growing and enhancing the program model for and with AIANTA.