(I'm going to travel over there, Northern Paiute)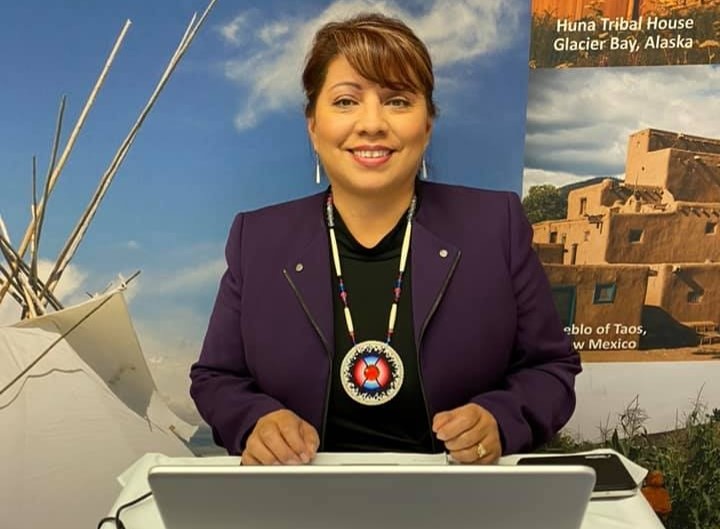 Dear AIANTA members, friends and partners–
Happy New Year!
As we enter 2021, we know that the challenges of 2020 are not yet behind us.  We will continue to adapt, as our Native People have always done, to the historic challenges that face us today and in the year ahead.  We are also seeing opportunities in our collective knowledge and strength.
In a recent conversation about AIANTA's mission and work, our ability to build upon one another's strengths was stated so beautifully by AIANTA At-Large Board Member Linda Cooley that I wanted to share it with you:
AIANTA has given us hope.  It has taken down boundaries that we thought were there and it has given us inspiration that we really can reach our dreams and be successful. Tourism in my tribe is an untapped resource.  Even as the largest tribe in California, we haven't had the resources to focus on tourism and everything that goes with that.  The conversations that we have had because of AIANTA has led us to other economic opportunities and opened our eyes to other possibilities we didn't see before.  It has also helped bring out the direction of all of our economic endeavors tied together – everything is for the greater good of our tribe.
As we look to the months ahead, I don't think I'm alone in my excitement over the slow, but steady roll out of COVID-19 vaccines. This is a development that is incredibly important to the hospitality industry—so important, in fact, that the American Hotel & Lodging Association recently offered its network of 50,000 properties as vaccine administration sites.
In addition to the ongoing rollout of vaccines, the tourism industry is eagerly anticipating the confirmation of Congresswoman Deb Haaland of New Mexico, who is expected to become the first Native American to be appointed to a presidential cabinet. If confirmed, her role as the Secretary of the Department of Interior will have far-reaching implications for Indian Country. As you likely know, the Department of Interior oversees some 480 million acres of public lands plus an additional 85 million acres under the National Park System umbrella . The department is also a trustee for 300 federally recognized reservations, totaling some 55 million acres, including 44 million acres of tribal trust lands and 11 million acres of individually owned tribal lands.
With so many Native American tribes having their ancestral homes on or near these public lands, the policies enacted by the Department of the Interior are critical to successful implementation and management of Indian Country tourism programs.
We're so excited President-elect Joseph Biden is looking to include the voices of Native Americans in future conversations about the nation's public lands and congratulate Deb Haaland on this historic nomination.
We are also heartened by recent news from the Let's Go There Coalition (an initiative from U.S. Travel), which has found that 54 percent of Americans are looking to explore more of America this year. Again, this is great news for Indian Country tourism enterprises, which are uniquely ready to offer distinctive ways to explore America.
To that end, we also encourage YOU to take your paid time off. Whether you're planning a short trip in your own community, or looking to travel further away from home, AIANTA's consumer website www.NativeAmerica.travel can help provide you with travel inspiration throughout the country.
I am grateful to each and every one of you, our tourism partners across the nation, and excited for all that we will accomplish in 2021!
Boneedwa
(See you later, Northern Paiute)
Sherry L. Rupert, Chief Executive Officer
American Indian Alaska Native Tourism Association
PS Speaking of seeing each other again, please note that we've moved our annual American Indian Tourism Conference to October. Please save the date, October 25-28, 2021, for this year's AITC, which will take place in Fort McDowell, Arizona.