How Indian Country Says I Love You
In early February, the United Nations proclaimed 2019 to the year of Indigenous Languages.
Since February is also the month of romance, we thought we'd query our members, partners and friends to see how they'll be expressing their affection this season.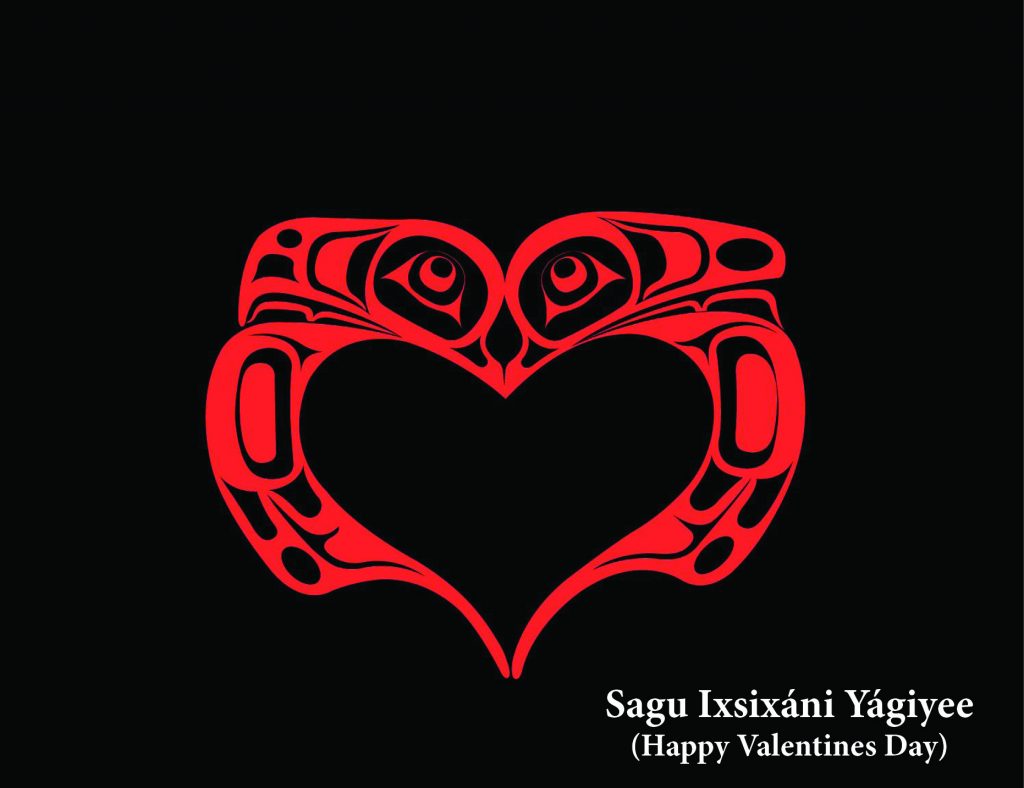 Artwork used with permission by the artist,
TJ Young (Sgwaayaans), of the Kaigani Haida Nation.
With 573 federally recognized tribes, Native Hawaiians and even more state-recognized tribes throughout the country–each with their own distinctive cultures and languages – it's no surprise that there are endless ways to say "I love you!"
Here are just a few:
Alutiiq Language, Alaska
Tlingit, Alaska
| | | | |
| --- | --- | --- | --- |
| Ixsixán | I love you |   |   |
| I daat axajóon  | I'm dreaming of you |   |   |
| Ax x'éit yees.á | Kiss me |   |   |
'Ōlelo Hawai'i (Hawaiian Language), Hawai'i
| | | | |
| --- | --- | --- | --- |
| Aloha au iā 'oe | I love you |   |   |
Salish
| | | | |
| --- | --- | --- | --- |
| k?  hin  x?menc?  | I love you |   |   |
Klamath-Modoc, Oregon
| | | | |
| --- | --- | --- | --- |
| Moo 'ams ni stinta | I love you very much |   |   |
Nimiipuutimpt (Nez Perce language), Idaho
| | | | |
| --- | --- | --- | --- |
| In 'ee hetewise | I love you |   |   |
Mohawk, New York
Seneca Tribe, New York
Tunica, Tunica-Biloxi Tribe of Louisiana
| | | | |
| --- | --- | --- | --- |
| Ma ihkmahka | I love you (to a male) |   |   |
| Hɛma ihkmahka | I love you (to a female) |   |   |
Northern Paiute
| | | | |
| --- | --- | --- | --- |
| Nu Soopeda U | I love you |   |   |
| Pesa Nasoopedyadu | Loved |   |   |
Ojibwa/Bad River Ojibwe, Wisconsin
Oneida Tribe, Wisconsin
Chickasaw, Oklahoma
Pueblo of Laguna, New Mexico (Laguna Keres dictionary)
| | | | |
| --- | --- | --- | --- |
| Amuu-thro-maa | I love you |   |   |
| Guuts'imi | He/she loves him/her |   |   |
Pueblo of Acoma, New Mexico (Acoma Keres dictionary)
| | | | |
| --- | --- | --- | --- |
| Thro sii muu | You are dear to me |   |   |
Pueblo of San Felipe, New Mexico (San Felipe Keres)
Pueblo of Isleta, New Mexico
Diné, Navajo
| | | | |
| --- | --- | --- | --- |
| Ayóó'áníínísh'ní | I love you |   |   |
Pueblo of Zuni, New Mexico
| | | | |
| --- | --- | --- | --- |
| 'Ho'doh'ee'cheht'mah | I love you |   |   |