Infusing the Aloha Spirit Into Your Customer Service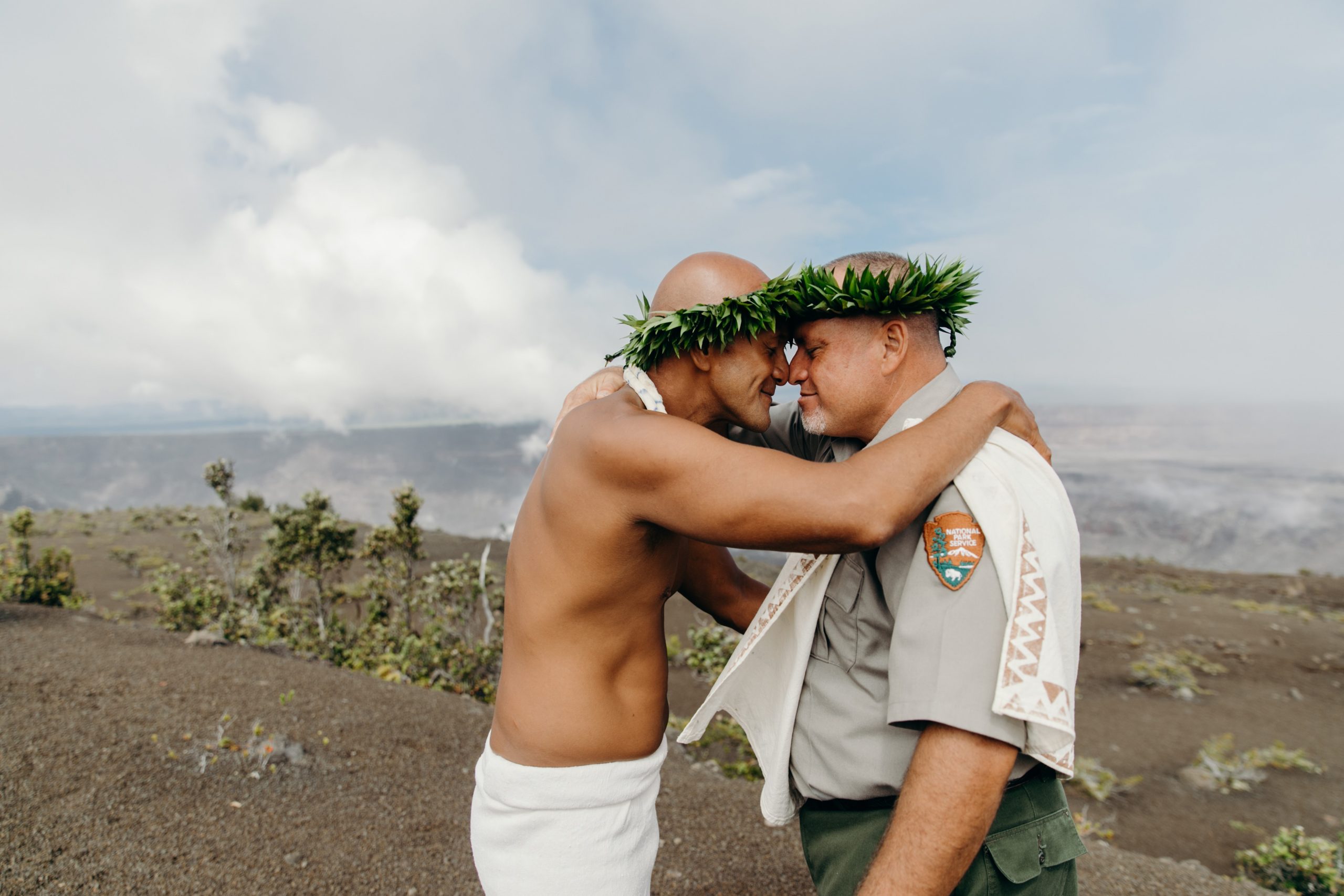 Hawaiʻi Volcanoes National Park Ranger Keoni Kaholoaa greets a cultural practitioner with a honi, a traditional greeting where a breath is shared. // Credit: Hawaii Tourism Authority (HTA) / Heather Goodman / @hbgoodie
The word "Aloha" has become synonymous with the Hawaiian culture and conjures visions of friendly native greetings and majestic tropical islands. As a well-known brand globally, the Spirit of Aloha is even broader, however, and visitors to the islands are welcomed by a culturally deeper message. It's so much more than a simple island word or greeting.
The Spirit of Aloha and its importance to the Hawaiian tourism industry is a demonstration of how this concept works to both share and protect one's culture. Values that have been transferred through ancestral knowledge are brought to life by this unique and powerful message.
A Vision Realized: Native Hawaiian Hospitality Association (NaHHA)
Native Hawaiian Hospitality Association (NaHHA) was founded in 1997 to promote Hawaiian culture, values and traditions in the workplace through consultation and education, and to provide opportunities for the Native Hawaiian community to shape the future of tourism.
NaHHA's founders, Dr. George Huʻeu Sanford Kanahele and Senator Kenneth Francis Kamuʻookalani Brown, understood the implications, opportunities and impacts that Hawaii's largest industry was having on the people of Hawaiʻi, its culture, local ways and the state's natural and cultural resources.
With diverse backgrounds and experience, George (a researcher) and Kenny (a senator) shared the same vision of shaping the future of Hawaiʻi tourism by utilizing Hawaiian cultural values as the foundation for business development and leadership.
Breathing the Same Air
NaHHA definitely takes a hands-on approach to tourism marketing training in order to infuse the Spirit of Aloha into their hospitality programs.
The organization offers a "maʻemaʻe" (toolkit) to authentically help market Hawaiʻi. The toolkit includes a resource of Hawaiian language tools, style and information guides, cultural activities and festivals, and other information. Native Language is a key component and for many younger indigenous people, this could be the first time they've heard it's okay to use their native language.
NaHHA also offers online learning opportunities for tourism professionals. In a recent learning session, "sense of place" was discussed. The understanding of the many layers of meaning and story on island landscape is an important reason people from around the world long to visit Hawaiʻi. "Hoʻokipa: Hawaiʻi Style" fosters a sense of belonging, encourages personal initiative, and builds a collective knowledge of the history of wahi pana (storied places).
Knowledge Shared
At the 2020 American Indian Tourism Conference (AITC), two Hawaiian speakers shared examples of the Aloha Spirit. Their presentations illustrated how this concept can be successfully infused into tourism and hospitality programs.
Mr. Kainoa Daines, Director of Culture & Product Development for the Hawaii Visitors & Convention Bureau, shared insider tips for trade show success. Attending a targeted trade show can drive brand awareness and bring visitors, tour operators, media and other potential partners to a cultural heritage destination. It's also an excellent opportunity to promote messaging like the Spirit of Aloha.
Hiʻilani Shibata, AIANTA Board Member for the Pacific Region and Lead Cultural Trainer for the Native Hawaiian Hospitality Association, provided a beautiful interpretation of the Aloha Spirit during her keynote address. Hiʻilani demonstrated how every tribal tourism individual can uplift their culture and bring a little aloha into their own programming through authentic sharing with visitors.
Finding Your Aloha
Mālia Sanders, Director of Operations for NaHHA, offered some excellent advice for Native American Tribes who want to find and honor the spirit of their people. Mālia emphasized that it is not so much as a planned learning, but more of a mind shift. She offered that it's best to "Define a concept and break it down to the simplest expression."
Look at your native dictionary or a list of indigenous words. When a word has more than one meaning, when it holds deeper and wider cultural concepts and beliefs, that is the word that might best exemplify your native spirit. The word "Aloha" has over thirty-eight meanings.
Make sure to get buy-in from all tribal members and approval of elders, and promote an authentic spirit that has integrity that all can be proud of. Remain open to the ideas of others and learn from them. "Not all knowledge is learned in the same school.¹ "
Make sure to acknowledge a sense of place and stay true indigenous names. A great example on the mainland is the recent re-naming of Denali in Alaska.
It's really all about values, and what your culture holds most important. The Hawaiian "Aloha" is only one word, but the spirit of that word means so much more.
The quote in Mālia's email signature offers an important message for tourism marketing and hospitality professionals, and one that we can all learn from:
"O Ke Aloha Ke Kuleana O Kahi Malihini"²
Love is the host in strange lands.
Proverb Citations
¹ʻAʻohe pau ka ʻike i ka hālau hoʻokahi.
All knowledge is not taught in the same school
ʻŌlelo Noʻeau – Hawaiian Proverbs and Poetical Sayings,
by Mary Kawena Pukui.
Cited reference Proverb #203, page 24
²O ke aloha ke kuleana o kāhi malihini.
Love is the host in strange lands.
ʻŌlelo Noʻeau – Hawaiian Proverbs and Poetical Sayings
by Mary Kawena Pukui.
Cited reference Proverb #2453, page 268