Join AIANTA and Support the Movement to Build Cultural Tourism in Indian Country
Network with other leaders, partner with industry leaders, promote your attractions, amplify your voice and stay informed
By Gail Chehak
More than twenty years ago, tribal leaders from across the nation gathered to talk about tourism in Indian Country. This historic gathering launched the American Indian Alaska Native Tourism Association (AIANTA) and our mission "to define, introduce, grow and sustain American Indian, Alaska Native and Native Hawaiian tourism that honors traditions and values."
Knowing tourism is the second-leading industry in the nation, these leaders appreciated the benefits tourism could bring their communities – outside income, new jobs and support for small businesses. More importantly, cultural tourism supports the telling of our histories and the sharing of our traditions, languages and culture, including art, music and foods.
Since that first conference in 1999, tribal enterprises, Native-owned businesses and tourism industry professionals have gathered annually at AIANTA's American Indian Tourism Conference to take part in educational resources and technical assistance and training. Building partnerships, networking and sharing tribal tourism experiences are favorite outcomes of the gatherings.
In 2011, AIANTA established its membership program and quickly drew a core group of supporters for AIANTA's mission from the leaders in tribal tourism who determine the leadership for our Board of Directors. With member support, AIANTA has become a strong, award-winning, nationally recognized leader in tribal tourism.
The members of AIANTA's Board are active in their communities and each one represents one of six regions, with an additional two Board members serving as at-large directors. As regional board members, they are available as a resource to members in their region. AIANTA members and partners can talk to them about their tourism programs and ask for ideas or request training and support.
Becoming a member not only shows you support AIANTA's mission, but that you want to help the association build a vision for the future of tourism in Indian Country and grow the programs that will help the industry thrive.
Members can take part in AIANTA programs, like:
NativeAmerica.travel
NativeAmerica.travel, AIANTA's destination website is free for tribes and Native-owned tourism businesses. AIANTA works with members to develop content for their listings, which are designed to reach travelers and tour operators.
International Trade Show Marketing
Members can reach international and domestic tour operators, travel agents and travel media with AIANTA's trade show program. Attendees at these shows provide inspiration to tour operators, and media on how visitors can best experience Indian Country. Be among the first invited to take part in Showcase USA-Italy, ITB (Germany) and IPW, the major U.S. tourism showcase.
Brand USA Fam Trips
Share your attractions to international media through our Fam Tour program, as we work with Brand USA to provide editorial content for the international travel trade media. AIANTA has worked with Brand USA to produce fam tours to visit tribal attractions in the Southwest, Pacific Northwest and the Midwest, with plans for another fam tour to Alaska in 2021.
AIANTA's Educational Programming
Help Native students prepare for careers in travel, tourism, recreation and other tourism-related industries through AIANTA's scholarship program. Take part in the Professional Certificate Program in Cultural Heritage Tourism that AIANTA has developed in collaboration with George Washington University. Or join one of our informative webinars on funding, tourism development, marketing and trends, like our latest agritourism sessions.
AIANTA's Partnership Marketing Programs
Share your histories and perspectives to the stories told about the Nation's treasured national parks and trails. AIANTA has worked with the National Park Service (NPS) to publish American Indians and the Civil War and American Indians and Route 66. We are currently working with the NPS to promote tribal attractions and businesses along the Lewis and Clark National Historic Trail, by adding listing to the LewisandClark.travel and NativeAmerica.travel websites. We are also developing a publication highlighting tribes along the Juan Bautista de Anza National Historic Trail. Additionally, AIANTA is working with several organizations to develop a comprehensive educational program around tribal agritourism in order to help farmers and ranchers expand their programs into the tourism hemisphere.
Although AIANTA works with all tribes in the United States, we are most familiar with our member's attractions and they come to mind first when we develop new promotions and programs. Profiles of our tribal and business members can be found in AIANTA online Membership Directory.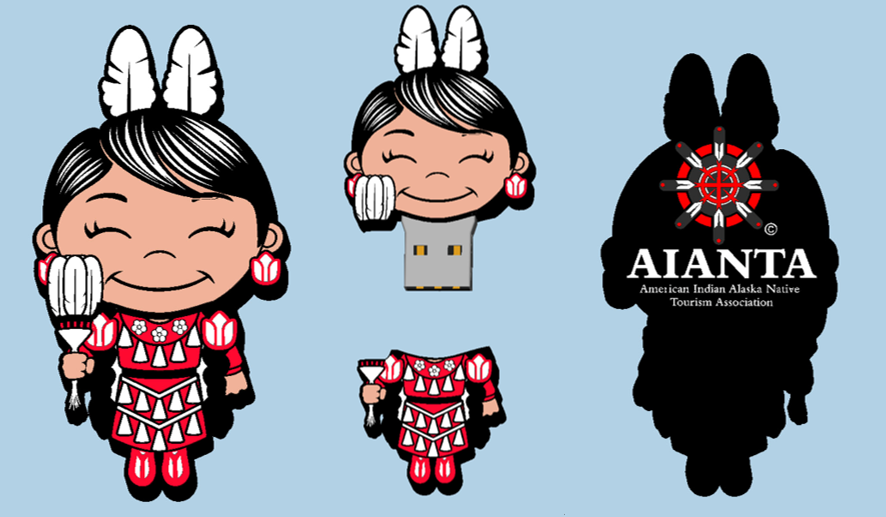 Join Indian Country's leading tribal tourism enterprises and become part of the movement for cultural tourism in Indian Country. We love to talk with new members and supporters.
For more information on joining AIANTA, please visit www.aianta.org/join-us.
If you join AIANTA or renew your membership by December 31, 2020, you will receive one of AIANTA's proprietary Jingle Dress thumb drives. Quantities are limited, however, so don't delay and join now.