Native Chefs Celebrate the Holidays with Indigenous Cuisine, Recipes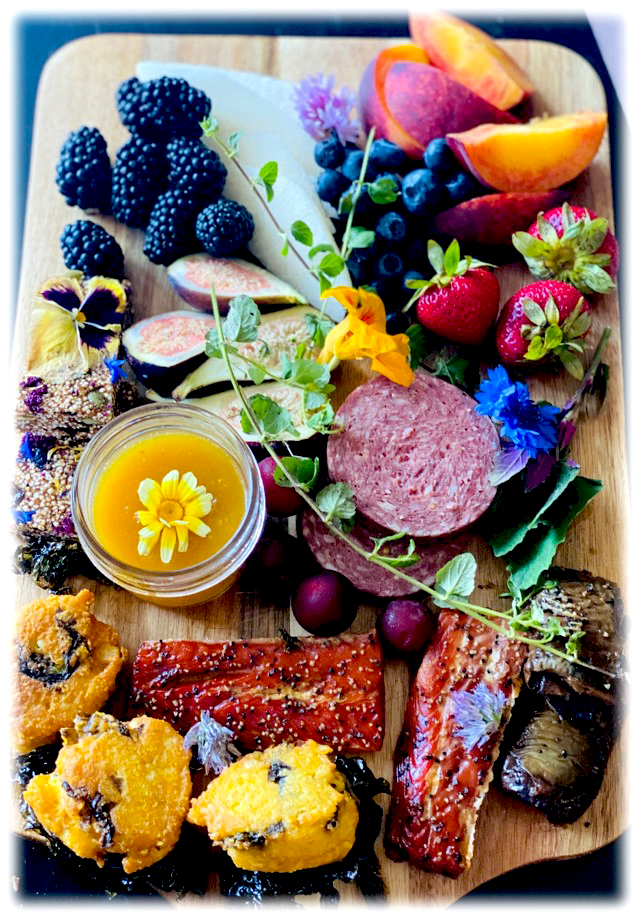 Photo courtesy of Wahpepah's Kitchen.
If there is one thing we've learned in 2020, it's that there is nothing quite like an international pandemic to get people thinking about the origins of their food.
An increased general concern over the decimation of local environments in order to support mass food production in tandem with round-the-clock media coverage of the shaky status of those food systems during times of crisis have caused more Americans to ask, "where is my food coming from."
This climate has also created the perfect backdrop for the success of Gather, a critically acclaimed documentary exploring Native food sovereignty released earlier this year.
Produced by First Nations Film Development Institute, the film demonstrates "what can be possible when Native American communities reconnect and pass on their beliefs in the restorative (in many ways) powers of food and nature" according to Common Sense Media, a non-profit review site "committed to diversity in media."
It is not just Gather that's showcasing food sovereignty these days. Across the country, everyone from individual chefs to major media outlets are shining a spotlight on the "first truly American cuisine."
Any Native chef will tell you that Indigenous cuisine is not as simple as combining ingredients to create an end-product. Rather, the cuisine is largely about the experience of food. Following a simple recipe cannot replicate the sense of accomplishment of pulling ingredients from the ground or the spiritual connection to the food that comes with sharing stories, passed down for millennia from generation to generation, that accompany the making of food.
This is why agritourism is poised to become a significant subsector of the larger tourism industry. There is something almost life altering about experiencing food quite literally from the ground up. As travelers continue to shift their focus from "what should I eat" to "where is my food coming from," Native communities are particularly well suited to help answer those questions.
Whether experiencing a bison ranch in the Great Plains or watching dipnetters fish for salmon along the Columbia River or learning the symbiotic relationship of the "Three Sisters" from Native farmers across the country, visitors have nearly countless options to explore the true meaning of "American food."
In the meantime, as travelers largely remain grounded, the virtual experience of Native cuisine(s) will have to do. Here are just a few ways to add a little indigenous flavor to your holiday menus.
Holiday-Worthy Recipes
Just before Thanksgiving, the National Museum of the American Indian (Smithsonian Institution) asked seven Native American chefs to share their cultural and culinary perspectives as well as "holiday-worthy" recipes. With a narrative chronicling the real history of Thanksgiving set alongside recipes ranging from braised buffalo to turkey green chili tamale pie to sweet corn ice cream, this is a must-read for anyone looking for holiday meal inspiration..
Holiday Recipes, Food Sovereignty and More
Culinary powerhouse Delish also explores the history of Thanksgiving as three Native chefs discuss their personal relationship to Thanksgiving. The article ends with several chef-contributed recipes, including bison meatballs, wild rice pudding and chayote with dried green chiles. Additionally, the article highlights a number of food-sovereignty focused charities for additional reading.
More Native-inspired holiday cuisine can be found at Forbes.com, in interviews with Chef Ray Naranjo (Pueblo of Santa Clara, Odawa) of the Indian Pueblo Cultural Center, Elena Terry  (Ho-Chunk) of Wild Bearies and Linda and Curt Basina (Red Cliff Band of Lake Superior Chippewa) of Copper Crow Distillery. Recipes are featured in the story, including ones for Cedar House Smoked Salmon with Blueberry Maple Gastrique, Wild Rice Stuffed Honeynut Squash, Mesquite Pecan Pie and the signature Crow Old Fashioned (infused with Wisconsin Maple Syrup.)
Native Cookbooks Galore
Even the Sierra Club is helping spread the word on the "growing movement to bring back Indigenous culinary traditions and strengthen Native food sovereignty." Although the article itself does not include any recipes, it interviews five Native cookbook authors, thereby providing culinary inspiration AND excellent shopping ideas for the foodies on your holiday list.
If you want even more Native-written cookbooks on your bookshelf, check out these Chickasaw citizens who have penned cookbooks for the Chickasaw Press.  Of course, you could always skip the cookbooks and just download the Chickasaw Nation's recipe for Three Sisters Stew.
The Evolution of Native American Cuisine
Leave it to the History Channel to present a beautifully detailed history of the "evolution of Native American cuisine." There are no recipes here, but Lois Ellen Frank (Kiowa), the co-owner of Red Mesa Cuisine in Santa Fe, wrote the article. If you're hungry for recipes, Red Mesa's other co-owner, Walter Whitewater (Navajo) shares a number of savory dishes, from Delicious Carrot Soup to Pinto Bean Spread to a classic Red Chile Sauce in an online PDF.
Sean Sherman, the Sioux Chef
No Native culinary round up would be complete without a contribution from 2018 James Beard Award-wining chef Sean Sherman (Oglala Lakota Sioux), the CEO of Sioux Chef, an organization that focuses on "decolonized regional foods." In November, the Huffington Post featured an interview with Sherman, who encourages readers to "cook simple, eat simple." The article doesn't include recipes but does have a link to Sherman's cookbook, "The Sioux Chef's Indigenous Kitchen."
And More Sean Sherman
Sean Sherman was also the focus of a New York Times article last year that did include ten recipes from tribal communities around the nation. Sadly, the article is subscriber gated, so you must sign up to view the recipes. It might be worth the effort, though, if you think your holiday table could benefit from Bison Pot Roast with Hominy, Rocky Mountain Rainbow Trout with Trout Eggs, Crawfish and Shrimp Pot with Spiced Sweet Potatoes or Chia Pudding with Berries and Popped Amaranth.
Hate to Cook?
Are you among the many Americans who love great food just as long as you're not the one sweating over a hot stove to make that food? No problem. AIANTA features a comprehensive list of Native-made and produced food products on its Shop Native page.
If you haven't yet tried Chef Crystal Wahpepah's Blueberry Hibiscus Elderberry Bars, know that the AIANTA staff are big fans of all of Chef Crystal's tasty treats. Other tempting offerings on the Shop Native page include bison jerky Tanka bars, olive oils and elderberry balsamic vinegars produced by the Seka Hills Winery (Yocha Dehe Wintun Nation) and Tamaya Blue Corn (Santa Ana Pueblo), to name just a few.
If you're looking for even more Native-made food products, also visit American Indian Foods which features its own list of Native-made and produced foods.
Plan Your Travels Now
If all this reading about Native foods has left you updating your travel wish lists, head over to NativeAmerica.travel to find more travel inspiration.
More Resources
More Recipes
For the Indian Pueblo Cultural Center (IPCC) in Albuquerque, New Mexico, 2020 saw a new executive chef join the center's Pueblo Harvest restaurant, which is committed to telling "the Pueblo story through the medium of Indigenous and Southwestern ingredients." The IPCC's site is peppered with recipes from Chef Naranjo (Santa Clara Pueblo), but you can start with this ultimate comfort dish, Buffalo Short Rib Posole with Chimaja & Chile de Árbol.
Online cooking show, Indigikitchen, showcases pre-contact foods, especially those that are locally harvested. Their recipe page offers a tasty blend of traditional foods combined with modern-day culinary techniques. Take a peek to check out recipes such as Wild Rice Omelets, Elderberry Barbecue Sauce and Sunflower Butter Popcorn.
Lakota Chef Kimberly Tilsen-Brave Heart of Etiquette Catering in Rapid City, SD showcases traditional Lakota ingredients in recipes such as Wild Rice Omelet, Cranberry and Bison-Stuffed Mushrooms and Bison Stew in an article at Red Tricycle, a parenting portal.
Did we miss a resource? Send an email to info@aianta.org and we'll gladly update our list.