New Market Tax Credits – Creating Economic Health and Prosperity
New Market Tax Credits – Creating Economic Health and Prosperity
Many tribal communities find themselves isolated and underdeveloped, unable to build and support a local economy that can provide the needed jobs and services for economic prosperity. New Market Tax Credits (NMTC) is a tool that can help tribal communities develop the key community projects that lack the needed capital to move forward. In this webinar, Brian Gorecki, the founder of Real Estate Consultants, will introduce the use of NMTC for your project and unlock the possibilities of growth and expansion for job development and the expansion of key goods and services in tribal communities. Also presenting, Veronica R. Lane Vice President and Business Development Officer will be speaking on economic and banking opportunities from Native American Bank.
Brian Gorecki, Real Estate Consultants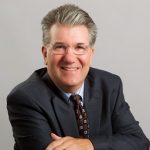 Brian Gorecki established Real Estate Consultants in January of 2008. The focus of Real Estate Consultants is to assist in the development, planning and financing of real estate. Brian brings a depth of development experience using New Markets Tax Credits and a long list of national partners to assist in the development process.
Prior to starting Real Estate Consultants, Brian was Vice President for Development at Sherman Associates where he specialized in the development of historic and underutilized properties along with mid-rise urban residential projects and hotels. Brian's financing expertise includes the use of affordable, historic, new market and brownfield tax credits
Before joining Sherman Associates, Brian was Director of Development for Artspace Projects, a national leader in not-for-profit development for the arts. During his seven years at Artspace Projects, Brian completed numerous projects using a combination of low-income, brownfield and historic tax credits.
In Brian's 25-year real estate development career, he has developed nearly a billion dollars of real estate assets across the United States.
Veronica R. Lane (Diné), Vice President and Business Development Officer, Native American Bank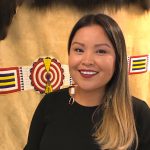 Veronica R. Lane is a Vice President and Business Development Officer at Native American Bank, N.A. (NAB) and has worked in the finance and banking industry her entire career. Prior to joining NAB in 2014, Ms. Lane primarily worked in corporate America for various organizations ranging from a small start-up wealth management firm to a Fortune 500 company. Veronica joined NAB as a Commercial Credit Analyst II and has since transitioned to the Lending Department where she manages a diverse commercial lending portfolio with areas of expertise in several government guarantee programs. She is also the Tribal Housing Specialist for the bank and a member of the NAB Marketing Team. Veronica is a graduate of Fort Lewis College with a Bachelors in Accounting and a minor in Small Business Management and Entrepreneurship, she is also a graduate of the University of Denver with a Masters of Business Administration with a Finance concentration. Veronica is Diné and originally from Tohlakai, New Mexico but currently resides in Denver, Colorado. 
Bianca Mitchell (Pueblo of Acoma), Education Manager, AIANTA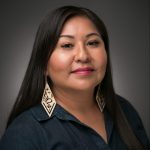 With an extensive background in events management, donor development, communications and marketing, Bianca brings years of experience to AIANTA. In her role as the Education Manager, she will identify, develop, implement, market and promote technical assistance and training programs, webinars and certificate programming. Bianca's goal is to assist in growing and enhancing the program model for and with AIANTA.