O me'a"kwa: Happy New Year!
(I'm going to travel over there, Northern Paiute)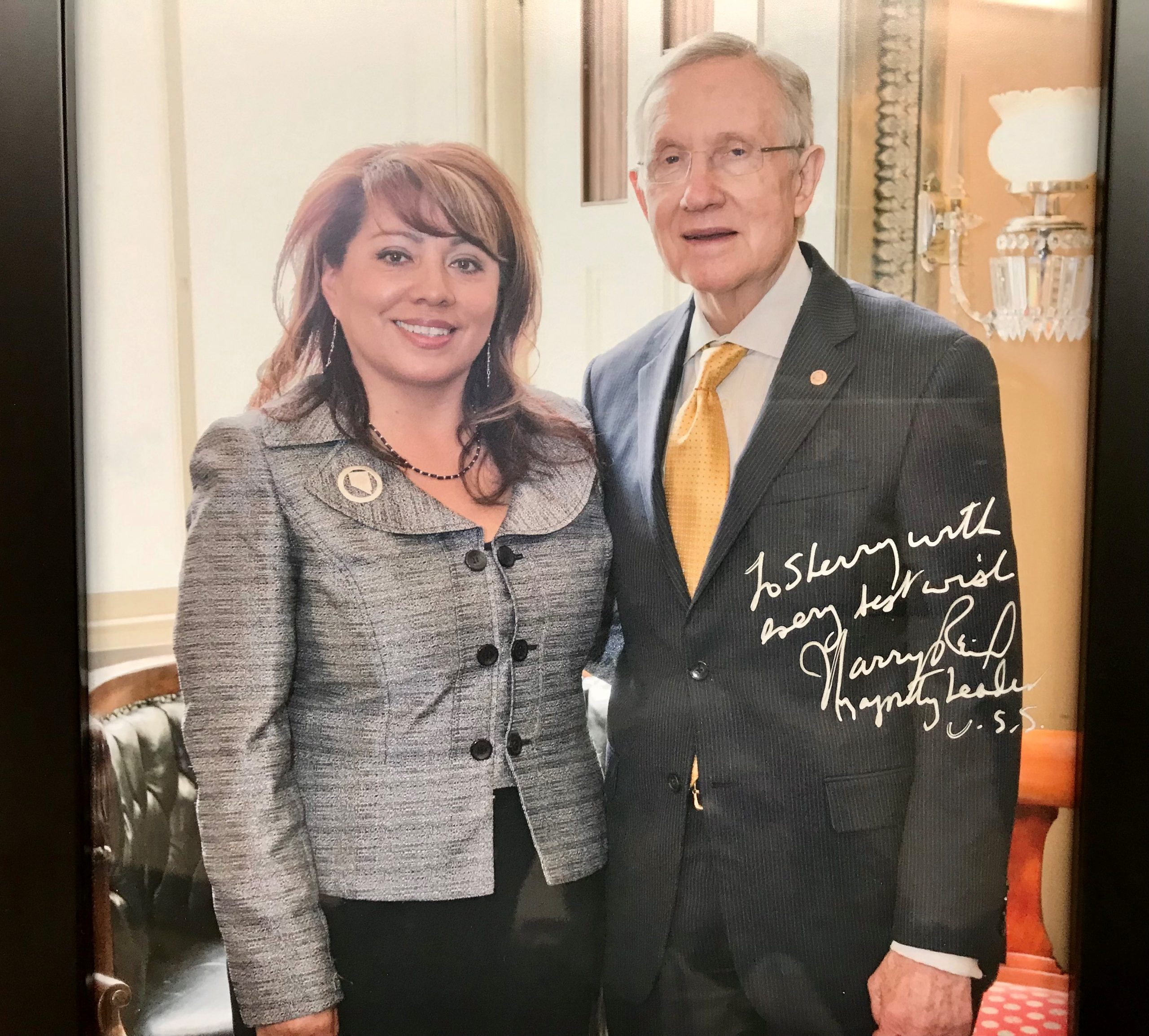 Dear AIANTA members, friends and partners–
Happy New Year!
As I write this note, I have just returned from the memorial service of AIANTA friend, former Nevada U.S. Senator and Senate Majority Leader Harry Reid. I'm so saddened by the passing of Senator Reid, who was a staunch ally of Native Americans, including supporting the passage of the NATIVE Act, which was signed into law in 2016. Here, you can read a beautiful tribute to Reid in by AIANTA colleague Wendy Helgemo, who wrote "Sen. Reid made our country a better place for First Americans – and every one of us."
Attending his memorial reminded me that there is so much work yet to be done for and by Native People, but also when we work together, we can drive change that affects us all.
As we enter 2022, we know that the challenges of the previous two years are not yet behind us. But as we look forward, there is much to be hopeful for.
Here at AIANTA, we are well underway in the planning of our 24th annual American Indian Tourism Conference, which will take place this October, at Harrah's Resort Southern California, in partnership with the Rincon Band of Luiseño Indians. After the success of last year's conference—which we held in-person—we believe this year's conference will be even better than ever.
We are also getting ready to launch this year's Go International, which will be held in-person April 19-20, 2022, in Albuquerque, New Mexico and will focus on building better travel packages and working with the international travel trade in attracting group and overseas travelers. We encourage you to save the dates as this year's program promises to feature amazing speakers and participants that can help you grow your group and international travel businesses.
We are also launching a new certificate program, the San Diego State University Certificate in Cultural Tourism and Tribal Enterprises, which will join our popular Professional Certificate Program in Cultural Heritage Tourism, held in partnership with the George Washington University International Institute of Tourism Studies. Stay tuned, as we will also be launching a third certificate program in partnership with Arizona State University later this year.
Please note the San Diego State University CTTE program starts soon, so please Register Now.
Additionally, AIANTA is hiring! We currently have two new staff positions open and we are also looking for a contract graphic designer, so we encourage you to consider joining our team during this time of growth.
We know that the immediate future of travel remains hazy, and it is hard to predict what the future will hold. More people are traveling but the numbers are nowhere near pre-pandemic levels. As the world continues to look forward to a resurgence in travel, we encourage all our partners to be ready when the time comes. Have your plans in place, keep AIANTA informed of your new programs and speak to your elected representatives about the importance of tourism.
As we dive into the new year, I'd like to share a favorite Harry Reid quote from a 2016 interview with Politico in which he was asked how he'd like to be remembered. In response, he said, "I'm sure there are more people capable than I, better looking than me, better educated than me, smarter than me. But I've got the job. And I try to do the best I can … I'm the one that has to do it. So I have done the best I can."
I think these are such inspiring words. We all just need to do the best we can.
I am grateful to every one of you, our tourism partners across the nation, and excited for all that we will accomplish in 2022!
Boneedwa,
(See you later, Northern Paiute)
Sherry L. Rupert