O me'a"kwa: New Experiences
(I'm going to travel over there, Northern Paiute)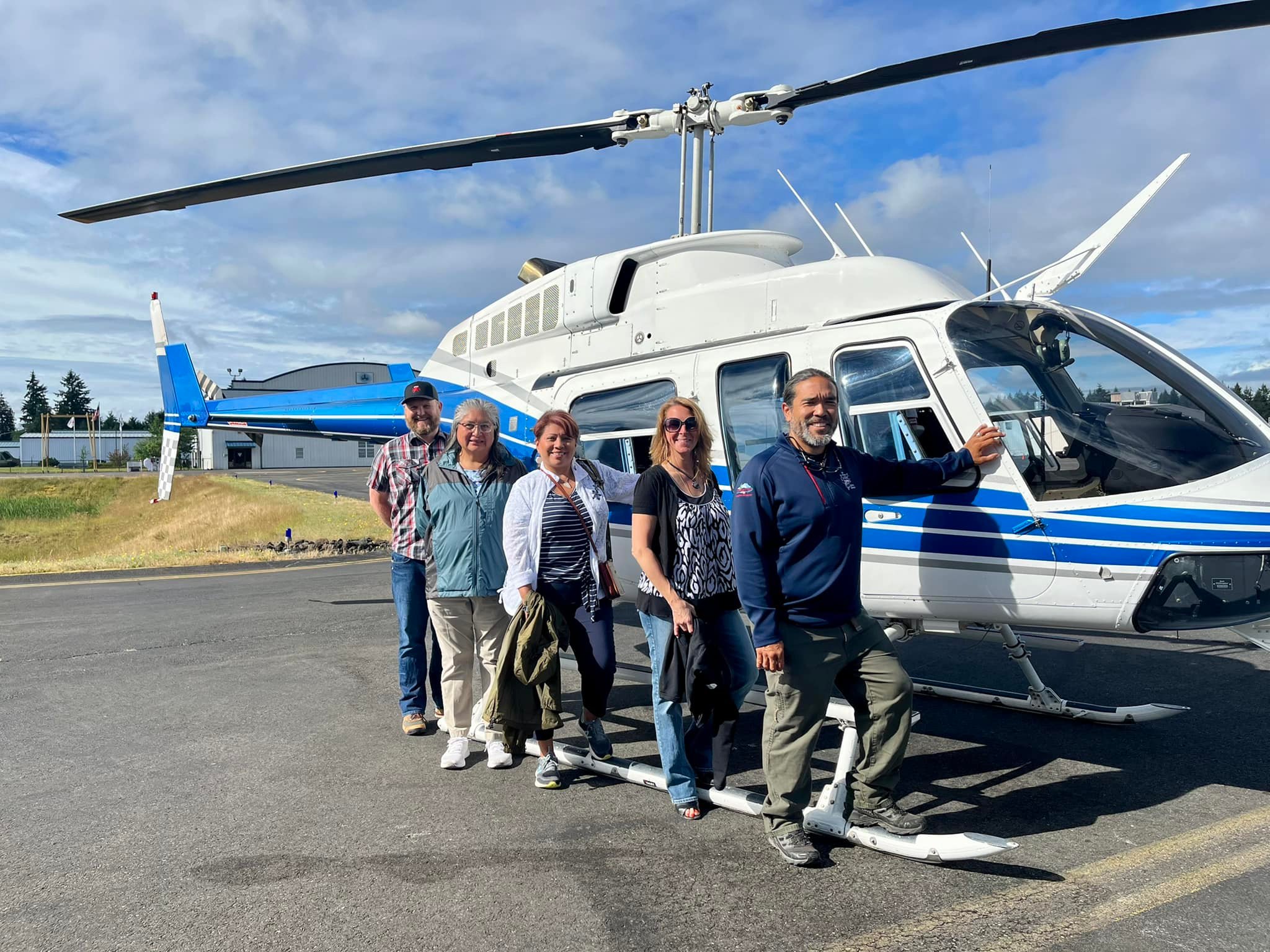 Photo: CEO Sherry Rupert pictured with Hanford Mccloud, Justine Capra, Jolene Catron and Biologist Chris  // (c) Sherry L. Rupert
Dear Members, Partners and Friends,
I hope you're having a joyful and safe summer.
As we continue to face the challenges of COVID-19, AIANTA is prioritizing direct outreach to Native Nations and communities. In doing so, we get to hear about the unique experiences each community has to offer in addition to their needs when dealing with COVID-19.  As we work together to address these challenges, I am hopeful that our firsthand experiences will help bring forth long-term solutions for sustainable cultural tourism initiatives, programs and businesses.
Here at AIANTA, we are well underway in the planning of a new pilot project in partnership with the tribes of Washington and the National Park Service (NPS). The purpose of this project is to organize and facilitate opportunities for Mount Rainier National Park and tribal gateway communities to participate in conversations regarding shared interest specific to cultural tourism, recreation and visitor services.
This past month, the AIANTA team visited Mount Rainier to conduct outreach and begin planning a NPS "familiarization tour" to tribal properties, the results were very informative learning about the tribal relationships to Mount Rainier and the communities. If you are interested in participating in the Tribal Outreach and Engagement Project at Mount Rainier National Park, please reach out to Jolene Catron, AIANTA Partner Project Coordinator for more information. With this project, we look forward to learning more and building relationships to support implementation of the Native American Tourism and Improving Visitor Experience (NATIVE) Act.
As we emerge from the biggest challenge the tourism sector has faced in our lifetimes – we are looking to build on your access points for support.  We are so fortunate to be able to partner with The George Washington University International Institute of Tourism Studies, ranked in the top 5% of hospitality programs in the United States, to bring you tailored, responsive training specific to cultural tourism development and impact. They bring a global perspective that is paired with AIANTA's Native Nation and community specific approach. I highly encourage you to take the Professional Certificate Program in Cultural Heritage Tourism, but you need to act quickly, registration closes August 22, 2022 with the seven week, flexible program beginning in September.
Finally, thank you all for continuing to help change the world during this challenging time and I invite you to share your work, ideas and needs with my staff and with us at our 24th annual American Indian Tourism Conference, which will take place this October, at Harrah's Resort Southern California, in partnership with the Rincon Tribe. After the success of last year's conference—which we held in-person—we believe this year's conference will be even better than ever.
Looking forward to seeing you soon!
Boneedwa
(See you later, Northern Paiute)
Sherry L. Rupert, Chief Executive Officer