(I'm going to travel over there, Northern Paiute)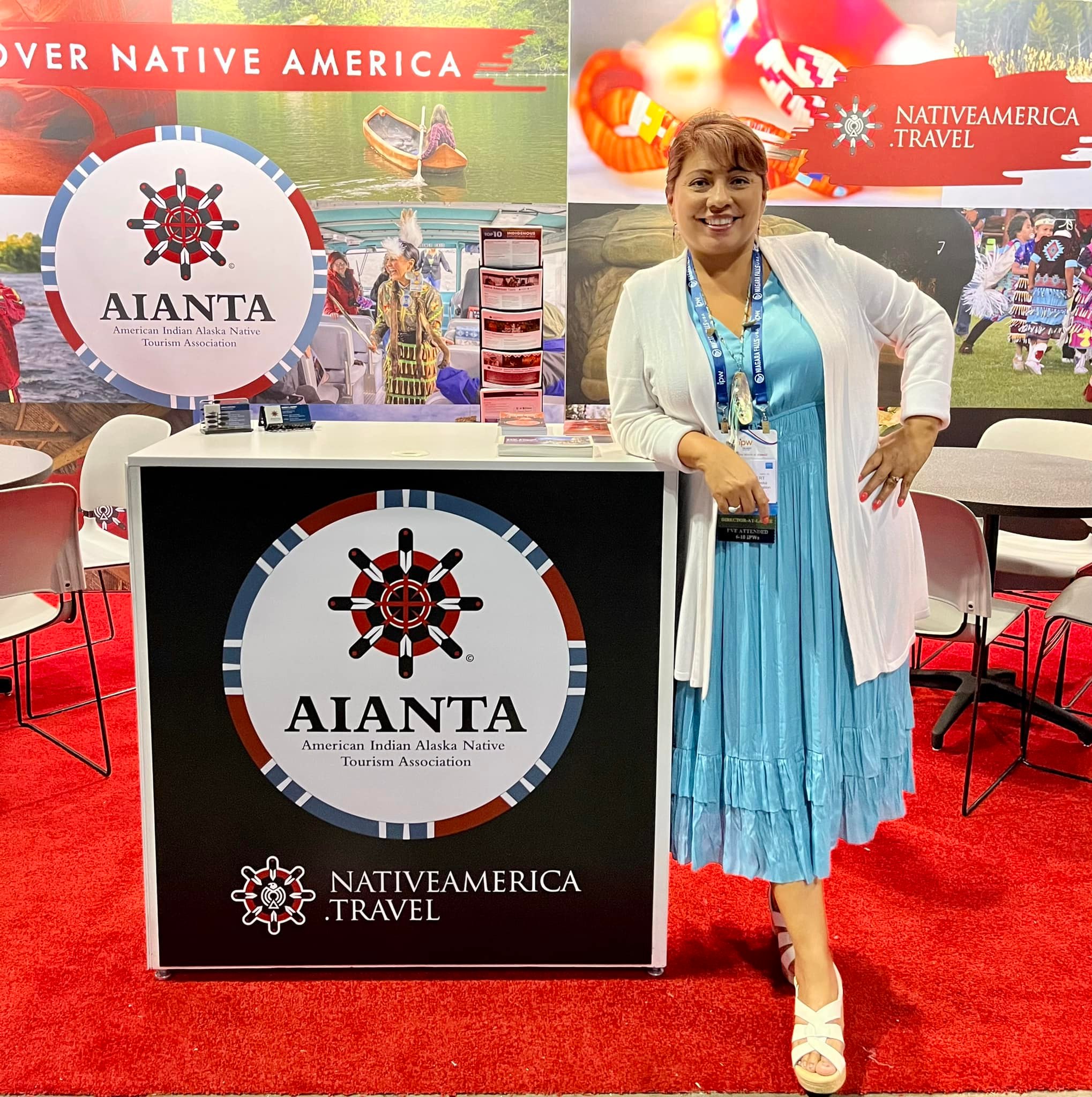 Photo: CEO Sherry Rupert pictured with AIANTA's "Tribal Row" at IPW // (c) Sherry L. Rupert
Dear Members, Partners and Friends,
I hope this newsletter finds you healthy, happy and eagerly planning for the future.
I am thrilled to be back on the road once again, working in Indian Country.  It has been so fulfilling to be able to provide resources and assistance to help tribes be successful in the tourism industry – A true honor.
From attending Visit California's Board Meeting in San Diego, CA to a pre-familiarization tour of Southern California cultural tourism destinations hosted by Agua Caliente Band of Cahuilla Indians. Then a trip to Las Vegas for the Reservation Economic Summit and finally, Orlando, Florida for IPW, the leading inbound travel trade show in the U.S., where we made valuable contacts with the travel trade media and industry leaders.
At the Reservation Economic Summit in Las Vegas, I was honored to share my knowledge and experience on two panels. The first discussed the importance of leadership and I was honored to be the only Native woman on a leading panel. The second panel focused on the economic benefits of controlling your own narrative which aired on the Native America Calling radio program. In addition, our partnership with SMS Research provided a space in our booth for businesses to learn about AIANTA resources and to identify needs for technical assistance.
As we entered the month of June, AIANTA returned to IPW for the first time in two years with a brand-new "Tribal Row" booth design. While there, AIANTA and five native partners, Nez Perce Tourism, Alaska Native Heritage Center, Tse Bighanilini Tours, Adventurous Antelope Canyon Tours and Akwesasne Tours, had many great conversations with travel buyers and media from around the world in an effort to showcase the diversity of experiences across Indian Country. I also had a wonderful opportunity to discuss the benefits of travel in Indian Country with Brand USA as part of their Podcast Series – Brand USA Talks Travel.
Next, I will be heading west for the Grand Opening of the Stewart Indian School Cultural Center & Museum and the Stewart Father's Day Pow Wow.  As I have mentioned before, Stewart is a special place to me, and I am proud to be participating in their celebration surrounded by family and tribal traditions. If you are in Carson City, Nevada on June 18th and 19th, stop by AIANTA's booth to talk about your cultural tourism plans and operations and to say hello!
On June 29, 2022, we'll be holding our second quarterly AIANTA Town Hall meeting at 1 p.m., Mountain Standard Time. The overarching theme is A Taste of Indian Country and we'll be exploring the culinary and agritourism initiative in Native communities. At the end of the session, as with all AIANTA's Town Hall meetings, you'll have the opportunity to provide feedback on any of our programs—past, present or future.  We greatly look forward to learning more about how AIANTA can tailor its programs for you!
Now I encourage you all to mark your calendars for October 24-27, 2022, for our 24th Annual American Indian Tourism Conference, which unfolds in Funner, California in partnership with Harrah's Southern California and the Rincon Band of Luiseño Indians.  I look forward to seeing you all there, as it has brought me joy to see everyone making positive contributions towards their communities. I am honored to be part of such a thriving network and look forward to the many connections that will continue to grow in the future.
As always, drop us a line at AIANTA and keep us updated on your successes and challenges.
Boneedwa
(See you later, Northern Paiute)
Sherry L. Rupert, Chief Executive Officer
American Indian Alaska Native Tourism Association