O me'a"kwa: Year of the Tiger
(I'm going to travel over there, Northern Paiute)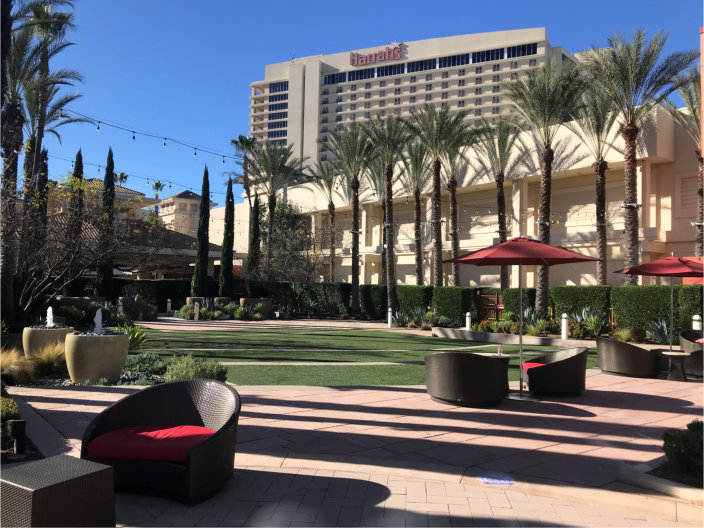 Dear AIANTA members, friends and partners–
Happy Year of the Tiger!
Early February marked the start of a lunar new year (also called Chinese New Year), which brings us into the Year of the Tiger. According to this article, 2022 will be a year of "big changes, risk-taking and adventure." If you're like me, you've probably had enough adventure over the past two years, but the article also claims that "generosity is at an all-time high and social progress feels possible again."
Whether or not you believe in the lunar Zodiac, I think we can all use some more generosity and social progress right now.
For me, it does feel like Indian Country is about to enter a time of great change. We have so many big programs on the horizon at AIANTA, and I'm excited to have all of you join us this year. I know the Native hospitality industry is especially poised for big things. In the past two years, during the height of the worst economic crisis in recent times, Native tourism businesses, cultural centers and programs have opened at a tremendous pace. Nearly a billion dollars' worth of Native cultural centers have either opened in the past 18 months or are expected to open in the very near future.
None of this is a surprise to us at AIANTA. Native people are inherently storytellers and as the world becomes an increasingly chaotic place, travelers are looking to reconnect with more traditional—and spiritual—experiences.
You may be reading this newsletter, thinking "I'm just one person, what can I do to help perpetuate culture (or tourism) in my community?" It is one of the most common questions we hear at AIANTA. An energetic person or a small group of people who are looking to effect change, especially economic change, feel overwhelmed by the very idea of getting started.
The good news is that for every one of you wondering how to get started, I can name dozens of people who had the exact same questions as you and now run successful art businesses, tour companies, farm programs and/or tribal tourism programs. If you don't believe me, check out the pages of the AIANTA's Cultural Heritage Tourism Planner, which we released last year at the American Indian Tourism Conference. The guide offers more than 100 pages of success stories and inspiration for other tourism entrepreneurs.
If you need more inspiration, I encourage you to join us at this year's American Indian Tourism Conference (AITC), scheduled for October 24-27, at Harrah's Resort Southern California in partnership with the Rincon Band of Luiseno Indians.
We are deep into the planning of this year's conference, and we hope to expand on the amazing energy of last year's event at the We-Ko-Pa Casino Resort in Fort McDowell, Arizona. The theme for this year's conference is Rising Together for the Journey Ahead, and we expect the Southern California affair to be our best conference yet.
We are already accepting speaker proposals for conference breakout sessions, so if you have a success story to share, we would love to hear from you.
So many of you have built distinctive tourism programs, found creative sources of funding, or just developed new and streamlined ways to operate your businesses and we'd love to have you share those stories with other conference delegates. The deadline to apply for a speaker slot is April 29, 2022, but we are discussing breakout session topics well in advance of the deadline, so please apply as early as possible.
We are also actively seeking conference sponsors, so please take a look at our conference sponsorship page if you'd like to extend your own exposure. Last year's new Tribal Team Sponsorship (which includes three conference admissions, a tribal membership at AIANTA and recognition on our website, logo on the conference app and in the AITC program) was a particularly popular option for tribes who brought multiple attendees to AITC. Additionally, there are sponsorships starting as low as $1,500, so we have a package that fits every budget.
The annual Go International is approaching quickly and is scheduled for April 19-20, 2022, which will return to an in-person format this year and will be held at the Indian Pueblo Cultural Center right here in Albuquerque. This year, we welcome the return of Destination America, a destination management company that designs tour programs, group travel and meetings programs for 40 brands that make up global travel company, the Travel Corporation (TTC). If you are serious about working with the global travel industry, I encourage you to sign up for Go International today!
Clearly, I'm very enthusiastic about the year ahead, but I know that the outlook may not be quite as rosy for everyone. Whatever your outlook, I urge you to take advantage of the resources AIANTA offers. Stay in touch and let us know what's happening with your tribe, community or business. We are here to help.
No matter your plans for the future, please also take the time to celebrate American Heart Month by sharing the love with your friends, family and colleagues. And most importantly, remember to be kind to yourselves.
Boneedwa,
(See you later, Northern Paiute)
Sherry L. Rupert