(I'm going to travel over there, Northern Paiute)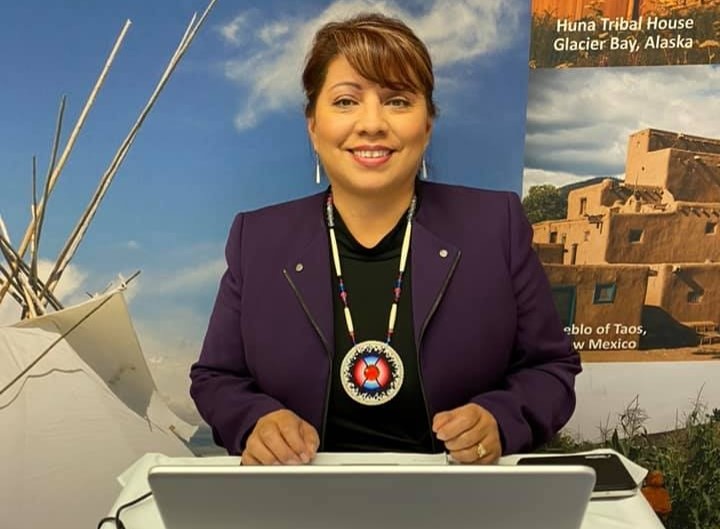 Dear AIANTA members, friends and partners–
As we start to look forward to the end of 2020, I am certainly not alone when saying, "What a year!"
Clearly, this year has been packed with changes and challenges, many of which have been crippling to the tourism industry. Despite the challenges, however, 2020 has often been a source of inspiration for me as well.
This year, I've had the chance to speak with so many of you personally. While it is no surprise to me that the tribal tourism industry is made up of a creative, passionate group of innovators, it has been a source of personal inspiration to hear how people are overcoming the hurdles that have been thrown at them since January.
Even internally, our team at AIANTA has produced nothing short of groundbreaking work. Despite the economic climate facing the tourism industry, AIANTA's Board of Directors and staff came together to produce our first-ever virtual American Indian Tourism Conference (AITC).
Thanks in part to NATIVE Act funding, the conference was hosted, free of charge, for all tourism industry professionals. As a result, we welcomed a record 800 attendees, our biggest enrollment yet. In addition, AITC featured six all-star keynote speakers and more than 50 industry experts speaking on topics ranging from infrastructure and recovery to marketing and fundraising.
While it could certainly be easy to celebrate this record-breaking audience as a win for AIANTA, in reality, it is a win for Indian Country tourism. Attendees, in addition to joining our groundbreaking panel sessions, actively engaged in robust in-app dialogues, sharing excellent tips and suggestions for how to move forward in a post-COVID-19 world.
Speaking of the future, at AIANTA we have started to roll out our programming for FY2021. While it is still too early to entirely predict what's in store for the coming year, we do know that we will continue to find ways to further awareness and convey the importance of Indian Country tourism.
One change we are excited to announce is a shift in dates for our popular Certificate Program in Cultural Heritage Tourism, which is offered in partnership with the George Washington University.
This program, which was previously conducted immediately following our conference every October, will now commence January 11, 2021.
We'll also be using NATIVE Act funding to waive registration fees for a limited number of Certificate Program registrants. Although these registrations will be offered free of charge, restrictions do apply and you must meet certain qualifications to apply. If you're interested in learning more, please click here for additional information.
We're encouraged for all that 2021 has to offer. We remain hopeful for a full recovery of the tourism industry and a healthy and prosperous year to all Indian Country tourism providers. I'm sure there will be plenty of road bumps ahead, but I can't think of a finer group of people I would want to face those challenges with.
It's never goodbye, but see you later.
Boneedwa
(See you later, Northern Paiute)
Sherry L. Rupert, Chief Executive Officer
American Indian Alaska Native Tourism Association