(I'm going to travel over there, Northern Paiute)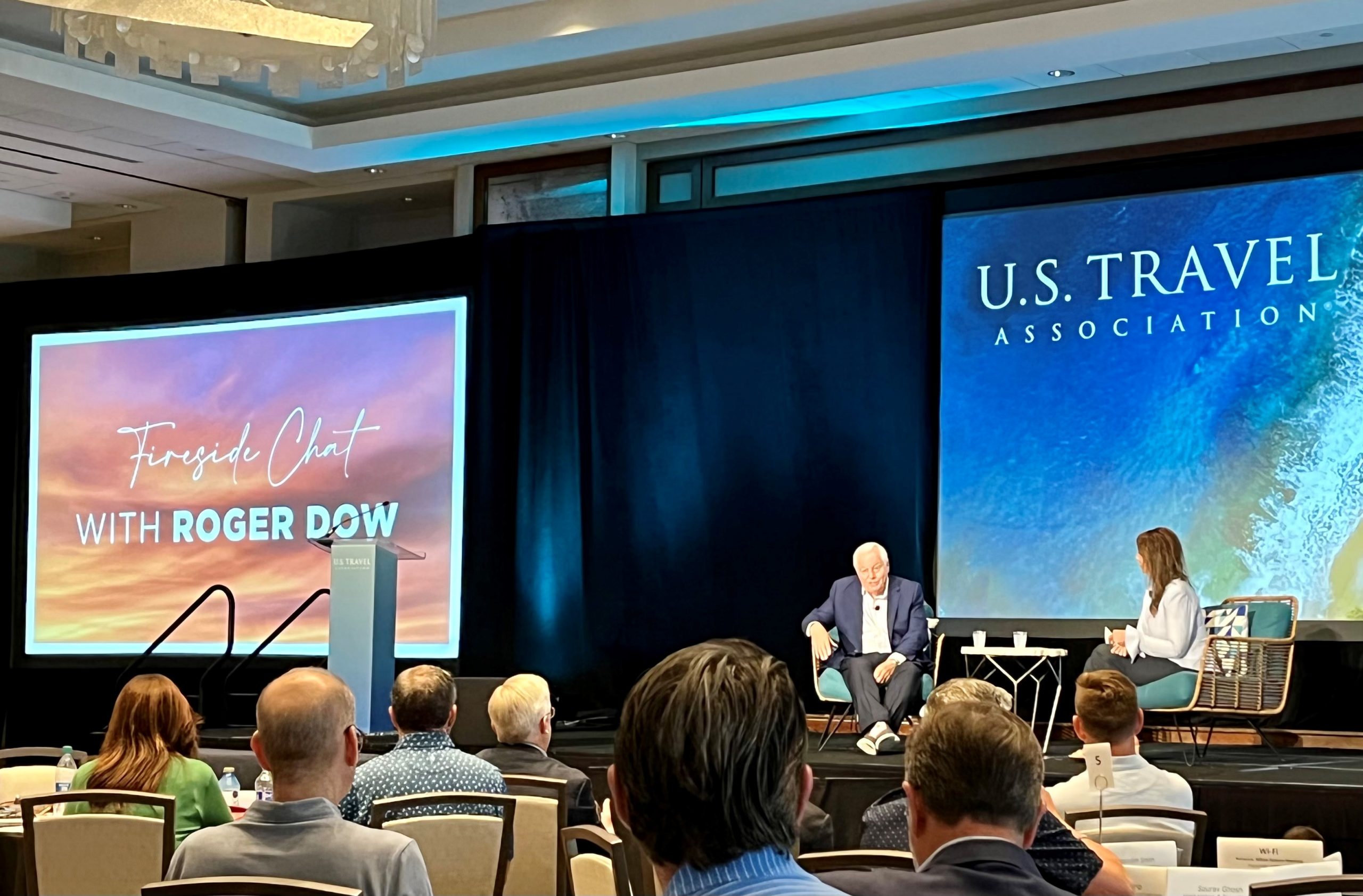 Photo: Roger Dow, president and CEO of the U.S. Travel Association at the U.S. Travel Board of Directors Meeting in Puerto Rico.
Dear Members, Partners and Friends,
I hope this letter finds you happy, healthy and ready to tackle new adventures.
As I am writing this letter, I have just returned from the U.S. Travel Association's Board of Directors Meeting in San Juan, Puerto Rico. This three-day meeting allowed for collaboration from other directors and industry leaders from around the country.  Elements of the meeting focused on tourism recovery, safe policies to ensure COVID safety for travelers, and advocacy for all components of the travel and tourism industry. As both a Board Member of the U.S. Travel Association and a representative for Native Nations, I participate in this forum of travel professionals to work towards a more inclusive travel industry by elevating the voices of the vibrant indigenous cultures and languages that contribute to the growth and vitality of the U.S. travel industry.
The conclusion of the meeting said farewell to Mr. Roger Dow the long-standing President and CEO of the U.S. Travel Association.  Throughout his tenure he worked to transform the travel industry into a more cohesive body, including the development of Brand USA. He served as a mentor for many leaders in the travel industry and continued to do so throughout the COVID Pandemic understanding its impact and need for recovery strategies.  I would like to extend a heartfelt thank you to Mr. Dow for his meaningful contributions to the tourism industry.
We are committed to continuing the success of the travel industry and are expanding our team  to increase visibility for American Indian, Alaska Native and Native Hawaiian communities and promote Cultural Heritage Tourism. We are pleased to welcome Visitor Outreach Manager, Ciarra Greene; Native Arts and Culture Coordinator, Melanie LaBorwit and Agritourism Specialist, Kelli Hepler. If you would like to learn more about these incredible women, visit our team page or send them a welcome email.
We also offer online programs and certificates that are open to professionals in cultural tourism fields to expand their skills, gain experience and knowledge, or transition into these roles. As an example, I'm happy to announce our latest partnership with Arizona State University, which will begin in spring of 2023.  The addition will join our popular Professional Certificate Program in Cultural Heritage Tourism, held in partnership with the George Washington University International Institute of Tourism Studies with an upcoming registration deadline of August 22, 2022. I encourage you to consider attending one of these tailored online programs to support your cultural tourism efforts.
Finally, AIANTA is hiring! We currently have three new staff positions open.  I encourage you to consider joining our growing team and be a part of helping Native Nations and communities tell their stories in one of the most dynamic and leading industries in the country.
I am grateful to every one of you, our tourism partners across the nation, and excited for all that we continue to accomplish!
Boneedwa,
(See you later, Northern Paiute)
Sherry L. Rupert