AIANTA Oklahoma Regional Meeting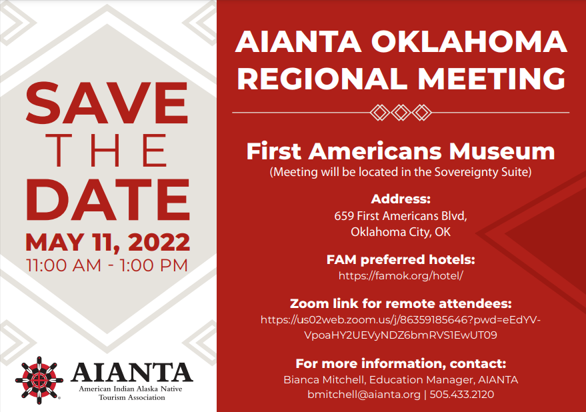 AIANTA Oklahoma Regional Meeting
First Americans Museum
May 11, 2022; 11 a.m.
Join AIANTA in its first-ever Oklahoma Regional Meeting, held on May 11, 2022 at the First Americans Museum.
During this forum, led by AIANTA CEO Sherry L. Rupert (Paiute/Washoe) and AIANTA Board Member Travis Owens (Cherokee Nation) AIANTA share information about its programs for the coming year.
We'll also be unveiling details about our 25th Annual American Indian Tourism Conference, which will be held in October 2023.
We look forward to seeing you on May 11!