A Q&A About the Anza Trail Map with Margaret Pearce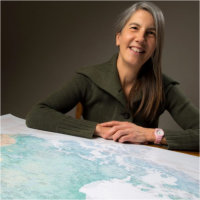 What kind of map are you making for the Anza Trail guide?
The guide will feature three 11×17 maps for the three regions of the trail: Arizona, Southern California and Northern California. Each map will include traditional place names and other significant sites contributed by partner Nations and communities in the region of the Trail. The purpose is to raise visitor awareness about whose homelands they are traveling through, by portraying Indigenous territories through the names and sites of importance for that Nation or community.
How detailed will the maps be?
Each map covers a large area, so a few place names from each contributor will soon fill the map. Depending on how many other communities are in that area, that might mean two place names or it might mean ten place names. The generalized scale will protect the actual locations from being known, while remaining educational to readers about the places that are important to you.
How do you go about asking permission?
I've been reaching out to each Nation to ask if they'd like to contribute some names, and if so, who would be the appropriate person to work with on that. Sometimes that's the Tribal Historic Preservation Officer, or the director of the language department, or the tribal secretary. Often I'm asked to present my request to the Tribal Council or a cultural advisory committee for approval.
What's the process once the work is underway?
When a contributor sends me some names they would like to see represented, I add them and then send a screenshot back to them for review. Then we go back and forth like that until they approve a final draft. I prefer to work that way, as iterative screenshots, because it gives the person time to ruminate on how the names look once they're in the map, and the larger message about their territory that is being conveyed.
What if contributors have different names for the same place?
I love when that happens—it often means there is shared stewardship of that place, or a change across the generations in how a name is spelled or known. I'll include all of the names in a stack for that place.
How much does it cost?
There is no cost to participate in any aspect of this project. Funding for the Anza Trail Guide is provided by our AIANTA Partner, the National Park Service.