Re-Navigating the Anza Trail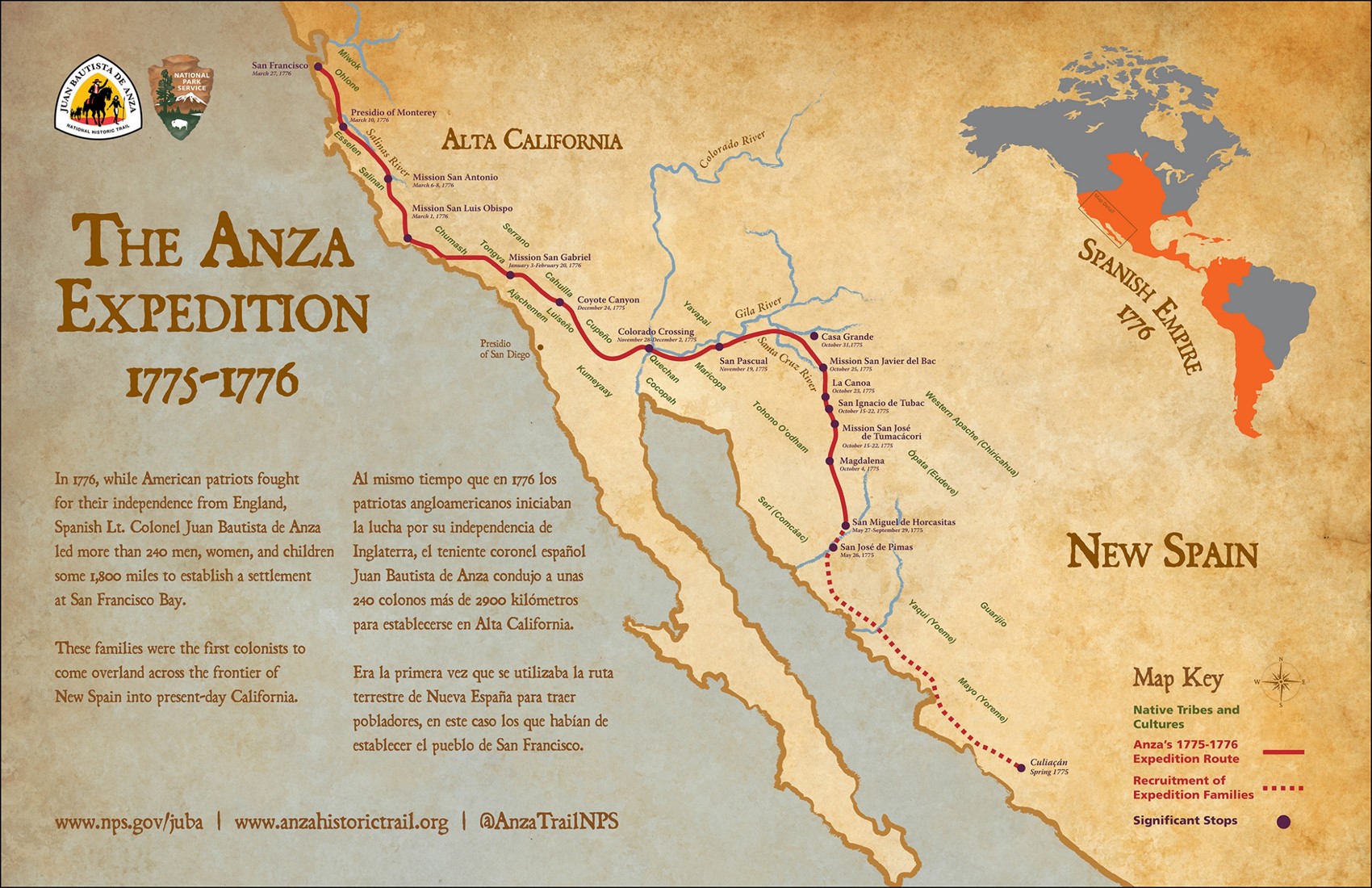 While much has been written about European expansion into Western North America, far less has been chronicled about the Native American communities that continually inhabited California and Arizona long before the route became known as the Juan Bautista de Anza National Historic Trail.
The journey, which commenced October 1775, saw some 240 settlers from Mexico forge a westward/northerly route, which in the United States stretches from Nogales, Arizona to San Francisco, California.
In a one-of-a-kind partnership with the National Park Service, AIANTA will begin chronicling the stories of the tribes located on or near the Anza Trail.
The three-year partnership will result in educational webinars for tribes, a print/online guidebook reflecting past and present-day tribal attractions at key spots along the trail, and a first-of-its kind map, that will translate key locations along the trail back in the original native languages.
Preliminary Outreach Calls
Outreach to the 70+ Arizona and California tribes located within 100 miles of the trail has already begun. Tribes that fall within the 100-mile radius are encouraged to sign up for outreach conference calls with AIANTA, which allow AIANTA to explain the project in more detail and also give tribes the opportunity to share their cultural offerings with the AIANTA team.
In-Person Visits
Additionally, AIANTA has secured the services of travel writer Steve Larese, who will be reaching out to tribes individually to schedule in-person visits. During his visits, he will meet with tribal historians, cultural center and tourism representatives, and other stakeholders interested in promoting their cultural tourism offerings.
Historic Place Names
AIANTA is also working with celebrated cartographer Dr. Margaret Pearce (Potawatomi), who will be creating a new map that chronicles locations along the map in their original native languages.
Listening Sessions
Later in the year, AIANTA team members, led by CEO Sherry L. Rupert will conduct listening sessions at key spots along the trail. All tribal communities near the meeting site will be encouraged to attend these open-forum meetings and share their challenges and hopes for tourism in a post-Covid-19 world. Tribes interested in hosting these meetings and/or donating a meeting space, are encouraged to contact AIANTA with details.
If you'd like more information, please contact Amy Meak (ameak@aianta.org) or Gail Chehak (gchehak@aianta.org) at AIANTA to explore ways you can participate.