The 6th Annual Enough Good People Awards Gala and Silent Auction: A Tremendous Success!
Every year, AIANTA host's the Enough Good People Awards Gala and Silent Auction to celebrate people and organizations that have helped move the mission of AIANTA forward. As part of the Gala, we also hold a silent auction with proceeds going to our scholarship program.
The awards event recognizes the "best of" the tribal hospitality and tourism industry, accompanied by dinner, entertainment and a silent auction featuring extraordinary items, which include Native artwork from all over the country and overnight stays at tribal destinations throughout Indian Country. All proceeds from the silent auction benefit the AIANTA scholarship program.
---
Congratulations to our 2017 Enough Good People and Tribal Destination Award Winners!
2017 Enough Good People Award Winners:
Marcie Metropolis was a longtime employee of the Great Lakes Inter Tribal Council, where she served as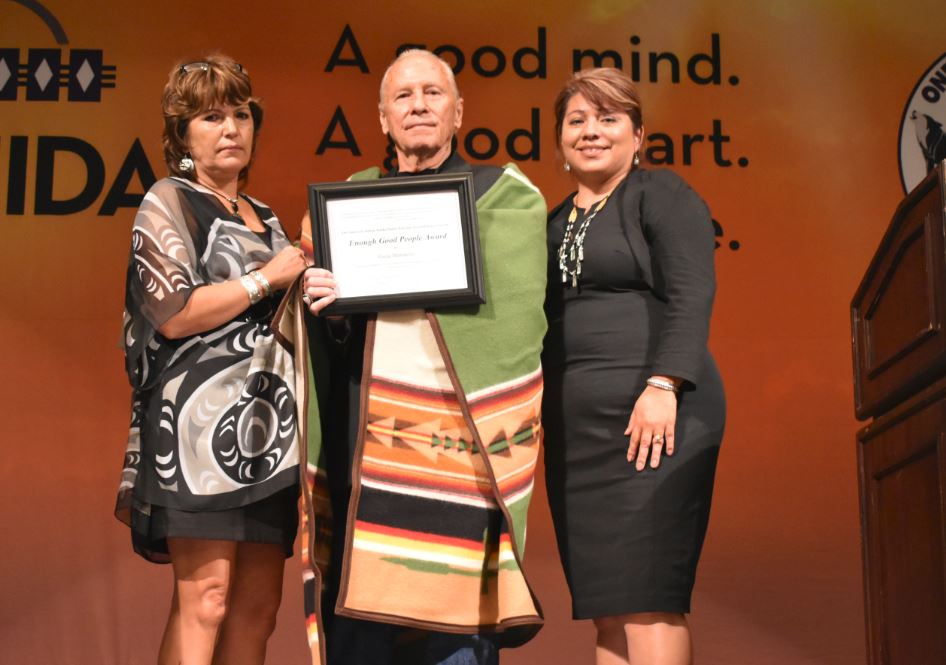 AIANTA's main contact as the organization's fiduciary. She assisted AIANTA through many of its formative years, especially when the organization began receiving funds to carry out work for the BIA Department of Transportation. She also provided guidance to AIANTA staff and worked very closely with AIANTA during the time when AIANTA took over its responsibilities as fiduciary. Marcie's husband was able to accept the award on Marcie's behalf during the awards ceremony (pictured right).
---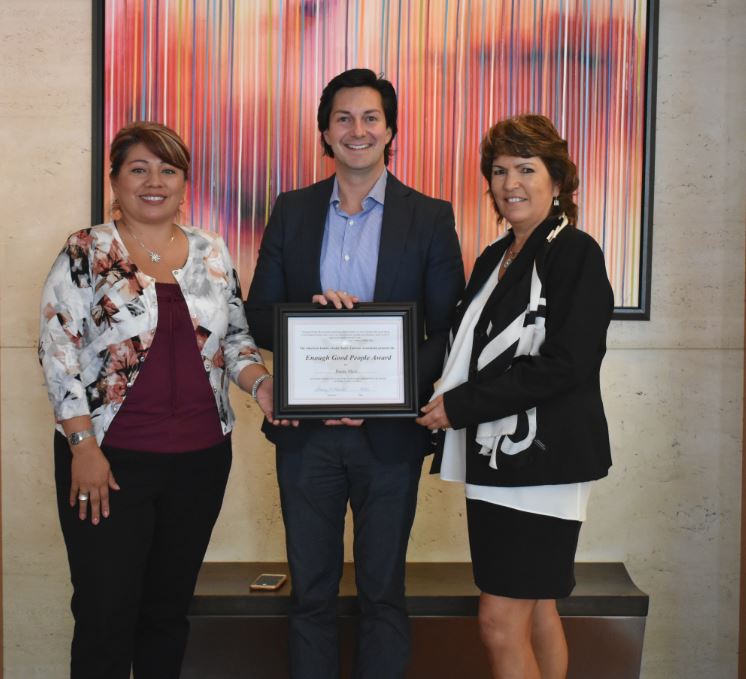 Kilpatrick Townsend & Stockton is an international law firm with offices in Washington, D.C. and around the world.  Partners Keith Harper and Daniel Marti received the Enough Good People Award for the law firm's pro bono assistance with AIANTA's organizational development and legal services since 2012.  Both of these attorneys have become great friends to the organization and supporters of tribal tourism, and will continue to help and support Indian Country going forward.
---
The Excellence in Customer Service Award honors an individual who has provided consistent, excellent customer service during their tenure of employment or a business with a commitment to creating and providing a culture of service.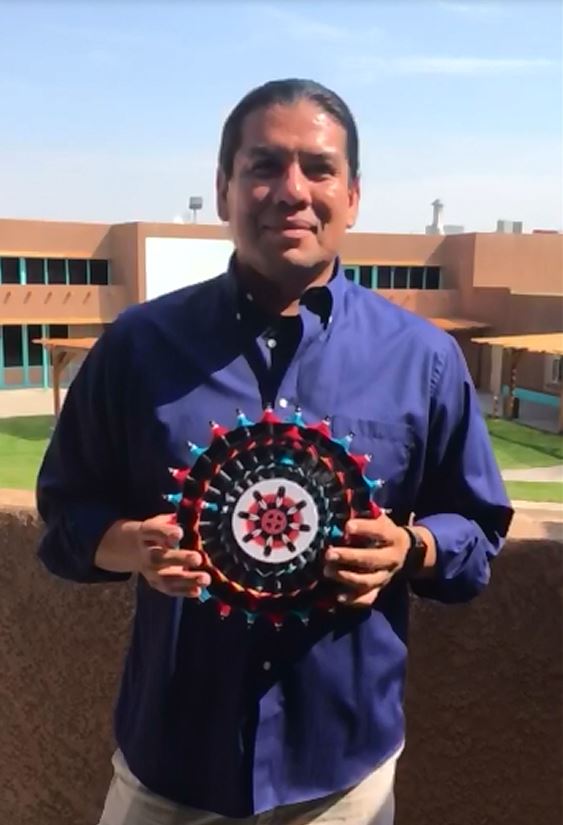 Donovan Hanley took home this award for his work at Navajo Nation Hospitality, where he actively engaged with tour operators, meeting planners, DMOs, the Arizona Office of Tourism and AIANTA to promote the Navajo Nation. Hanley currently serves as the Vice President of the Arizona Indian Tourism Association, having previously served 6 years as President.
"To be successful in the hospitality industry, one first must have the personality and customer service ingrained," said Hanley in a 2012 interview.
---
The Best Cultural Heritage Experience Award honors authentic representations of a tribe or tribes.
Stewart Father's Day Powwow celebrates Ame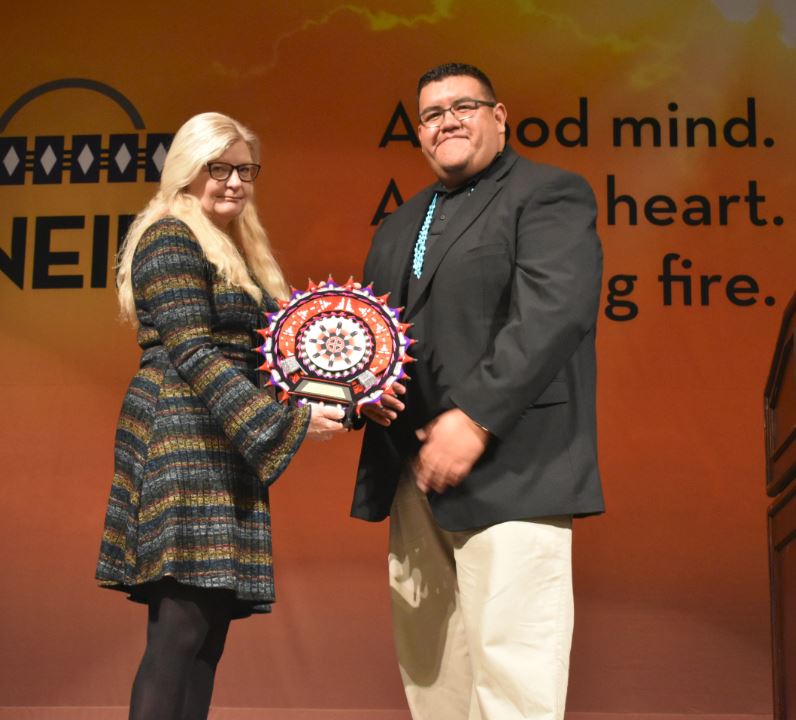 rican Indian heritage and raises funds to preserve the historic Stewart Indian School (1890-1980), which is listed on the National Registrar of Historic Places and located three miles southeast of Carson City, Nevada. Stewart's history as a government boarding school had an enormous impact on Native communities. This story is shared at the powwow while honoring alumni, and these experiences will be shared when the new Stewart Indian School Cultural Center opens as a cultural tourism destination in 2018.
Stewart Indian School comes alive during this annual three-day event, attracting native artisans, drummers, dancers, alumni and visitors from across the country. Vendors sell authentic items that meet the federal arts and crafts standards. The event is promoted by state and local tourism websites/collateral and business partners.
---
The Tribal Destination of the Year honors a destination which encompasses the following: excellent customer service, visitor friendly destination, authentic cultural heritage experience(s) and amenities for visitors.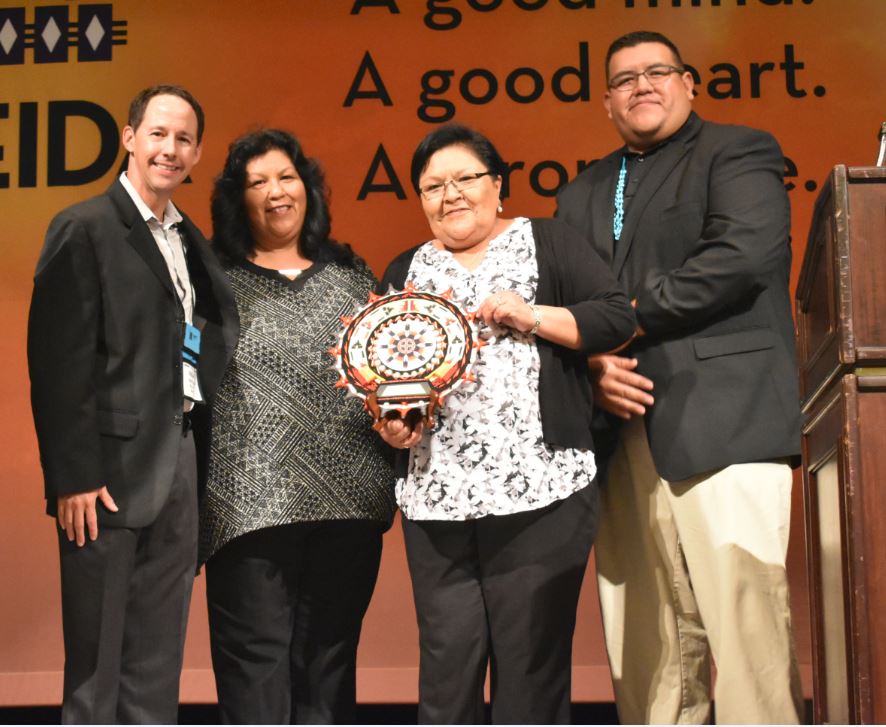 Talking Stick Resort is owned and operated by the Salt River Pima-Maricopa Indian Community. This four-diamond resort is a cultural and entertainment destination featuring 496 rooms, spa, 650 seat showroom, more than 100,000 square feet of meeting/event space, 3 pools, six lounges, live casino gaming action, and five restaurants including its signature Orange Sky which features spectacular views of the Community's 19,000 acre natural preserve.
Talking Stick Resort offers a wide variety of cultural experiences throughout the year, from food and music to dancing and art shows. Guests can participate in the Stewardship Trail or History Trail, which provide guests information on the cultural elements of the facility that reflect the Pima and Maricopa tribes. The Resort is home to one the largest Native American art collections outside a museum and hosts Native American dance showcases every Friday and Saturday in season
---
Nominees for these destination awards must meet a host of standards for each award category, while also working to advance AIANTA's mission to define, introduce, grow and sustain American Indian, Alaska Native and Native Hawaiian tourism that honors traditions and values.
---
The 2017 Silent Auction Raises More than $10,000 for Scholarship Program
The Enough Good People Awards Gala and Silent Auction to raise funds for Indian Country tourism and hospitality scholarships.
Thanks to the generosity of our 2017 event sponsor the Puyallup Tribe of Indians and our gracious hosts, Oneida Nation of Wisconsin, the 6th Annual Enough Good People Awards Gala and Silent Auction, held on September 13, was a beautiful celebration of the best of Indian Country's travel and tourism industry.
We were overwhelmed by the generosity of the donors to our silent auction this year and of our guests – our scholarship program raised a total of $10,709 dollars this year, almost double what was raised last year!  Thank you to our table sponsors from Oneida Nation and from the North Star Mohican Casino Resort and to all of our guests for your support of this year's scholars and for our current and past scholars.
Because of you, AIANTA's scholarship program supports six current students and has supported five graduates (two from a Master's level program).
Help us keep the momentum going – please continue to help us support the next generation of Tribal Tourism Leaders! – Donate Now
Bureau of Indian Affairs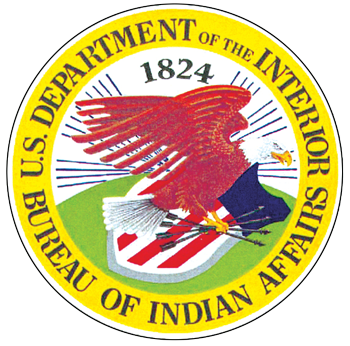 Juan Bautista de Anza National Historic Trail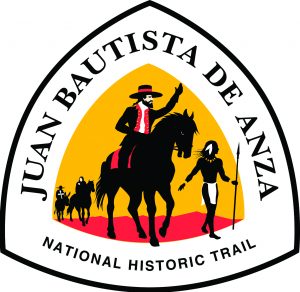 Native American Agriculture Fund

Lewis & Clark National Historic Trail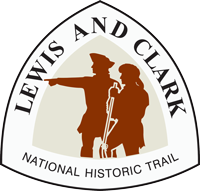 Bureau of Land Management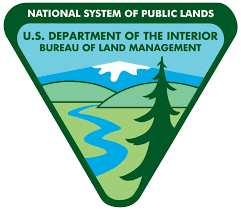 National Endowment of the Arts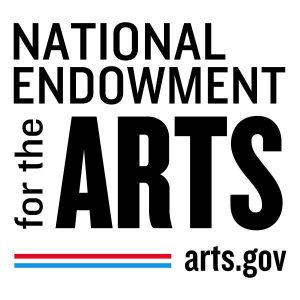 National Park Service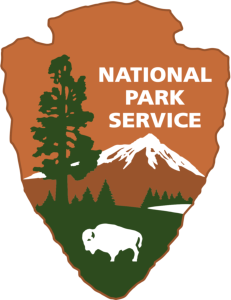 United States Forest Service