Director's Corner: The Rural Divide
Happy holidays!
There's nothing like the start of the holiday season when we begin planning for quality time spent with friends and family.
But in all the celebrating, we may sometimes forget the burdens winter can bring, especially for Native American Tribes located in America's most rural communities. Heavy snowfall, lack of adequate infrastructure to deal with the impacts of winter weather and even a lack of connectivity can stall progress.
The U.S. Census has recently released a study that demonstrates "the impact a county's rural or urban geography and income level can have on residents' rates of subscription to the internet."
This, according to the Census, is the first study correlating internet usage with income. It is hardly the first time research has chronicled the divide between rural and urban communities, a topic with which Indian Country is particularly well acquainted.
Interestingly, the Western Governor's Association (WGA), led by North Dakota Governor Doug Burgum, has recently launched the Re-imagining the Rural West Initiative, which is designed to focus on the "opportunity we have in the West to do things that are remarkable."
During the initial launch in Fargo, North Dakota, Governor Burgum said:
"There's a huge divide in access to resources between urban areas and rural areas. Every governor in the western part of the United States is dealing with a thriving metro that has services, has transportation, has education, has healthcare, has the workforce and then has rural areas with shortages of all those things."

"We have to work together with our tribal nations. We have a responsibility as state leaders to help tribal members in our rural communities and on reservations in rural areas. Have to partner with the sovereign neighbors with whom we share geography. There is an outdated and misguided federal policy in place."
Featured guest speaker Ben Winchester a rural sociologist, said
"The narrative we use to describe our small towns is terrible. And it's dated. The narrative is written about us, not by us."
Sound familiar?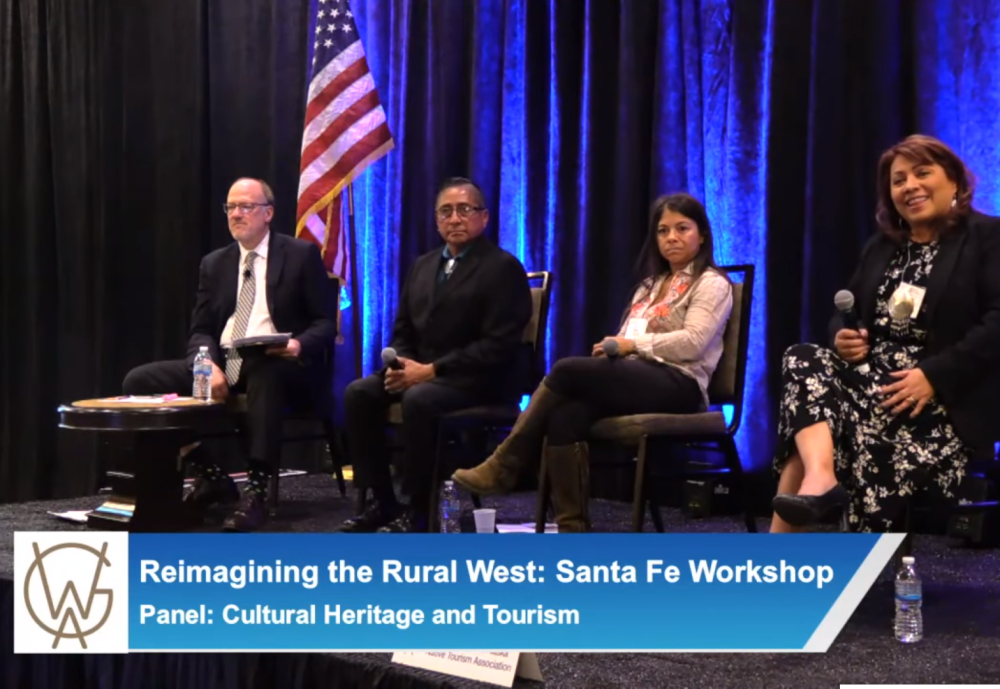 I'm excited to have been an invited speaker at the second Re-imagining the Rural West Workshop in Santa Fe, New Mexico earlier this month. Be sure to check out the panel discussion on Cultural Heritage and Tourism, where I share the stage with Melvin Juanico, Operations Manager at the Sky City Cultural Center & Haak'u Museum and Angelisa Murray, Owner and Guide of Heritage Inspirations.
If you are interested in this topic, the next (third) workshop will be held Dec. 3 in Post Falls, Idaho. The event will also be livestreamed in case you can't attend in person. Whether you're located in the West or elsewhere in the United States, this is a topic well worth following, as our elected officials and other stakeholders continue to discuss ways to bring greater prosperity to Tribal nations and into our rural communities, where the majority of the nation's Tribes reside.
In addition to the WGA workshop, my speaking schedule last month took me to Brisbane, Australia where I discussed the importance of incorporating Indigenous communities in Queensland's tourism programming; I was also invited to give the keynote speech at the REDW Tribal Finance & Leadership Conference where I spoke on how Indian casinos are finding success in "Intersecting Cultural Narratives with Tribal Gaming." I was also honored to sit on a panel at the National Native American Boarding School Healing Coalition Conference, a topic that remains close to my heart and was also invited to speak at the Inter-Tribal Council of Arizona.
Coming up, find me at the BIA Providers Conference in Anchorage, Alaska, Dec. 2-6 and at the National Tour Association's Travel Exchange starting on Dec. 8 in Fort Worth, Texas.
If we don't have a chance to meet on the road, as always, feel free to drop me a line. I look forward to hearing from you.
Sherry L. Rupert, Executive Director
American Indian Alaska Native Tourism Association