Female Family Members
In February, the United Nations proclaimed 2019 to be the year of Indigenous Languages.
Every month throughout the year, AIANTA is choosing different words and phrases to highlight the diversity in our Native languages.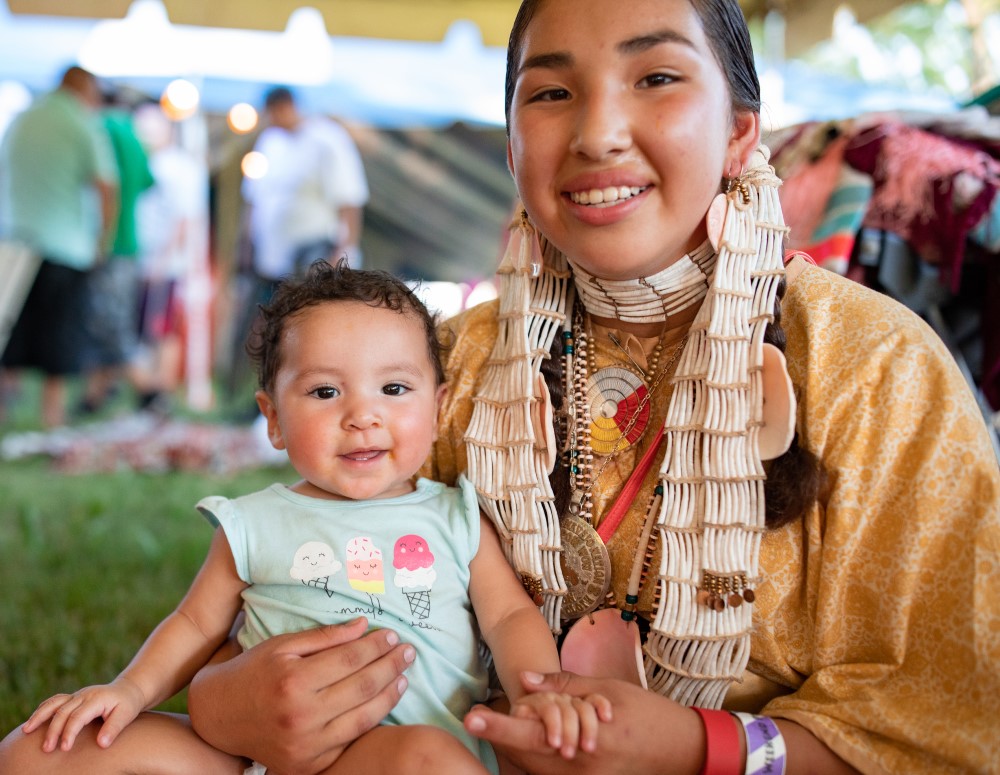 In March, to honor Women's history month, we are featuring female family members.
How many ways do you know how to say mother?:

Araphaho, Wyoming
| | |
| --- | --- |
| Neinoo | Mother |
| Notoone | Daughter |
| Nei | Sister, Elder |
| Neesebi | Niece |
| Neheihoo | Aunt |
| Neiwoo | Grandmother |
| Neisii | Grandchild |

Choctaw, Oklahoma
| | |
| --- | --- |
| ishki | Mother |
| ushi tek | Daughter |
| i tek | Sister |
| ibihtek | Niece |
| hokni | Aunt |
| ippokni | Grandmother |
| ipok tek | Granddaughter |

Hualapai, Arizona
| | |
| --- | --- |
| jitha | Mother |
| misi' | Daughter |
| ginya | Sister, Younger |
| niya | Sister, Older |
| wisa | Niece |
| nithi | Aunt (Mother"s Side) |
| goda | Grandmother (Mother's Side) |
| monya | Grandmother (Father's Side) |
| ko' | Granddaughter |

Mohawk, New York
| | |
| --- | --- |
| Ka'nisténhsera | Mother |
| Kheién:'a | Daughter |
| Khe'kén:'a | Sister, Younger |
| Aktsi':'a | Sister, Older |
| Kheienhwatén:'a | Niece |
| Ake'nisténha | Aunt |
| Akhsótha | Grandmother |
| Kheiatere':'a | Granddaughter |

Ojibwe Language
| | |
| --- | --- |
| Nimaamaa(yag) | Mother(s) |
| Nindaanis(ag) | Daughter(s) |
| Nimise(yag) | Sister(s), Older |
| Ninzigos(ag) | Aunt, Father's Sister(s) |
| Ninoshenh(yag) | Aunt, Mother's Sister(s) |
| Nookomis(ag) | Grandmother(s) |
| Niijikwe | Female Friend(s) |
| Niwiiw(ag) | Wife (Wives) |

Paiute, Nevada
| | |
| --- | --- |
| beah | Mother |
| budduh | Daughter |
| hummah | Sister, Older |
| buneh | Sister, Younger |
| bedduh | Aunt, Mother's Side |
| buhwuah | Aunt, Father's Side |
| hootzee | Grandmother. Father's Side |
| mooah | Grandmother. Mother's Side |
| hootze | Granddaughter/Grandson, Father's Side |
| mooah | Granddaughter/Grandson, Mother's Side |

Pyramid Lake Paiute, Nevada
| | |
| --- | --- |
| Pea | Mother |
| Padu | Daughter |
| Hamma'a | Sister, Older |
| Punne'e | Sister, Younger |
| Hooza | Niece, Father's Side |
| Nanakwa | Niece, Mother's Side |
| Pedoo'o | Aunt, Mother's Side |
| Pa'wa | Aunt, Father's Sister (man speaking) |
| Medo'o | Aunt, Father's Sister (woman speaking) |
| Hootse'e | Grandmother. Father's Side |
| Mooa'a | Grandmother. Mother's Side |
| Hoobe'e | Granddaughter |

Tlingit, Alaska
| | |
| --- | --- |
| Tláa | Mother |
| Chaan | Mother-in-Law |
| Sée | Daughter |
| Dlaak' | Boy's Sister |
| Shátx | Giril's Older Sister |
| Kéek' | Girl's Younger Sister |
| Káalk'w | Niece, Sister's Child |
| Tláak'w | Maternal Aunt |
| Aat | Paternal Aunt |
| Léelk'w | Grandmother/Grandfather/Grandparent(s) |
| Daakanóox'u | Great-Great Grandparents |