Five Reasons to Use the AITC Conference App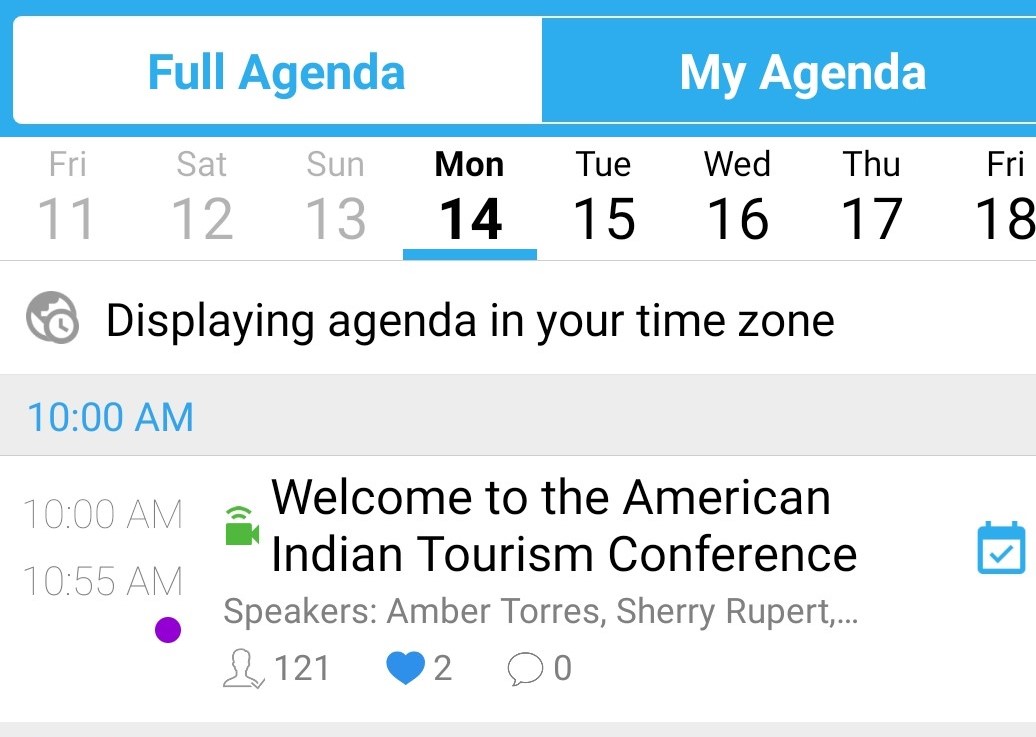 As AIANTA prepares for its first-ever virtual American Indian Tourism Conference, we'd like to remind our members, partners and all conference attendees that there are many small changes that come with the new conference format.
In particular, all attendees must download the AITC Conference App—we're using the Whova platform—to facilitate their conference experience.
Even if you're someone who doesn't normally use conference apps, you will need to sign up for the keynote, breakout and networking sessions you plan to attend though the app.
Whova is available both on a web platform and in an app format on Android and Apple devices, so it is convenient for everyone. The mobile apps do offer significantly more functionality than the web version.
Here are just a few reasons to download the app.
Sign Up for AITC Plenary, Networking and Breakout Sessions
One of the most important considerations with our virtual conference is that each attendee must sign up for every plenary, breakout and networking session they plan to attend, whether they plan to attend those sessions in person or on-demand.
The only way to sign up for AITC sessions—this year's conference features more than 30—is through the AITC Conference App. We encourage you not to wait until the last minute to sign up for the sessions you're interested in.
Give Feedback
The app's easy-to-use Interactive Agenda allows you to check-in to the sessions you want to join, but it also provides the opportunity to "like" sessions, connect with other attendees and ask questions of session speakers. You'll be sharing information with AIANTA staff about which information you enjoyed the most. Or share your thoughts by leaving a comment on the Interactive Agenda and see what feedback you receive from fellow attendees. If there's a topic you particularly enjoyed, feel free to start a discussion on the app's Community Board.
Networking Opportunities
Whova's SmartProfile technology automatically creates a profile for you within the app, which allows you to start browsing our AITC attendee list, sending messages to those attendees and posting on our Community Board. The app will also allow you to connect with other attendees through LinkedIn. This is a key benefit allowing for easy follow up with anyone you may meet during the conference's virtual sessions. Also be sure to check the Leaderboards to learn who the top ten most active conference participants are. (There may be prizes for the top posters, so bear that in mind when sharing information.)
Real-Time Event Updates
We know it can be easy to miss conference announcements, but the AITC Conference App also features real-time push notifications that provide reminders of when your next sessions are starting or when other attendees have commented on your posts. You'll also be able to create calendar reminders for your favorite calendar software (Outlook, Google, etc.)
Share on Social Media
The conference app also makes it extremely easy for attendees to share their thoughts on social media. Even if you don't have a Twitter account, the app will allow you to tweet from a conference account and will automatically add our event hashtags. If you are using social media outside of the app, remember to use #OneCountryManyNations and #AITC2020 as you post.
Once you've registered for the conference, you'll receive an email from AIANTA's conference planner explaining how to sign into the conference app.
If you can't find that information or have any questions about our virtual format, please contact the AITC event planner at events@aianta.org.