Targeting Key International Markets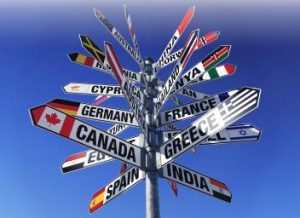 Through partnerships with the Bureau of Indian Affairs, U.S. Commercial Service, Brand USA, U.S. Department of Commerce and the U.S. Travel Association, AIANTA has developed a successful outreach program to stimulate awareness of Indian Country tourism in key international markets. In addition to attending top trade shows in the United Kingdom, Italy and Germany, AIANTA is also growing its presence at IPW, the major tourism showcase produced by the U.S. Travel Association.
Tribal tourism enterprises looking to attract international visitors to their destinations have the exclusive opportunity to join the American Indian Alaska Native Tourism Association (AIANTA) in building promotions in some of the most important tourism markets around the world.
Extend Your Marketing Reach
Tribal enterprises can display their marketing materials in AIANTA's booth at these trade shows. Or for maximum exposure, join AIANTA in person at these showcases for a substantial savings over attending as an individual entity.
London, England; Nov. 5-7, 2018
The U.K. was the largest overseas market for Indian Country in 2016 according to the National Travel and Tourism Office. To increase awareness, AIANTA attends the World Travel Market (WTM), held annually in London. One of the leading travel industry events, WTM attracts more than 50,000 travel industry professionals, government ministers and international media from around the world.
Brochure Share: $750 Members / $800 Non-members
Bergamo, Italy (March 2-5, 2019)
An emerging market for Indian Country, Italy has seen visitation to Indian Country jump by 79 percent since AIANTA began marketing there. The annual Showcase USA-Italy, organized by the U.S. Commercial Service and the Visit USA Association Italy, is an ideal event for new-to-market tribal enterprises. Exhibitors have the chance to meet individually with 25-30 major Italian tour operators and travel media in pre-scheduled appointments.
Brochure Share: $750 Members / $800 Non-members; Trade Show Participation: Call for pricing
Berlin, Germany (March 6-9, 2019)
Accounting for nearly 10 percent of all overseas travelers to Indian Country in 2016, German travelers continue to be an important demographic for domestic tourism marketers. ITB, the leading business-to-business platform for global tourism, attracts more than 170,000 visitors, 113,000 tourism professionals and 11,000 companies from 180 countries, including tour operators, travel agents and media.
Trade Show Participation: $1,500 (Member and Non-member rate)
Anaheim, California (June 1-5, 2019)
The largest generator of travel to the U.S., IPW, produced by the U.S. Travel Association attracts more than 1,300 international and domestic travel buyers and media from more than 70 countries. IPW provides an intensive, three-day meeting schedule that generates more than $4.7 billion in future tourism business.
Trade Show Participation: Call for pricing
AIANTA's international marketing program also includes exclusive, tailored trainings to provide tribal partners with the tools they need to develop their own international outreach efforts.
Technical Assistance
Not sure if you're ready for international travelers? AIANTA provides a readiness survey to gauge if participants are ready to take the first steps in international marketing. Or join us for Go International, a comprehensive two-day training seminar held every January in Albuquerque, New Mexico.
Also be sure to visit NativeAmerica.travel today to include your destination or experience on the first website dedicated to Native America tourism. As our flagship consumer website, NativeAmerica.travel is actively promoted at all international tradeshows and in all of our international marketing materials.
More Information
For more information, download our International Marketing Program participation form now.
Or contact Hannah Peterson at 505-361-2168 or hpeterson@aianta.org.
Featured image by Tristan Godsey, Flickr.