O me'a"kwa: AIANTA Impact
(I'm going to travel over there, Northern Paiute)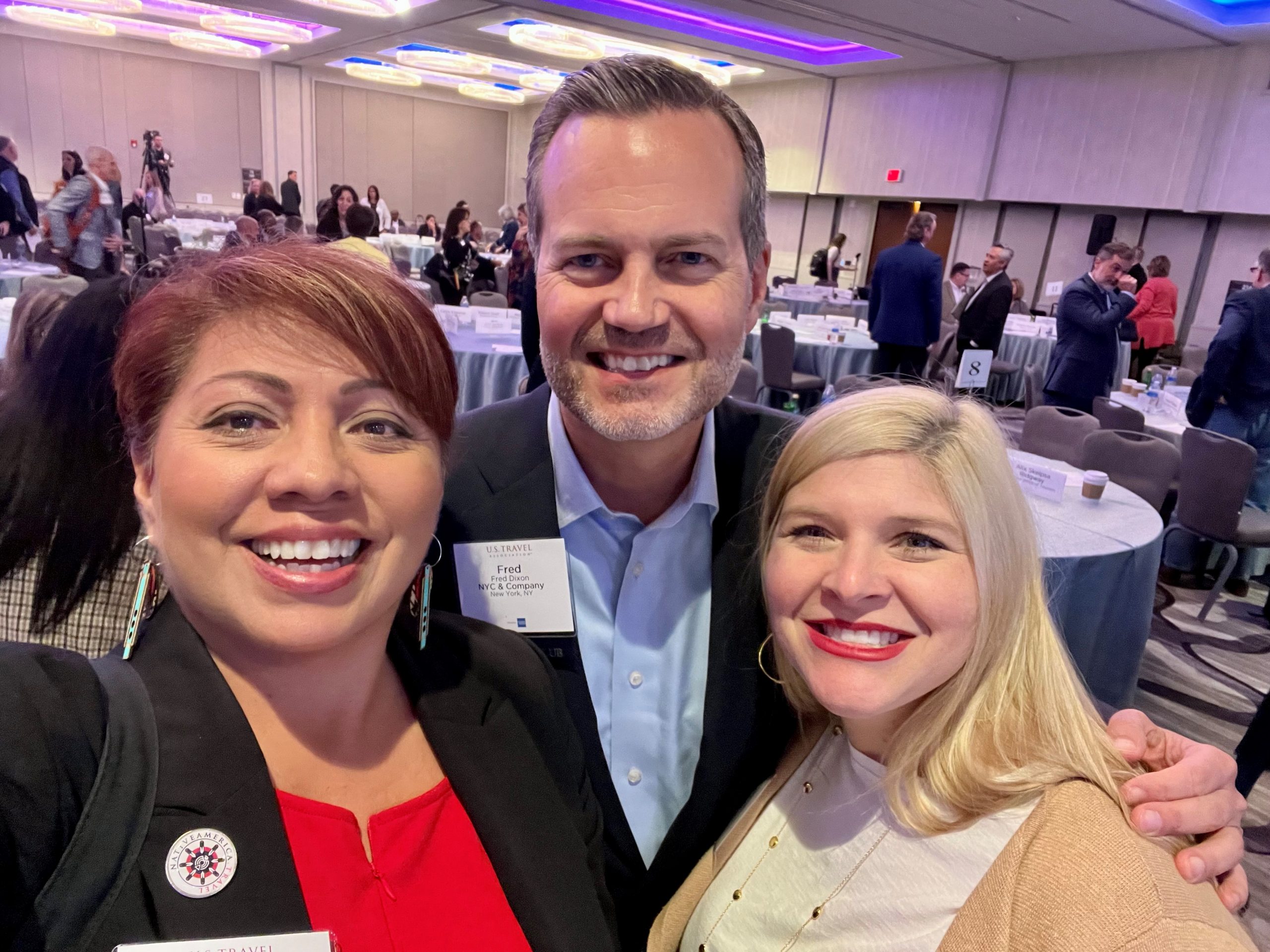 Photo: Fellow US Travel Association Board Members Fred Dixon, President & CEO, NYC & Company and Paige Shepherd, Director of Corporate Development and Tourism, Chickasaw Nation // (c) Sherry L. Rupert
As I write this letter, our congressional representatives in Washington D.C. are busy planning budgets for the next fiscal year. I had a chance to speak to a few representatives last week when I traveled to DC to attend my first meeting as a member of the U.S. Travel Association's Board of Directors, and it is clear to me we are at a critical juncture for the future of cultural tourism. The tourism system in the United States has never been designed to support tribes as it does not take into account Tribal sovereignty – in short Tribes don't pay into the bed tax or fees that support tourism at a local, regional and national level and therefore do not receive the benefits of the collective approach to tourism development and promotion.
We have all seen the U.S. Government respond to the devastating effects of COVID-19 on the tourism industry.  For example, the FY 2021 American Rescue Plan Act included funding for the Economic Development Administration (EDA) specific to Travel, Tourism and Outdoor Recreation with $750 million of EDA's American Rescue Plan funds going towards communities that rely on the travel, tourism and outdoor recreation sectors. That funding included $510 million in non-competitive awards to help states and U.S. Territories quickly invest in marketing, infrastructure, workforce and other projects to rejuvenate safe leisure, business and international travel. None of that funding went to AIANTA, the only organization specifically dedicated to advancing American Indian, Alaska Native and Native Hawaiian cultural tourism in the United States.  This despite AIANTA's repeated request for equity and inclusion in the distribution of these funds.
Just to put this into perspective, according to the U.S. Census, there are 7.1 million American Indians and Alaska Natives in the United States – or the equivalent population of the State of Arizona.  The office of Governor Doug Ducey announced on July 14, 2021, $101.1 million in federal American Rescue Plan funding to launch the Visit Arizona Initiative.
Further, our counterparts in Canada and in Australia have developed a systems approach to equity and inclusion for cultural tourism – it can be addressed on a national level and scale. In 2022, the Indigenous Tourism Association of Canada (ITAC) was funded for tourism promotion at $24.8 million over two years, and that funding reflects a post-Covid cut of nearly 50%. Tourism Australia includes Discover Aboriginal Experiences (DAE) as one of the 12 signature pillars in its promotional efforts. In addition, Australia's federal government has budgeted $40 million over four years for tourism industry grants and business mentoring. That funding is to be overseen by a panel of Indigenous tourism leaders.
The NATIVE Act brought many of our elected officials to support advancing tourism programs in Native communities, however, they do not always see the need for a national tribal tourism organization that can provide technical assistance, training, and build awareness for the industry in its entirety.
We see some congressional support for a small number of grants for cultural tourism assessments, but not for the work of AIANTA to provide technical assistance, training and resources to support the development and sustainability of cultural tourism as an economic driver and as a tool for cultural perpetuation. We need your voices to help us build equity in the industry we love.
We all know there is a demand for cultural tourism. When AIANTA began its international outreach in 2007, some 750 million overseas visitors reported visiting an American Indian community. By 2019 (pre-pandemic) that number had more than doubled to nearly 2 million visitors to Indian Country. This increase has been driven, in part, by AIANTA's attendance at international trade shows such as Showcase USA Italy, ITB and IPW.
In 2021, AIANTA conducted the first-ever Economic Impact of Indian Country Tourism study, which revealed that Native tourism businesses generate nearly $14 billion in annual receipts. This is not an insignificant number and yet no one has ever tracked the data on a national level. Indeed, very few state tourism agencies track data specific to Indigenous tourism. This data is so critical to ensure the conversation begins to address equity and inclusion of American Indians, Alaska Natives and Native Hawaiians in the nation's tourism infrastructure.
I am asking you to please take a moment now to contact your elected representatives to encourage them to utilize NATIVE Act funding for both grants directly to tribes and to support the work of the only national program that supports the industry in its entirety – AIANTA. Without your help, we run the risk of losing support for both the NATIVE Act and for the cultural tourism industry as a whole.
Please see this link for contact information for the U.S. Senate Committee on Indian Affairs and for the U.S. Senate Committee on Appropriations along with some talking points and text for email submissions. We have also included a sample letter you can download and place on your letterhead to send.
Boneedwa,
(See you later, Northern Paiute)
Sherry L. Rupert, Chief Executive Officer
American Indian Alaska Native Tourism Association