O me'a"kwa: Planning for 2021 and Beyond
(I'm going to travel over there, Northern Paiute)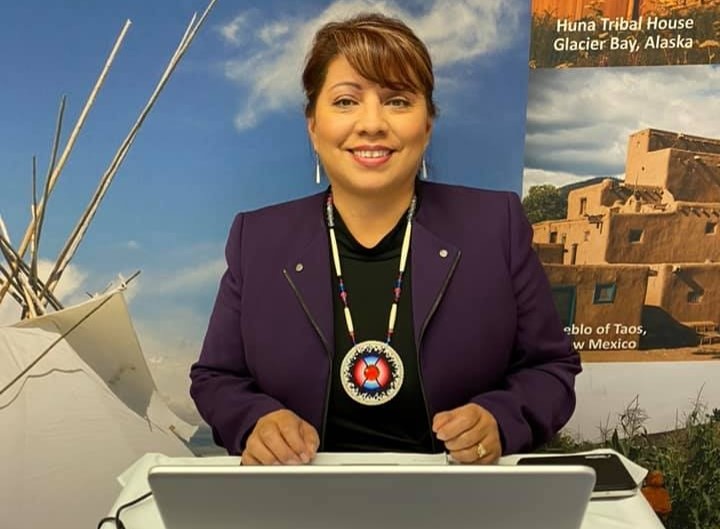 Dear AIANTA members, friends and partners–
I hope this newsletter finds you healthy, happy and eagerly planning for the future.
At AIANTA, we are full-swing in planning-for-the-future mode. Recently we've been speaking with many Congressional representatives throughout the United States—especially those supportive of Native American communities—and sharing with them the history of the NATIVE Act and how the bill might support programs that help indigenous communities prosper through the creation and promotion of cultural heritage tourism.
Our agenda for the coming year continues to support widespread technical assistance and training. You can see this training in action through our free AIANTA Webinar Series, our Go International tourism training program, the Professional Certificate Program in Cultural Heritage Tourism (in partnership with the George Washington University), and of course our signature Annual American Indian Conference, which will celebrate its 23rd anniversary this October.
Additionally, AIANTA's programs continue to call visitor outreach—specifically, the promotion of Indian Country as a visitor destination for domestic and international visitors. To that end, we just finished attending Showcase USA Italy, an annual tradeshow (this year it was virtual) organized by the U.S. Commercial Service office in Italy. We held over 25 WebEx meetings with Italian media and tour operators—many of them old friends from our years of participating in this forum—over the course of one week. The message from these partners is clear. Their clients miss traveling, they are excited to resume travels to the U.S. when they are able, but they probably will not be returning until Fall of 2021 at the earliest. Some tour operators think full travel to the U.S. will not resume until 2022. However, everyone we spoke with is also unanimous in their continued interest in Native American tourism experiences.
We shared with them some of our new trade show materials, Ten Native American Tourism Experiences and Native American Tours, and also highlighted other destinations and programs that might be of interest to their clients. As always, these documents provided great talking points, but more importantly opened some great conversations on what Italian visitors are looking for when they travel to the U.S. These conversations are an important reason for you to continue to share your programs and initiatives with AIANTA, so we can also share that information with our international trade and media partners.
Speaking of trade partners, if you are looking to create or grow travel itineraries in your communities, we are thrilled to be rolling out an all-new Go International workshop this year. Traditionally, the program highlighted how Native American communities could extend their reach in international markets, this year's Go International will focus on domestic and global markets. This year's virtual program welcomes product planners and buyers from celebrated travel companies Destination America (DA) and Collette, which both work actively to promote indigenous destinations in their tour programs. Product buyers from both companies will work directly with Go International attendees in helping them craft their itineraries. Each attendee will be able to "pitch" a three-day itinerary and receive valuable feedback from these buyers on what they are looking for when building travel programs. If you are looking to work more closely with domestic or international tour operators, I encourage you to mark April 21-22 on your calendars and register for Go International now.
Another new program for AIANTA this year is our new AIANTA Town Hall Series, which allows us to highlight all our initiatives in a two-way dialog that further encourages you to share your programs. Additionally, we are currently collecting data for this year's State of Indian Country Tourism survey, which helps us provide industry partners and decision makers with valuable information on the economic impact of Indian Country tourism. If you have not already done so, please take a minute to complete this survey now.
As you can see, there is quite a lot going on at AIANTA.
But, I would be remiss if I did not mention that March is Women's History Month and there are so many dynamic, passionate Native American women who are dedicated to advancing cultural heritage tourism. This year's leaders are long-time business members of AIANTA and just a small subset of the many women helping drive economic development through tourism promotion. Please take a moment to read all about them now.
Incidentally, I'm truly honored to be among this group of women and thank TravelPulse for including me on their list of 20 Influential Women in the Travel Industry list and offer my gratitude to the U.S. Commercial Service for inviting me to participate on their recent International Women's Day Global Trade Forum panel.
Last, but definitely not least, I would like to extend a warm welcome to Jacqueline Robledo, our new Content and Social Media Coordinator. A true New Mexican, Jacqueline is located right here in Albuquerque and is currently completing her journalism degree at Arizona State University. We are excited to have Jacqueline on board to help us extend our marketing and social media efforts.
We look forward to connecting with you soon at one of our webinars, our new Town Hall Series, or at Go International. In the meantime, do not hesitate to reach out to us if we can provide any assistance with your tourism efforts.
Boneedwa
(See you later, Northern Paiute)
Sherry L. Rupert, Chief Executive Officer
American Indian Alaska Native Tourism Association
PS: As I am getting ready to send this newsletter, I have just heard the news that Deb Haaland has been confirmed as the new Secretary of the Department of the Interior, becoming the first Native American ever to hold a presidential cabinet position. This is such an emotional moment for many of us in Indian Country, and I extend my warmest congratulations to Secretary Haaland during this historic time.