O me'a"kwa: Testing the Waters
(I'm going to travel over there, Northern Paiute)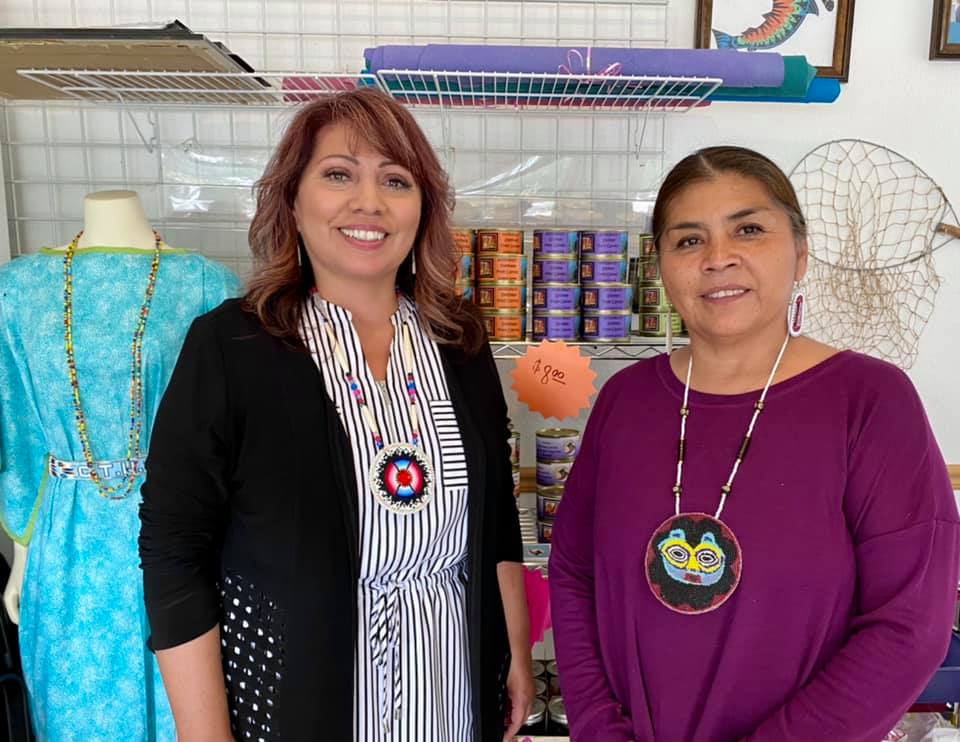 Sherry L. Rupert and Brigette McConville at Salmon King Fisheries
Dear Members, Partners & Friends
I hope this newsletter finds you all healthy, happy and (hopefully) planning some much-needed summer travels.
It's been a year since I first started talking about "cautious optimism" with respect to the visitor industry starting to re-open to travelers. Now, a year later, travel still hasn't returned to its pre-pandemic levels.
By all accounts, however, our National Parks are expecting a big summer. Domestic travelers are expected to spend significant time and money on local experiences, staycations and road trips this year. All of this could be good news for tribal economies as the increased revenues generated by local and regional travelers can translate into additional revenues for tribes as well as new jobs.
During this recovery period, we know many tribes are testing the waters as to how the future of tourism will look for their businesses. Some are ready to welcome all visitors with open arms, while others are taking a more cautious approach to the return of visitors.
No matter how the coming season looks for you and your business, there is one commonality among all tribal enterprises. The network of tribal tourism professionals remains an invaluable resource for us all.
I encourage you to take advantage of the collective intelligence among your friends, colleagues and other tribal tourism professionals. This networking will be especially fruitful during our 23rd annual American Indian Tourism Conference with the theme "Reimagine, Re-emerge, Reunite: Stronger Together in Indian Country."
Scheduled for October 25-28, 2021, the conference will feature an exciting, all-star cast of keynote speakers, presenters and panelists.
If you can't wait until October to talk "recovery," AIANTA will be discussing the economic importance of tourism at RES (July 19-21) in Las Vegas. If you'll be attending RES, I encourage you to make an appointment or drop by our booth (#132), during the show. I'll also be participating in two sessions, one seminar on our groundbreaking Case Studies in Tribal Agritourism and on a panel entitled Possibilities: Grow & Transition Your Career with Purpose.
Speaking of panels, I've also been invited to participate on the Destination Steward Workshop during the Arizona Governor's Conference on Tourism on Tuesday, August 3. I'll be joining Beth Keune, the Leave No Trace State Ambassador at the Arizona Game & Fish Department; Candace Strauss, the President and CEO of the Sedona Chamber of Commerce & Tourism Bureau and Andrew Leary, National Outreach Manager of Leave No Trace, so this should be a lively discussion on how tourism entities can incorporate the Leave No Trace philosophy into their marketing programs.
We'll be discussing both Leave No Trace and other new partnerships (and so much more) during our next Town Hall session, "Tourism Marketing Initiatives for 2021 and Beyond:" on September 29, 2021. We highly recommend you join us during the Town Hall to share your own tourism programming for the coming year. If you missed our previous Town Hall session which showcased some of the work being done in advance of redesigning our consumer website NativeAmerica.travel, you can view the video and summary report online to see what you missed.
If you can't connect with us during our Town Hall, at RES or AITC, we encourage you to reach out and share with us your successes, your challenges, or any other tourism-related issues.
In the meantime, I'm wishing you all a wonderful and busy summer season and I hope to see you online or in person soon!
Boneedwa
(See you later, Northern Paiute)
Sherry L. Rupert, Chief Executive Officer
American Indian Alaska Native Tourism Association