Photo Credit: Map of the World // Pixabay
Mapping Indigenous Place Names
Juan Bautista de Anza National Historic Trail Webinar Series
Webinar: Mapping Indigenous Place Names

Native Americans have strong ties to their ancestral lands and have their own names for important places and landmarks, names which were then ignored or erased by colonizers. Today, many tribes are reclaiming their original Indigenous place names and returning them to the maps. These maps can be a strong tool for tribal planners, aiding in the preservation and protection of cultural history, events, heritage and legacies.
A partnership between AIANTA and the National Park Service will result in a guide of tribes located along the Juan Bautista de Anza National Historic Trail and the tribal and Native attractions found along the route. To accompany the guide, cartographer Margaret Pearce (Citizen Potawatomi Nation) is creating a one-of-a-kind map showcasing traditional Indigenous place names, tribal lands and sites of cultural and historic significance along the Trail.
In this webinar, Margaret is joined by Carol Dana, language master for Penobscot Nation. Margaret and Carol will talk about Indigenous place names from the perspective of a mapmaker and a language teacher. They will discuss how place names have figured in their projects, consider the role of protocols and permissions, explore how to restore names to their corrected forms and meanings, and weigh in with advice for others interested in starting their own place names projects.
Margaret Pearce, Citizen Potawatomi Nation, Cartographer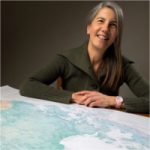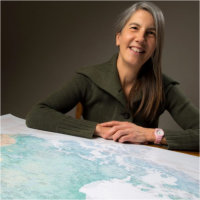 Margaret Pearce is a Citizen Potawatomi Nation tribal member and a cartographer. Before dedicating herself to cartographic design full-time, she was a faculty member at Humboldt State University, Ohio University, and the University of Kansas, with a Ph.D. in geography from Clark University. She lives on Penobscot Territory at Catawamkeag (Rockland, Maine). You can find her at studio1to1.net.
Carol Dana, Language Master, Penobscot Nation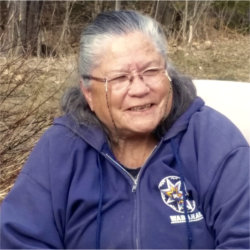 Carol Dana is the mother of six children and grandmother of fourteen grandchildren. She is the Language Master for Penobscot Nation. She spends her time teaching language, writing, doing crafts, spending time with grandchildren, basketmaking and walking with her dog. His name is čačahkenom, my soul. She tells traditional stories. She is the author of two books of poetry, When No One Is Looking and Return to Spirit and Other Musings, both published by Bowman Books. With Margo Lukens and Conor Quinn, she researched and collaborated on And Still They Remember Me (volume 1 of the Transformer Tales as told by Newell Lyon), forthcoming this year from University of Massachusetts Press.
Naomi Torres, Superintendent, Juan Bautista de Anza National Historic Trail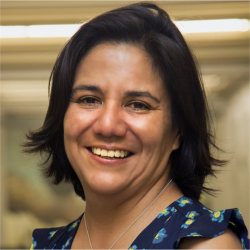 Naomi is the Superintendent of the Juan Bautista de Anza National Historic Trail. She is a conservation professional with more than 25 years of experience working to help communities form deep personal connections with their environment and heritage. Prior to becoming the Superintendent of the Anza Trail, she was the Chief of Interpretation at four National Parks in the San Francisco East Bay and was the community outreach specialist at Golden Gate National Recreation Area and the NPS partner in the development of the Crissy Field Center. A native of El Paso, Texas, she holds a bachelor's degree in Anthropology from Rice University.
A Plan for Penobscot Language Signage on the University of Maine Campus
The Penobscot Language Signage Committee met regularly during the Spring 2018 semester to formulate a plan for Penobscot language signage
on the UMaine campus. The committee reviewed the experiences and actions of Indigenous language signage on other campuses in the U.S. and Canada, and compared those actions with the needs of the Penobscot community both on-campus and off. The result is a Plan that incorporates modifications to existing signage and installation of new signage for the entrance signs, building signs, road signs, and signs at other significant sites. Download PDF
More Resources
Dana, Carol A., Margo Luken, and Conor M. Quinn. 2021. "Still They Remember Me": Penobscot Transformer Tales, Volume 1. Amherst, Mass.: University of Massachusetts Press. Available at www.umasspress.com/9781625345790/still-they-remember-me/.
Pearce and Penobscot Cultural & Historic Preservation Department, Penobscot Nation. 2015. Iyoka Eli-Wihtamakw Kǝtahkinawal / This Is How We Name Our Lands. Penobscot CHP. Map (4-color, 2-sided, 44 x 60 inches, folded) and accompanying gazetteer. Available through Penobscot Nation Museum at www.penobscotnation.org/penobscot-nation-museum.
Pearce. 2017. Coming Home to Indigenous Place Names in Canada. Canadian-American Center, University of Maine. 7-color, 33 x 42 inches. Available at umaine.edu/canam/publications/coming-home-map/.
Pearce and S. Hornsby. 2020. Making the Coming Home map. Cartographica 55(3), Special issue on Decolonizing the Map. https://utpjournals.press/doi/10.3138/cart-2019-0012
Pearce. 2014. The Last Piece is You. Cartographic Journal 51(2):107–22. www.tandfonline.com/doi/full/10.1179/1743277414Y.0000000078