Why Attend the American Indian Tourism Conference?
The annual American Indian Tourism Conference, the only national conference dedicated to travel and tourism in Indian Country, connects tribal leaders and tourism enterprises with tourism and hospitality professionals to help grow tourism in tribal communities throughout the United States.
---
Hear From Industry Leaders and Tribal Influencers
AITC brings together dozens of nationally and internationally recognized expert speakers, who provide insights from the tourism industry and Indian Country.
A list of invited speakers at AITC Tulsa includes:
Chairman Jeff Grubbe, Agua Caliente Band of Cahuilla Indians
Keith Henry, President and Chief Executive Officer, Indigenous Tourism Association of Canada (ITAC)
Jefferson Keel, President, National Congress of American Indians (NCAI)
Janie Simms Hipp, Native American Agriculture Fund
Roger Dow, President/CEO, U.S. Travel Association
Donald Leadbetter, Tourism Program Manager, National Park Service
Chrystal Denys and Luisa Salmonelli, U.S. Commercial Service from London, England and Milan, Italy respectively
And many more expert speakers
View the full AITC Conference Agenda here.
---
Contribute to a National Discussion
In September of 2016, the Native American Tourism and Improving Visitor Experience (NATIVE) Act was signed into law, requiring federal agencies to include Indian tribes, tribal organizations, and Native Hawaiian organizations in their management plans and tourism initiatives.
The Act presents new opportunities for Indian Country in the multi-billion dollar tourism industry.
AITC will feature the first of a planned series of Listening Sessions to identify areas where technical assistance is needed to empower Indian Tribes and tribal organizations to participate fully in the tourism industry.
The Listening Session is open to the general public (conference registration is not required to attend) and tribes, tribal members and tourism entrepreneurs are encouraged to join this important conversation about implementation of the NATIVE Act and its impact on tourism in Indian Country,
---
Attend Educational Sessions and Programs
AITC features an impressive lineup of expert speakers who will share their knowledge and experience with attendees through six general sessions in addition to a series of 27 workshops and speaker panels.
View the full AITC Conference Agenda here.
---
Build Your Network
The tourism industry is built upon relationships, and some of the most important conversations happen at AITC.
From general sessions to workshops, daily meals to refreshment breaks with an exhibitor showcase, and exclusive evening functions, AITC programming is designed to encourage conversations and the growing of personal networks with like-minded tourism professionals and global industry experts.
---
Location, Location, Location
Every year, AITC is hosted by a different tribe across the country.
This year's conference, hosted by Cherokee Nation, will be held in Tulsa, Oklahoma, the perfect jumping-off point to explore Oklahoma's 39 tribes.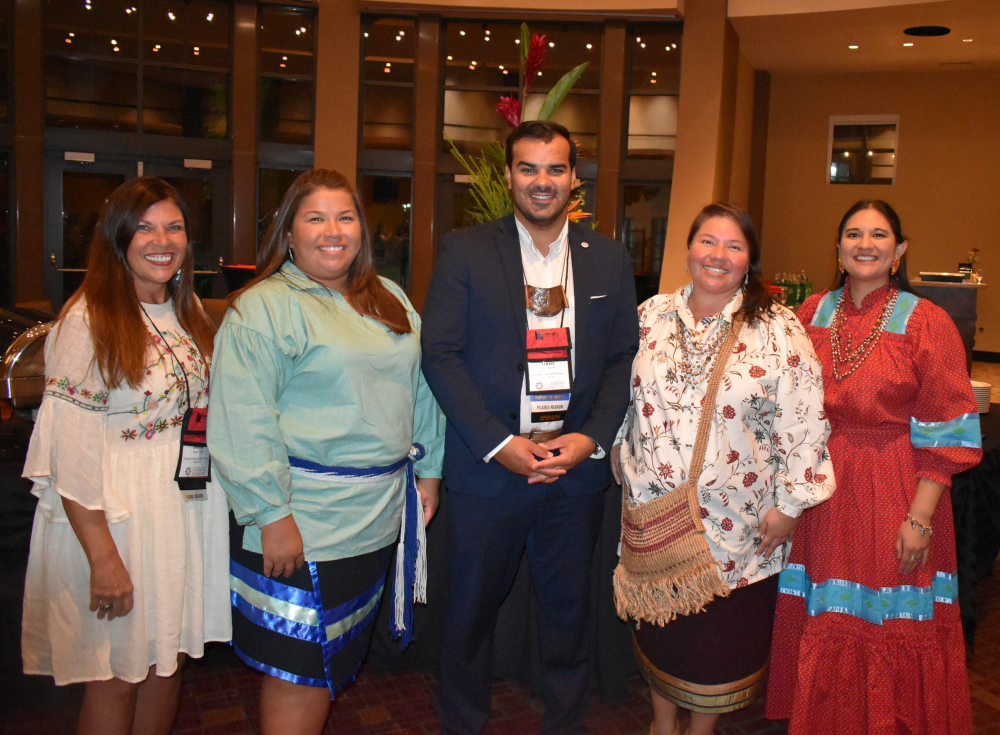 ​
Come a day early to join an AITC mobile workshop, with a choice of one of three options:
Or fly into Tulsa on Sunday, September 15, to explore Tulsa or play a round of golf at Cherokee Hills Golf Course.
---
Raise the Bar for Indian Country Tourism
AITC attendees understand the importance of Indian Country tourism as an economic driver. Collectively, we are defining standards and helping to raise the bar for all Native American tourism enterprises.
When speaking with one voice, Indian Country tourism can drive economies, amplify the importance of cultural authenticity, and help build awareness for legislative and policy issues.
For more information, visit the American Indian Tourism Conference homepage or register for the conference now.
---
Who Should Attend?
AITC is perfect for tribal leaders, tribal entrepreneurs, artisans, tour operators, and staff working in the following departments or businesses: tourism, museums, fish and wildlife, parks and recreation, camping and RV parks, planning and economic development, workforce development, cultural preservation, transportation, hotels and casinos, arts programs and gift shops, and youth programs.