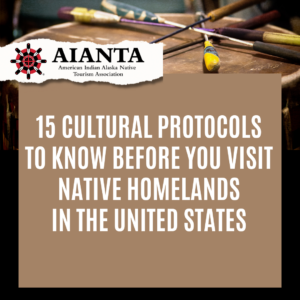 Kicking off National Native American Heritage Month in November, the American Indian Alaska Native Tourism Association (AIANTA), the only national organization dedicated to advancing cultural heritage tourism in Native Nations and communities across the United States, is sharing 15 cultural protocols travelers should know before visiting Native homelands in the U.S. While every tribe and region of Native America is different, follow these general guidelines for visiting Native lands.
Each tribal nation in Native America makes the decision on how best to balance community and tradition while providing visitors with enjoyable experiences. However, to avoid misunderstandings or violations of our traditions, tribes ask that visitors follow a basic code of conduct. In doing so, tribes can ensure the protection of sacred and ceremonial areas, including the preservation of historical artifacts.
Download PDF 15 Cultural Protocols to Know Before You Visit Homelands in the U.S.