AIANTA, BIA Partner to Offer Cultural Tourism Certificate Scholarships
Ten qualified candidates will receive full enrollment in AIANTA's six-week Cultural Heritage Tourism Certificate program offered in partnership with the George Washington University.
ALBUQUERQUE, New Mexico (September 5, 2018) – Ten Tribal planners will have the rare opportunity to earn a full-ride scholarship for the six-week Cultural Heritage Tourism Certificate program offered by the American Indian Alaska Native Tourism Association's (AIANTA) in collaboration with the George Washington University International Institute of Tourism Studies.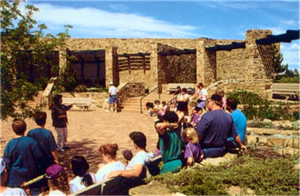 The certificate program, first launched in 2017, is a joint venture between AIANTA and the George Washington University (GW) and is designed to help enrollees tap into a diverse range of expert knowledge in order to help build, expand and promote a Tribal tourism development.
"The Cultural Heritage Tourism Certificate courses have provided our members with a strong foundation in strategic planning for growing the cultural and economic impact of Tribal tourism," said Camille Ferguson, Executive Director of AIANTA. "We are thrilled to be able to offer ten enrollment scholarships to interested Tribal planners."
With support from the Bureau of Indian Affairs, AIANTA will waive the $2,725 registration fee for 10 qualified candidates.
The six-week certificate program is a self-managed online program that allows participants to learn the content and complete the requirements at their own pace. The program is comprised of six-course modules, with one course scheduled per week during two three-week blocks. There is a one-week break between the two blocks. Program modules include Cultural Heritage Tourism, Sustainable Tourism Assessment & Development, Community-Based Tourism, Destination Marketing, Customer Relations for the Hospitality Industry and Best Practices in Event Management.
Regular program fees for the Cultural Heritage Tourism Certificate are $2,725 for AIANTA Members and $2,775 for non-members. The next program is scheduled for October 1- November 18, 2018, and the deadline for Tribal planners to apply for the scholarship is September 21, 2018.
In order to be considered for a scholarship, candidates must be employed as a Tribal planner and be a member of one of the nation's 573 federally recognized Indian Tribes. To apply, applicants must submit a letter of support from their employers, as well as a signed agreement pledging to complete the program requirements.
For more information regarding the scholarship, please contact Hannah Peterson, AIANTA Development Director at hpeterson@aianta.org or (505) 361-2168; or for more information regarding the certificate program, please contact GWU at culturaltourism@gwu.edu.
About AIANTA
For more than two decades, the American Indian Alaska Native Tourism Association (AIANTA) has served as the national center for providing tourism and recreational travel technical assistance, training and capacity building to American Indian nations. AIANTA is a 501(c)(3) national nonprofit association of Native American tribes and tribal businesses and was incorporated in 2002 to advance Indian Country tourism. AIANTA's mission is to define, introduce, grow and sustain American Indian and Alaska Native tourism that honors traditions and values.