AIANTA Honors Tribal Tourism Operators and Experiences for Excellence
FOR IMMEDIATE RELEASE
ALBUQUERQUE, N.M. (September 21, 2018) – Honoring the best in Indian Country tourism, the American Indian Alaska Native Tourism Association (AIANTA) presented five awards September 19 during its annual Enough Good People Awards ceremony.
The awards ceremony, staged during AIANTA's 20th Anniversary American Indian Tourism Conference, honors individuals, tribes and tribal tourism businesses and organizations that help build tourism in Indian Country, show excellence in tourism hospitality or showcase Indian Country as a destination.
During the ceremony, AIANTA also presents the Enough Good People Award to individuals who have supported and contributed to the success of AIANTA's mission to define, introduce, grow and sustain American Indian, Alaska Native and Native Hawaiian tourism that honors traditions and values.
The winners are:
Tribal Destination of the Year
Honors a destination that encompasses the following: excellent customer service, visitor-friendly destination, authentic cultural heritage experience(s) and amenities for visitors.
Cherokee Qualla Boundary of the Eastern Band of Cherokee, Cherokee, N.C.
On the far west end of North Carolina in the Smoky Mountains, sits the home of more than 8,000 Eastern Band of Cherokee Indians who settled on the Qualla Boundary, which is now trust land.
The Eastern Band has an award-winning museum, the Museum of the Cherokee Indian, which tells the story of the Cherokee people over thousands of years using artifacts, artwork, computer graphics and interactive features. The Cherokee Historical Association operates the Oconaluftee Indian Village, a re-creation of a 17th century Cherokee town and the Unto These Hills, an outdoor historical reenactment. Visitors can wander and interact with villagers as they hull canoes, sculpt pottery and masks, weave baskets, fashion beadwork and prepare for war.
In addition to its cultural attractions, the tribe offers gaming at its Harrah's Cherokee Resort and several diverse outdoor attractions, including golf at its Sequoyah National Golf Club, fly fishing at the Oconaluftee River and mountain biking on the Fire Mountain Trail, which is the tribe's newest attraction.
The Best Cultural Heritage Experience Award
Honors a festival or event which demonstrates authentic art, craft, food, dance, performance, demonstrations, etc., representative of a tribe or tribes.
Indian Summer Festival, Milwaukee, WI
Indian Summer Inc. was formed to present an annual American Indian ethnic festival at the Summerfest Grounds the weekend after Labor Day. Indian Summer Inc.'s mission is to educate, preserve and promote American Indian cultures; showcase the diversity that exists within tribal cultures; provide economic opportunities to our people and strengthen communication and understanding. For the past 32 years, Milwaukee and Wisconsin residents, and others across the country have been coming to the grounds near Lakeshore State Park for the powwow, arts and crafts fair, food, music, lacrosse games and educational activities for the whole family.
Cooking demonstrations feature Native foods presented by tribal hotels and Native-owned restaurants. There are canoe rides, a fiddle and jig contest, medicinal and culinary discussions and demonstrations, and a genealogy expert who helps trace American Indian heritage. Olympic-style amateur boxing matches feature tribal boxing teams who earn Olympic qualification points when they compete. As part of the event, 7,000 third- through eighth-grade school children attend an all-day field trip to Indian Summer before the festival opens to the general public, helping area schools meet Wisconsin's curriculum requirements. The now three-day event run by volunteers has an average of 50,000 visitors every year.
Excellence in Customer Service Award
Honors an individual who has provided consistent, excellent customer service during their tenure of employment or a business with a commitment to creating and providing a culture of service.
Suquamish Museum, Suquamish, WA
The Suquamish Museum near the Puget Sound in northwestern Washington collects, preserves, studies, exhibits and teaches the living culture and history of the Suquamish Tribe and its Salish neighbors while upholding Suquamish Tribal values. From the moment you walk between the welcoming House Posts, the path through the Suquamish Museum engages the senses. The museum has a natural and environmental footprint with LEED design certification, indigenous landscaping, site water management, and conscious use of natural materials that honor Suquamish culture and traditions. The Suquamish Museum serves the tribal and local community with workshops, educational lectures, tours and a variety of other cultural activities.
The museum has an interactive main exhibition gallery, a rotating exhibition gallery, an educational classroom space, research space, a museum store and an outdoor space with a storytelling area. Visitors can also engage in a self-guided walking tour to explore the gravesite of Chief Seattle, a Veteran's Memorial and other local points of interests.
Enough Good People Awards
In addition to honoring tribal tourism operators and enterprises, AIANTA also presented two Enough Good People Awards to individuals who manage the day-to-day business of cultural tourism with the mission of making their community better or those who showed leadership on the national scale:
Ed Hall – For more than 20 years, through his work at the Bureau of Indian Affairs (BIA), Mr. Hall has put his time and energy in improving tribal economics by helping people build a sustainable tribal tourism industry and helping elevate tribal tourism at the national and international level. Mr. Hall helped design the tourism program under the BIA and establish the BIA's outreach and support to tribal capacity building for tribal tourism and trade. He advocated for resources that assisted AIANTA as the professional tourism organization representing Indian Country to the tourism industry in 2002.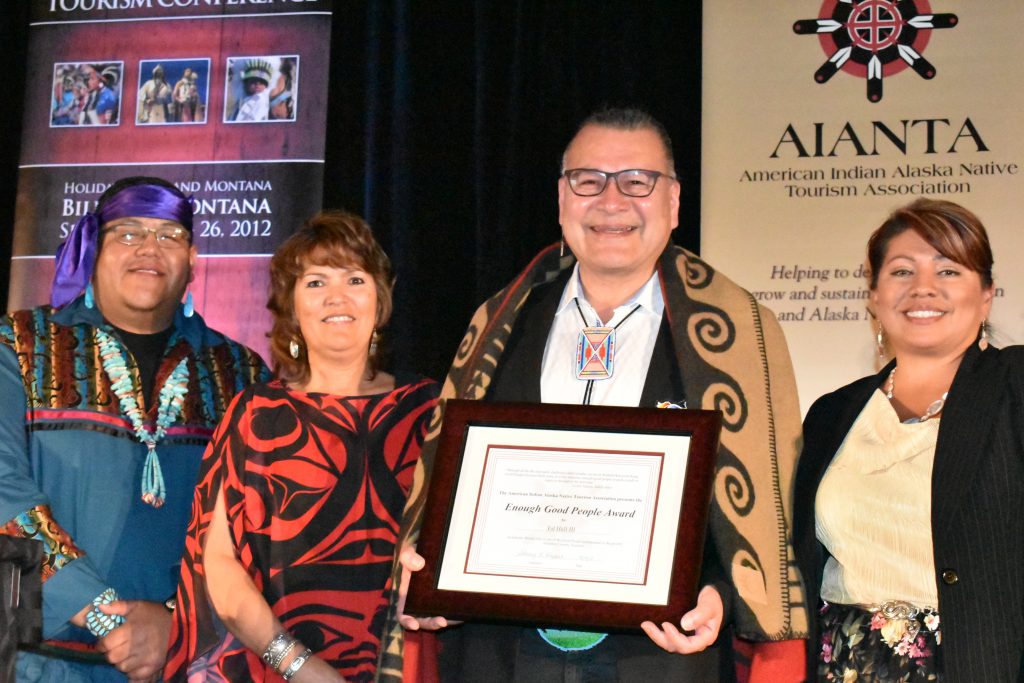 Ethel Makinen – Ms. Makinen was the lead instructor at the Sitka Native Education Program and has served on the cultural committee for the Sitka Tribe of Alaska. Fluent in her language and teaching song and dance to youth and to all that want to learn, Ms. Makinen has contributed countless volunteer hours assuring that the Sitka people have traditional knowledge and can share it with visitors. Her work assisted the Sheet'Ka Kwaan Naa Kahidi Dancers achieve national recognition as they participated in tribal festivals across the country.
"We are delighted to honor such diligent champions of tourism in Indian Country," said Camille Ferguson, AIANTA Executive Director. "It's through their vision, passion and commitment that our economies grow, and our communities and cultures prosper."
The Enough Good People Awards Program was created in 2013 to recognize individuals who have supported and contributed to the success of AIANTA's mission. Salish elder Louis Adams put it best: "Through all the fits and starts, challenges and triumphs, we never doubted that good things would happen because there were in every situation enough good people to push or pull or argue us through the next step."
For photos of the award winners, please click here.
– 30 –
About AIANTA
For more than two decades, the American Indian Alaska Native Tourism Association (AIANTA) has served as the national center for providing tourism and recreational travel technical assistance, training and capacity building to American Indian nations. AIANTA is a 501(c)(3) national nonprofit association of Native American tribes and tribal businesses and was incorporated in 2002 to advance Indian Country tourism. AIANTA's mission is to define, introduce, grow and sustain American Indian and Alaska Native tourism that honors traditions and values.
To learn more, please visit www.aianta.org. For current updates, like us on Facebook and follow us on Twitter (@OfficialAIANTA).
Contact
Monica Poling, AIANTA
(505) 724-3578