AIANTA Opens Native Art Show to Public During American Indian Tourism Conference
At the age of 18, Marilyn Ray of Acoma Pueblo had mastered all the fundamentals of working with clay by observing her grandmother, the late Dolores S. Sanchez. One of the well-known Lewis sisters from Acoma, Marilyn established herself as one of the finest storyteller-makers today, winning awards at Santa Fe Indian Market.
Now 64, Marilyn, a member of the Yellow Corn Clan, continues to gather her clay and other natural pigments from where she grew up. She combines her skills in both traditional pottery making and figurative work, specializing in handmade sculptures such as storytellers, small children, nativity scenes, animals and friendship bowls. Her sculptures are signed with her name, Acoma, New Mexico, and both are followed by a hand-drawn lizard.
Marilyn is among the more than two dozen artists that will be selling their work during AIANTA's 20th Anniversary American Indian Tourism Conference September 18-19 at the Isleta Resort & Casino.
Native art is an integral part of tourism in Indian Country and AIANTA wanted to open the Native Art Show portion of the conference to the public to share these works of art and culture.
Among the numerous items to be showcased: jewelry, pottery, paintings, and birch bark baskets. The sample list of artists includes award-winning craftspersons and a comedian:
Avachi Design Studios, Mary Velarde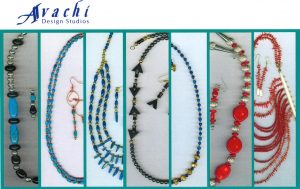 Mary Velarde, a Jicarilla Apache is a fiber artist, graphic designer and jeweler. Her contemporary Native American jewelry is like a multi-faceted gem–not only because she uses of a wide variety of semi-precious stones in every distinctive piece, but also because of the dominant presence of her Native American artistic composition and design motifs are both traditional and contemporary. Velarde's art and tapestries have been featured in exhibitions at the International Art Exposition in Washington, D.C., the Smithsonian's National Museum of the American Indian in New York City; the Textile Museum in Washington, D.C.; and the Southwest Museum in Los Angeles, California.
Mitch Battese, Prairie Band Potawatomi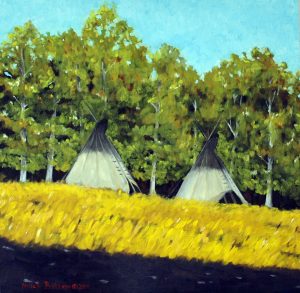 Born in 1951 in Oklahoma, Prairie Band Potawatomi artist and writer Mitch Battese made a life working with American Indian families and studying and painting American Indian culture. Mitch Battese attended the Institute of American Indian Arts in Santa Fe, N.M., and also studied under Chief Terry Saul and studied the works of Dick West at Bacon College in Oklahoma. A graduate of Northeastern State University in Tahlequah, Oklahoma, Mitch received a master's in social work from the University of Utah in Salt Lake City in 1980. Employed as a family therapist and art therapist for nearly 40 years in American Indian communities, Mitch, now retired works full-time as an artist and writer.
Gloria & Tim Begay, Navajo
Gloria and Tim Begay are Navajo artists living in Phoenix, Arizona. Gloria makes ribbon skirts, tote bags and quilts. Tim is a silversmith making needlepoint rings and necklaces. Both are beadworkers as well. 
Ricardo Caté, Pueblo of Santo Domingo

Ricardo Caté of Santo Domingo Pueblo is the most prominent Native American cartoonist working today. His immensely popular cartoon, "Without Reservations," is published daily in the Santa Fe New Mexican and Taos News, and explores the irony and poignant humor found in the Native American experience of living in dominant culture. Caté is the only Native American cartoonist whose work is carried by a daily mainstream newspaper. Many of his comics are included in his book, Without Reservations: The Cartoons of Ricardo Caté. He describes Indian humor as the result of "us living in a dominant culture, and the funny part is that we so often fall short of fitting in." A man of many talents, he is also a filmmaker and stand-up comic, as well as a man whose heritage is very precious to him.
Prudy Correa, Pueblo of Acoma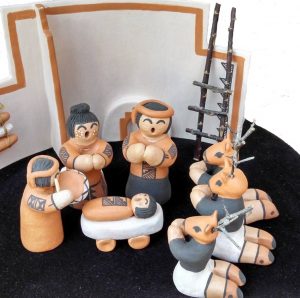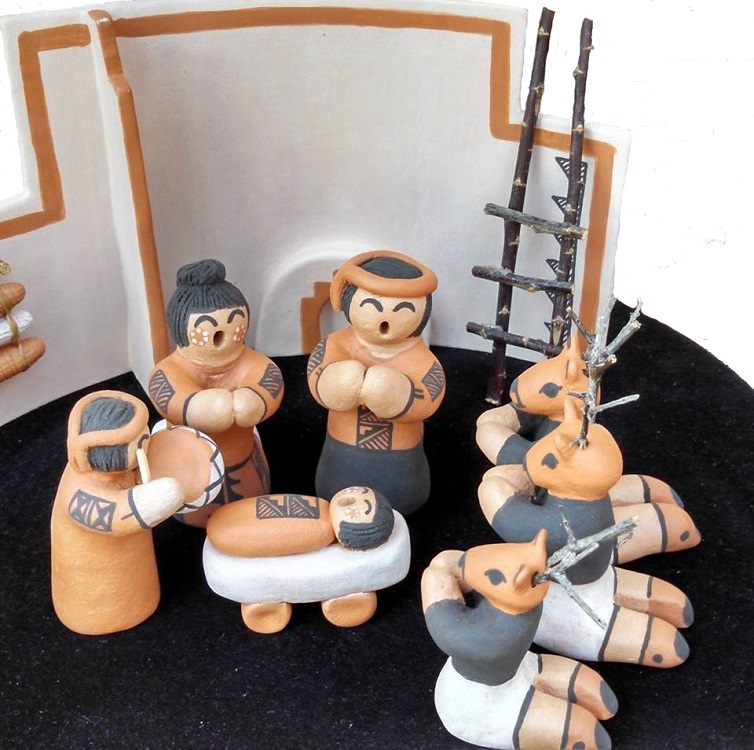 Prudy Correa is an Acoma potter known for her storytellers and nativity scenes. Since the age of 10, Prudy has been making pottery, digging her own clay, creating her own pigments and firing her pots above ground using traditional methods. Her work has been showcased at Santa Fe Indian Market, the Heard Museum and the University of Arizona.
Osavio Crespin Sr., Pueblo of Santo Domingo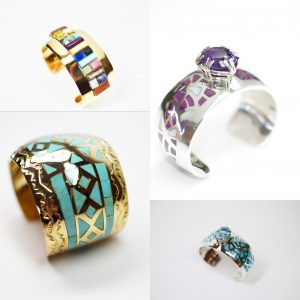 Osavio Crespin, Sr., is a third-generation Santo Domingo Pueblo jewelry-maker. Starting at the age of 12, Crespin began working for his parents in the family jewelry design business. After receiving a college degree and working for many years for various jewelry studios, Crespin started his own jewelry-design business. Inspired by the styles and techniques of the 1960's and 1970's, Crespin uses simple hand tools only in his studio. Each of his handmade, one-of-a-kind pieces are hand-stamped with Native American symbols. He often pairs overlay with inlay, hand shaping each stone to perfectly fit it into each overlay cut-out. He also combines flat intricate inlay with 3-D inlay and accents them with slivers of sterling silver and gemstones to elevate every piece into a singular work of art.
DZABAHE Jewelry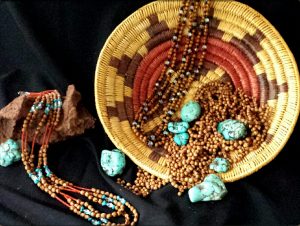 The owners of DZABAHE Jewelry (zaan-ba-ha) take pride in creating handmade and unique jewelry, crafted with elements of the earth, including (but not limited to) semi-precious stones, coral, wood, seeds and seashell. Their ghost bead jewelry has been very popular throughout the country. Enrolled members of the Navajo Nation of the Hashkaan Hadzohi Clan, creators of Dzabahe started off making jewelry as a hobby; later turned it into a woman-owned business. Dzabahe is three generations: grandmother, Phoebe, 92, honorary retired artist; mother, Bessie, 76; and daughter, Betina, 56. Their jewelry embodies the values and teachings of Dzabahe's Native culture and promotes the transmission culture and traditions to the next generation.
Paul Herrera, Jr., Cochiti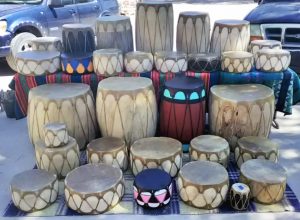 Paul Herrera, a drum maker from the Pueblo of Cochiti, makes traditional Pueblo-style drums in a variety of sizes and styles, including single sided and double sided drums, traditional painted feast drums and drums that can be used as tables. He uses aspen, cottonwood and rawhide as the raw material for his creations.
Judy Jones, Navajo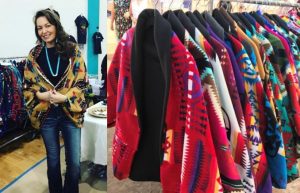 Judy Jones, a Navajo artist from Mountain, Arizona, finds her inspiration in her surroundings – nature, the beautiful southwestern landscape she grew up in, the seasons and especially family and friends. She crafted artwork for many years before she started selling her creations in 2013. Her work features southwest design laced, sheer & fleece material. Judy sews sheer sleeveless cardigans, kimonos, shawls, wraps, bed/couch/seat covers, scarves, sports bags, baby blankets and moccasin stockings from the soft, flexible fabric that is easy to care for. Her format is simple, allowing the design elements to be the main feature of her pieces. She will make a custom piece according to your wishes or you can choose from a variety of her ready-made items.
Pat Kruse, Red Cliff Band of Superior Chippewa Indians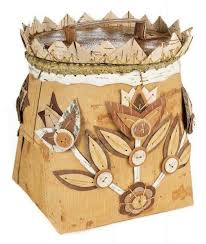 For more than 30 years, Pat Kruse has been creating birch bark art—the traditional Ojibwe way—by harvesting the bark himself and passing on the knowledge to his son who sews pieces with sinew. As a child, Kruse grew up on the reservation where life was simple—living as much as possible off the land and learning from traditional knowledge. Kruse's mother and grandmother's teachings instilled an appreciation for traditional ways. Recently his work has been focused primarily on creating birch bark wall hangings, but he is turning to basket making. Kruse's most recent inspiration for his birch bark creations has come from the opportunity to study ancient birch bark baskets in the archives and collections at his state's historical society.
Eleanor and Allen McCabe
Eleanor and Allen have created artwork for more than 40 years. Allen is a silversmith who works with sterling silver and a variety of materials, including top-quality turquoise from various mines, onyx and other gemstones, as well as natural materials like abalone, coral and mother of pearl. His classic designs are what are often called traditional silverwork. Eleanor presents a variety of colorful beadwork, including earrings, barrettes, bolo ties, bracelets and medallions.
Rachel Meadows, Navajo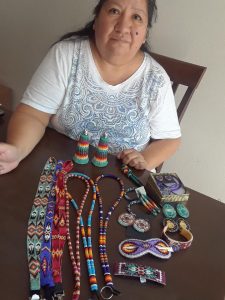 Rachel Meadows has been creating beadwork for more than 35 years under her company Talking Leaves, starting back in high school. Her work includes bead and quillwork jewelry, lanyards, watches and novelty items such as salt and pepper shakers. Her favorite work is creating peyote stitch earrings. Talking Leaves also has a selection of T-shirts and scarves.
Tony and Wilma Purley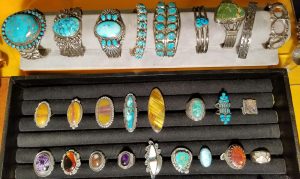 Laguna artists Tony and Wilma Purley have been creating cut glass beadwork and jewelry for more than 50 years. Tony was a champion hoop dancer and learned beadwork to make his regalia. They will bring a selection of their own silverwork and a large selection of their beadwork – bolo ties, necklaces, earrings, medicine bags and phone cases. They also will have a selection of jewelry from Zuni and Navajo artists.
Eldrick Seoutewa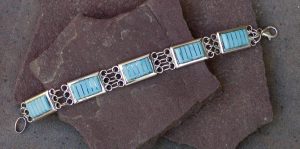 The award-winning Seoutewa Jewelers have been silversmiths for 40 years. Eldrick and Charlotte Seoutewa create beautiful contemporary inlay, as well as needle-point jewelry from their humble household in Zuni Pueblo using traditional Zuni inlay and needlepoint techniques passed down from Eldrick's parents.
Delaine & Rick Spillsbury, Western Shoshone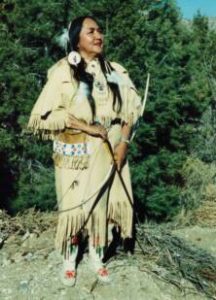 For the past 40 years, Delaine and Rick Spilsbury, Western Shoshone from Nevada, have been sharing the creative products of the Western Shoshone, selling arts, crafts and jewelry. The creativity is based on their ancestors, newe, the traditional name for their people, who were hunters and gatherers that lived a simple, nomadic lifestyle. The newe were a peaceful people who lived in a tough environment the high desert and believe in close ties and working together for our common good. Delaine and Rick continue to hunt and fish.
Roy Tenorio, Pueblo of San Felipe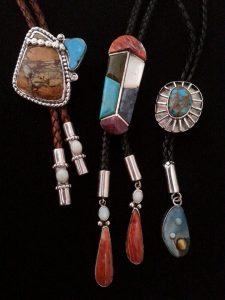 While some of the forms of his jewelry are similar to traditional Native American works, the range of stones Tenorio incorporates helps his pieces stand apart. He lets the stones stand as they are, with many different from each other, not copying others.
Tarahumara Baskets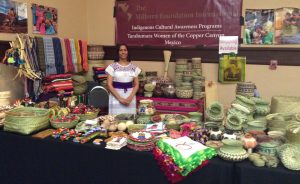 Tarahumara Baskets are made by the Ramámuri, Indians who live in the remote regions of the Sierra Madre Mountains in Chihuahua, Mexico. Their work includes fabric and woven goods; the most notable are the woven baskets made almost completely from materials gathered in the canyons. The baskets made by the Ramámuri are incredibly durable and unique and are woven from pine needles or sotol reed. The Tarahumara refer to themselves as Ramámuri – translated as "runners, light-footed, fleet foot, foot runners and those who walk well."
Duane Tawahongva, Hopi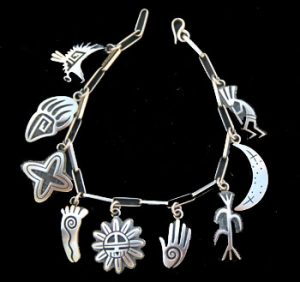 A member of the Coyote Clan, Duane Tawahongva was born at Second Mesa on the Hopi Reservation and lives today in Mishongnovi Village. Duane creates exquisite handcrafted jewelry from the high mesas of Hopi Land in northern Arizona. A self-taught silversmith, Duane works in traditional Hopi silver overlay. His work incorporates hundreds of designs, including very traditional Hopi symbols such as prayer feathers, clan symbols, corn maidens, water waves, and rain clouds. His striking works are inspired by the petroglyphs found throughout the region and reflect the rich Hopi culture.
Adrian Wall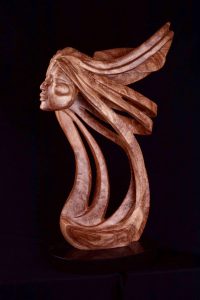 Adrian Wall is a sculptor from Jemez Pueblo, New Mexico. Sculpting since his late teens, he has always had an affinity towards stone sculpture. He received his BFA from the Institute of American Indian Arts in 2014. While Wall is stylistically well-known for blending figurative detail with abstract forms, he works with many materials, including clay, bronze and glass depicting subjects related to his Pueblo heritage. He has won several major awards in sculpture competitions across the U.S., and is a member of the Indigenous Sculptor's Society, an elite group of Native American Sculptors dedicated to the advancement of stone sculpture. His work can be found in the museum collections of the Eiteljorg Museum, the Indian Pueblo Cultural Center Museum, and the Haak'u Museum.
The Native Art Fair will be open Tuesday, September 18 and Wednesday, September 19, from 10 a.m. to 4 p.m.