AIANTA to Showcase Cultural Tourism Development at BIA Providers Conference
FOR IMMEDIATE RELEASE
The American Indian Alaska Native Tourism Association will present a workshop on cultural tourism development at the 28th BIA Tribal Providers Conference Nov. 27-29 in Anchorage, Alaska.
ANCHORAGE, ALASKA (November 15, 2018) – Every November, nearly 2,000 tribal representatives from across Alaska convene in Anchorage, Alaska, at the annual Bureau of Indian Affairs (BIA) Tribal Providers Conference, where they receive training and technical assistance and participate in statewide information sharing.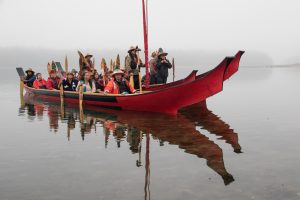 Alaska's largest federal conference, BIA Providers features 15 agenda tracks and more than 200 speakers, covering topics ranging from Housing to Human Services and Subsistence to Tribal Operations.
Included in the mix is a workshop on how cultural tourism development can be an important addition to a sustainable economic development program, presented by the American Indian Alaska Native Tourism Association (AIANTA).
"It's imperative to bring tourism into the discussion at an event like this," said Camille Ferguson, AIANTA Executive Director. "We want to educate Alaska Natives on the economic opportunities cultural tourism can present and all of the opportunities that AIANTA has to offer to tribes involved in tourism around the state.
Presenting as part of the "Partners" agenda track, Ferguson, along with AIANTA IT & Website Development Coordinator Sandra Anderson, will educate attendees on the opportunities cultural tourism offers while also highlighting AIANTA's initiatives in enhancing Indian Country tourism and promoting it around the world.
Initiatives include listings on AIANTA's consumer-facing website, NativeAmerica.travel, produced in partnership with BIA. The leading online resource for domestic and international travelers planning trips to Native destinations, the site is open to all tribes and Native enterprises looking to grow their tourism efforts and AIANTA will offer on-site training on how to be included on the website at no cost.
AIANTA encourages attendees to sign up for limited one-on-one sessions at the BIA Tribal Providers Conference website.
The BIA Tribal Providers Conference takes place November 27-29 at the Dena'ina Center in Anchorage. More information is available at biaprovidersconference.org.
– 30 –
About AIANTA
For more than two decades, the American Indian Alaska Native Tourism Association (AIANTA) has served as the national center for providing tourism and recreational travel technical assistance, training and capacity building to American Indian nations. AIANTA is a 501(c)(3) national nonprofit association of Native American tribes and tribal businesses and was incorporated in 2002 to advance Indian Country tourism. AIANTA's mission is to define, introduce, grow and sustain American Indian and Alaska Native tourism that honors traditions and values.
Contact: Monica Poling, AIANTA
mpoling@aianta.org, (505) 724-3578