American Indian Alaska Native Tourism Association and Alaska Native Heritage Center Partner for Sustainable Tribal Tourism Development in Alaska
FOR IMMEDIATE RELEASE 


American Indian Alaska Native Tourism Association and
Alaska Native Heritage Center Partner for Sustainable Tribal Tourism Development in Alaska
ALBUQUERQUE, N.M. (June 5, 2023) – The American Indian Alaska Native Tourism Association (AIANTA) and the Alaska Native Heritage Center (ANHC) have announced its new memorandum of understanding (MOU) for sustainable tribal tourism development. Together, the nonprofit organizations aim to create a stronger national voice for Native Nations and communities for recreation, travel and tourism capacity, interests and needs in Alaska. Centralizing and elevating Alaska Native history, voices and ways of life are critical for Alaska Native cultural tourism development, destination marketing, and capacity building.
For the last 25 years, AIANTA has served as the only national organization dedicated to advancing cultural tourism in Native Nations and communities across the United States, and ANHC has served as the leading cultural tourism institution and voice in Alaska, dedicated to ensuring Alaska Native and American Indian people have a voice at the table. Together through this MOU, the legacy organizations will enhance further collaboration opportunities between AIANTA and ANHC; support the long-term economic viability of Native Nations and communities; endorse cooperation and coordination among and between Native Nations and communities to improve management and promotion of sustainable cultural tourism development opportunities in the U.S.; and fully capitalize on international and domestic interest in visiting American Indian, Alaska Native and Native Hawaiian tourism destinations.
"It's an honor for AIANTA to enter this collaborative partnership with the Alaska Native Heritage Center, as together we ensure Alaska Native people have a voice at the table while continuing to educate that cultural heritage tourism is an economic driver for Native Nations and communities," said AIANTA CEO Sherry L. Rupert.
As part of the MOU, AIANTA and ANHC will strive to build a community of Alaska Native, Native Nations and communities who will develop into collective industry leaders for all Indigenous Peoples with a goal to incorporate rich, diverse, and accurate depictions of Alaska and Alaska Native cultures.
"When inviting people to the ancestral homelands of Alaska Native people, it is imperative that Native voices are involved at every level," said ANHC President and CEO Emily Edenshaw. "This MOU creates space for two Native-led organizations to come together to strengthen responsible and sustainable cultural tourism across Alaska. We are stronger together."
Tribes who are looking to start or expand their cultural tourism footprint can find resources at www.aianta.org and visitors interested in learning more about Native culture can visit www.nativeamerica.travel. To learn more about the Alaska Native Heritage Center visit www.alaskanative.net.
About the American Indian Alaska Native Tourism Association (AIANTA):
Celebrating 25 years in 2023, AIANTA was established by tribes for tribes to address inequities in the tourism system. Governed by an all-Native board of directors, AIANTA serves as a united voice for the $14 billion Native hospitality sector. AIANTA's priorities are; 1) to provide technical assistance and training, research, and publications to American Indian, Alaska Native and Native Hawaiian communities engaged in tourism and hospitality; 2) to facilitate conversations with the Native communities, federal agencies, non-profit associations, and elected officials on the economic and cultural importance of a healthy hospitality industry; 3) to highlight the importance of visiting authentic Native destinations, including cultural, heritage, historic, and artistic sites; and 4) to generate awareness, interest and demand for these destinations with domestic and international travelers, the travel trade and the media. AIANTA has delivered on its mission over the last two and a half decades to define, introduce, grow and sustain American Indian, Alaska Native and Native Hawaiian tourism that honors traditions and values with several key accomplishments, most notably its successful legislative work that led to the Native American Tourism and Improving Visitor Experience Act (NATIVE Act) funding in 2018, as Indian Country Tourism was recognized through federal appropriations via NATIVE Act implementation; and in 2016, as AIANTA was awarded the U.S. President's "E" Award for organizations contributing significantly to increase U.S. exports. To learn more, visit www.aianta.org.
About the Alaska Native Heritage Center (ANHC):
Alaska Native Heritage Center (ANHC) is a statewide Alaska Native non-profit whose mission is to preserve and strengthen the traditions, languages, and art of Alaska's Native People through statewide collaboration, celebration, and education. ANHC is the only statewide living cultural center that represents all regions and all cultures in Alaska. For the last nearly 25 years, ANHC has worked with community partners at the local, state, and federal level to accomplish the vision of a thriving Alaska Native Peoples whose cultures are respected and valued. In May 2020, the Alaska Cultural Tourism working group decided to fold into ANHC for the purposes of creating a stronger statewide cultural tourism network. This partnership is a vital component to the cultural tourism industry. ANHC is a leading cultural tourism voice in Alaska and is dedicated to ensuring Alaska Native/American Indian people have a voice at the table.
Contact:
Liz Slobodian
(904) 237-1285 or Liz@shipwrightcommunications.com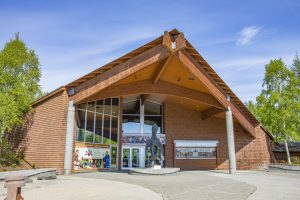 Photo credit: AIANTA // Pictured: Alaska Native Heritage Center