The American Indian Alaska Native Tourism Association Celebrates 25 Years as the Leader in Cultural Heritage Tourism and Announces Historic Name Change of National Conference at 25th Annual Event
FOR IMMEDIATE RELEASE

The American Indian Alaska Native Tourism Association Celebrates 25 Years as the Leader in Cultural Heritage Tourism and Announces Historic Name Change of National Conference at 25th Annual Event
Annual American Indian Tourism Conference Becomes American Indigenous Tourism Conference; The three leading Global Indigenous Tourism Organizations unite to share complexities and opportunities of cultural tourism; Star-Studded Keynotes from Tribal, Federal, State and industry partners as the national nonprofit celebrates 25 years   
DURANT, Okla. (October 3, 2023) – Today, the American Indian Alaska Native Tourism Association (AIANTA), the only national organization dedicated to advancing cultural heritage tourism in Native Nations and communities across the United States, announced that its signature American Indian Tourism Conference (AITC) will become the American Indigenous Tourism Conference to reflect inclusivity of all U.S. Native Nations and communities beyond tribes, as Indigenous tourism continues to preserve generations of cultural heritage storytelling. The news was delivered in a keynote address by AIANTA CEO Sherry L. Rupert as the national nonprofit kicked off its 25th anniversary at the Choctaw Casino & Resort in Durant, Okla. on the tribal homelands of the Choctaw Nation of Oklahoma.
"So often as Native peoples of this nation we are marginalized and left out," said AIANTA CEO Sherry L. Rupert (Paiute/Washoe). "There is no worse feeling than not being given a seat at the table. Native Hawaiians don't have the same federal recognition that our tribes in the U.S. do, yet they are still Indigenous people of this nation and should no longer be left out."
The acknowledgment that there are other Indigenous people in this nation is important and we as Native peoples believe that we are related, said Rupert. We are connected. Just as we are connected to the land, the water, the animals, and the stars in this universe – we are all connected and that's why it's important.
To underscore the importance of inclusive Indigenous tourism, today AIANTA also led a discussion with leaders from the Indigenous Tourism Association of Canada and New Zealand Māori Tourism, as the three leading Global Indigenous Tourism Organizations united to share how Indigenous cultures can thrive through responsible and sustainable tourism practices while safeguarding their cultural heritage.
This week AIANTA celebrates the significant achievements the organization has made to define, introduce, grow, and sustain American Indian, Alaska Native and Native Hawaiian tourism that honors traditions and values. Most notably its successful legislative work led to the industry-changing Native American Tourism and Improving Visitor Experience Act (NATIVE Act) funding in 2018, as Indian Country Tourism was recognized through federal appropriations via NATIVE Act implementation.
The national nonprofit also continues to celebrate and build upon its 25 years of strategic partnerships across Native Nations and communities, federal, state, and the travel industry as together they facilitate a thriving Indigenous tourism industry. Among those partners, keynote speakers at AITC this week include:
Chairman Marshall Pierite, Chairman & CEO, Tunica-Biloxi Tribe of Louisiana
Chris Thompson, President & CEO, Brand USA, the destination marketing organization of the U.S.
Brian Beall, Director, U.S. National Travel & Tourism Office, U.S. Department of Commerce
Chairman Milanovich, Agua Caliente Band of Cahuilla Indians
Caroline Beteta, President & CEO, Visit California
Mālia Sanders, Executive Director, Native Hawaiian Hospitality Association
Onna LeBeau, Director, Office of Indian Economic Development
Sebastien Desnoyers-Picard, Vice President, Indigenous Tourism Association of Canada
Pania Tyson -Nathan, Chief Executive, New Zealand Maori Tourism
"AITC is much more than a conference for us. It truly signifies we are still here, which is why we chose it as the theme for our 25th annual event," said Rupert. "In this country Indigenous people are an afterthought in history and across the tourism industry. Through cultural tourism and AIANTA, all the broad shoulders that we stand on today have brought us to the point where we can envision the future of Indigenous tourism," she said.
Tribes who are looking to start or expand their cultural tourism footprint can find resources at www.aianta.org and visitors interested in learning more about Native culture can visit www.nativeamerica.travel.
About AIANTA
Founded in 1998, AIANTA was established by tribes for tribes to address inequities in the tourism system. Governed by an all-Native board of directors, AIANTA serves as a united voice for the $14 billion Native hospitality sector. AIANTA's priorities are; 1) to provide technical assistance and training, research, and publications to American Indian, Alaska Native and Native Hawaiian communities engaged in tourism and hospitality; 2) to facilitate conversations with the Native communities, federal agencies, non-profit associations, and elected officials on the economic and cultural importance of a healthy hospitality industry; 3) to highlight the importance of visiting authentic Native destinations, including cultural, heritage, historic, and artistic sites; and 4) to generate awareness, interest and demand for these destinations with domestic and international travelers, the travel trade and the media. www.aianta.org.
Contact:
Liz Slobodian on behalf of AIANTA
(904) 237-1285 or Liz@shipwrightcommunications.com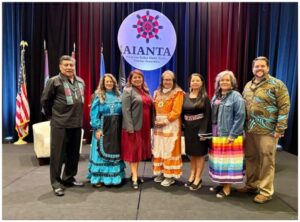 Photo Credit: AIANTA  // Caption –  Featured left to right: AIANTA Board President Emerson Vallo (Pueblo of Acoma); Jo McDaniel, Choctaw Nation of Oklahoma Tourism Manager of Strategic Development; AIANTA CEO Sherry L. Rupert (Paiute/Washoe); Sue Folsom, Choctaw Tribal Elder and Choctaw National Cultural Projects Senior Director; Tammye Gwin, Senior Executive Officer, Division of Strategic Development of the Choctaw Nation of Oklahoma; Kerry Steve, Cultural Services, Choctaw Nation of Oklahoma; Kainoa Daines (Native Hawaiian), Senior Director of Destination Education, Hawaiʻi Visitors and Convention Bureau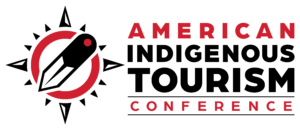 Photo Credit: AIANTA  // Caption –  AIANTA's logo for the newly renamed conference – the American Indigenous Tourism Conference.