Women's History Month 2023
Native American Women Leaders in Cultural Heritage Tourism
Every year, March is designated Women's History Month by Presidential proclamation. The month is set aside to honor women's contributions in American history.
The American Indian Alaska Native Tourism Association (AIANTA) also takes this opportunity to recognize some of the leading women in Indian Country cultural tourism. These leaders, just a sampling of the many women driving economic development through tourism promotion, are long-time tribal and business members of AIANTA and reflect the passion and drive needed to develop, introduce, sustain and grow tribal tourism.
Among them:
Marla Bull Bear, Executive Director, Lakota Youth Development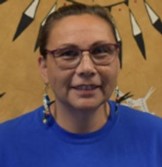 Marla Bull Bear is the Founder and Executive Director of Lakota Youth Development and a citizen of the Rosebud Sioux Tribe, she comes from the Milks Camp Community. Marla received her master's degree in  counseling from Sinte Gleska University (SGU), a tribal university located on the Rosebud Reservation. She is a former chairwoman of the Board of Regents for Sinte Gleska University. In addition, Marla has served the state in various capacities including serving 12 years on the State Alcohol and Drug Advisory Council and Chairwoman of that council for 5 years ending her service in 2005 having last been appointed by Governor Janklow.
Brigette McConville, Owner, Salmon King Fisheries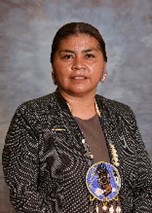 Brigette McConville is a citizen of the Confederated Tribes of Warm Springs. She is the owner of Salmon King Fisheries (established February of 2011) located near in Warm Springs, Oregon. Brigette and her family commercial fish on the Columbia River and sell their fish fresh, frozen, canned and smoked.  At Salmon King Fisheries they also have retail wearable art, beadwork, supplies, basketry, and offer beadwork and basket classes at the store twice a month. McConville began serving her first term on the Confederated Tribes of Warm Springs 27th Tribal Council and she has worked for Cultural Resources as a cultural resource technician, doing cultural surveys for timber sales, roads and new development such as housing, and also as a tribal anthropologist. She has served as a Columbia River Inter-tribal Fish commissioner, and the Fish and Wildlife Committee of the Confederated Tribes of Warm Springs.
Lailani Upham-Bear Chief, President & Lead Creative, Iron Shield Creative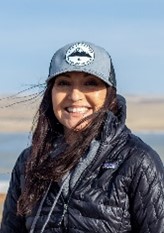 Lailani Upham-Bear Chief is an Amskapi Pikuni (Blackfeet Nation) tribal citizen, and Aaniiih, Nakoda, Dakota tribal descent and an adventure explorer, photographer, videographer, writer, storyteller who travels throughout Montana to tell stories from an Indigenous perspective. Lailani, grew up on the Blackfeet and Fort Belknap Indian reservations where she explored her home landscapes as a kid and got into trouble for taking off into the mountains (without notice) on "adventures." She grew up hearing the stories and history of her tribal people and was grounded in identity through the passing down of oral traditions from her grandparents on both sides of her family and tribal lineage. She says her experience and passion has led her to a closer connection to nature, likeminded storytellers, while vamping up a hunger to encourage others to tap into their voice through written and visual storytelling.
Shoshana Wasserman, Deputy Director, First American Museum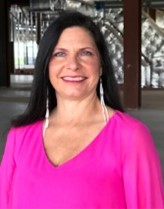 Shoshana Wasserman is Thlopthlocco Tribal Town Muscogee Creek from Oklahoma. She has a Master of Arts degree in Business Communications (specializing in Organizational Development) from Jones International University and is a University of Oklahoma Alumni with a Bachelor of Science degree in Elementary Education (minor in Multicultural Studies). As the Public Relations/Artistic Director for the Great American Indian Dance Company from 1989-1995, her experience coordinating touring logistics served as the perfect practicum for audience development and event planning. The Great American Indian Dance Company served as ambassadors for the State of Oklahoma. Her public relations efforts attracted tourism revenue, stimulated media attention internationally and nationally for both the dance company and the State of Oklahoma. Shoshana's wide range of skills include: strategic planning, arts promotion and institutional development. She is a board member for the Mvskoke Arts Association and the Oklahoma City Muscogee Creek Association and is an Oklahoma Arts Council, Leadership Arts Class X member and previously served on the Board of Directors for the American Indian Chamber of Commerce of Oklahoma City.
Tianna Yellowhair, Owner, Tatanka Rez Tours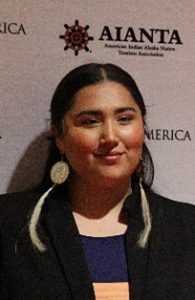 Tianna Yellowhair is a citizen of the Northern Cheyenne Tribe and part Lakota. Tianna is one of the owners of Tatanka Rez Tours, located on the Pine Ridge Indian Reservation. Tiana is an artist as well as an educator, she holds a bachelor's degree in Lakota Studies with an emphasis in Lakota Language from Oglala Lakota College. Tianna and her father are dedicated to giving visitors more than just a tour, but a life changing experience, "We Started with the ideal of Providing the Visitors whom come to the Reservation to learn a better perspective from the local Lakota people. We have put this into reality, and we are here to service our visitors with a heartfelt handshake, humor, and expertise on our past and current living situations." One of the main events of the tour is a visit to Wounded Knee overlook where they do a ceremony to honor the people that lost their lives the day of the massacre.
Crystal Wahpepah, Executive Chef, Wahpepah's Kitchen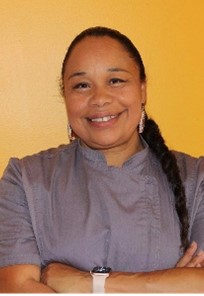 Crystal Wahpepah is a citizen of the Kickapoo nation of Oklahoma. Crystal's objectives for Wahpepah's Kitchen are threefold: (1) to acknowledge that we live on stolen land; and (2) how that acknowledgement connects to the reclamation of Native food ways (food sovereignty); as well as (3) to educate communities and organizations on the health benefits of Native food ways using the knowledge passed onto her. In addition to Crystal's inimitable experience with food in ancestral and community settings, Crystal has received extensive training from prominent organizations in Oakland and San Francisco on how to run her business. She received the Indigenous Artist Activist Award and has been inducted into the Native American Almanac for being one of the first Native American women to own a catering business.  In 2016, she was the first Native American Chef to compete in the Food Network's show, Chopped.
Upingaksraq (the time when the ice breaks)- Spring Alaska Schreirner, Owner & Principal Ecologist-Indigenous Agriculturalist, Sakari Farms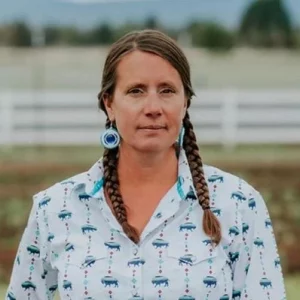 Upingaksraq (the time when the ice breaks)- Spring Alaska Schreiner is the owner and Principal Ecologist-Indigenous Agriculturalist of Sakari Farms. She is a citizen of the Chugach Alaska Native Corporation and Valdez Native Tribe. Inupiaq lineage allows a unique/diverse cultural perspective of the use of historical food systems ranging from Alaska to Oregon and regional tribal lands on Turtle Island. Spring serves on multiple regional and national agricultural boards and educational committees and advocates for local farmers and tribal members. Spring received the 2019 NASDA Women Farm to Food Award, and more recently, the recipient of the 2021 Na'ahlee Tribal Fellowship and the 2022 Ecotrust Indigenous Leadership Award for the PNW.
Chef Walks First Jessica Pamonicutt (Menominee), Owner and Executive Chef, Ketapanen Kitchen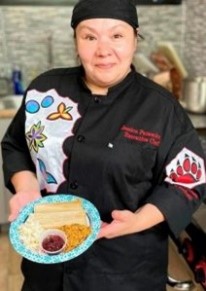 Chef Walks First Jessica Pamonicutt is Chicago's first Native American executive chef. Walks First, is a citizen of the Menominee tribe of Wisconsin. She started Ketapanen Kitchen, her catering business, seven years ago and Ketapanen has since "exploded." Before its closure, she attended Le Cordon Bleu College of Culinary Arts in Chicago, but her earliest culinary education was from cooking with her mother. "For Native people, cooking and sharing meals and food itself is part of everything we do," Walks First said. "When you grow up in a communal setting, there are many events. And anytime we'd go to these events, I would help in the kitchen. It's always been second nature to me." Chef Jessica's additional passion is to see a food sovereignty program developed in Chicago, Illinois. She is part of the Seed to Feed Initiative, teaching community members how to identify, harvest, grow and cook Indigenous foods is a great way to restore our food systems. We currently have three small garden spaces in the Chicagoland area, but that is not enough! A community-owned and operated farm/garden space where we could grow and feed the community would be a dream come true. And I know it will happen one day soon.
Tiana Suazo (Taos/Jemez Pueblo), Executive Director, Red Willow Center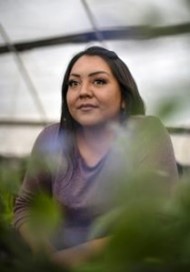 Tiana Suazo, B.A., is the Executive Director of the Red Willow Center in Taos Pueblo, NM. The mission of Red Willow Center (RWC) is to reclaim the agricultural heritage of Taos Pueblo and restore its traditional food systems. With the help of her team, Suazo works towards accomplishing this mission through the RWC's farm, farmers market, and youth internship programs. Suazo, a graduate of Santa Fe Indian School and Fort Lewis College in Durango, Colorado, serves on the board of Ogallala Commons (OC), in Nazareth, Texas and is an active member in her community of Taos Pueblo. Ogallala Commons focuses on community development in the eight states touched by the Ogallala Aquifer: Texas, New Mexico, Colorado, Kansas, Oklahoma, Nebraska, North Dakota, and South Dakota. Suazo firmly believes that by empowering and supporting indigenous youth, we can change the future.
Linda Cooley, Chief Executive Officer, Mad River Brewing
Linda Cooley is the CEO of Mad River Brewery, a wholly owned business by the Yurok Agricultural Corporation with a 30-year track record of awards. Linda Cooley's focus is creating a partnership in Indian Country and trailblazing a Native American Category in the craft beer industry, driving sales and awareness of Native business, and diversifying the Yurok Tribe's economic portfolio. Re-Branding Mad River into a culturally appropriate package that shows the Yurok People's focus of stewardship and water advocacy.
Jo McDaniel, Manager, Choctaw Country Tourism

Jo McDaniel is the Tourism Manager for The Choctaw Nation of Oklahoma. Jo has excitedly been in Tourism for the past 8 years. Before that, she was a Senior Director in Education for The Choctaw Nation of Oklahoma and has been proudly working for The Choctaw Nation of Oklahoma for 30 wonderful years!  Jo is a Graduate of Southeastern Oklahoma State University and holds two Professional Tourism Certifications from The George Washington University-School of Business in Cultural Heritage Tourism and in Sustainability, Business & Economic Development. She has completed the Yellow Belt through the Six Sigma certifications, she is a member or affiliated with the following Tourism organizations: ESTO, AIANTA, AITC, OTIA, U.S. Travel, State Tourism International group.  Jo currently serves on these Tourism Boards: State Tourism-Oklahoma Tourism Industry Authority and Lake Texoma Association. Additionally, she has been appointed to and/or serve on Committees: Durant Tax Authority; Choctaw Pow Wow; AITC; Magnolia and Christmas Magnolia Festival. From the beginning of this year (2023), Jo and her colleagues have set up a booth at the Travel and Adventure Shows and other shows, to personally promote The Choctaw Nation of Oklahoma's Reservation (the SE corner of the State of OK=10.5 counties wide)  in the following cities:  Dallas, Houston, Las Vegas, Quartsite-AZ, New York, Washington-DC, Harrisburg-PA, Los Angeles, Denver, Arlington-TX with more shows scheduled for the remaining year. Under the leadership of McDaniel, the Tourism department has won numerous State of Oklahoma Tourism Awards, known as the Redbud Awards. Her hope is that, "my legacy is, that I inspired others to travel and to take in the rich experiences that each place and it's vibrant culture has to offer."