Go International 2019 Agenda
2019 Go International Agenda
Part of AIANTA's International Outreach program, the two-day Go International seminar is designed to prepare tribes and Native-owned tourism businesses for the international marketplace.
Monday, January 28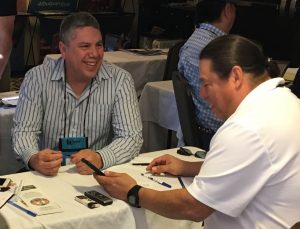 Welcome and Introduction
8:00 a.m. Registration and Badge Pick-up
9:00 a.m. Welcome and Introductions | Camille Ferguson, AIANTA Executive Director
9:15 a.m. Program Overview | Emerson Vallo, AIANTA Board Member (moderator)
9:30 a.m. Introduction to AIANTA and AIANTA's International Programming | Camille Ferguson
10:15 a.m. Networking Break
Introduction to International Tourism
10:30 a.m. Product Ready | Valerie Dulin, Tauck Tours
11:15 a.m. Pricing Your Tourism Product | Camille Ferguson
12:00 p.m. Lunch (on own)
Preparing and Welcoming Your International Guests
1:00 p.m. The Strategy of Familiarization Tours | Dawn Melvin, Arizona Department of Tourism
2:00 p.m. Creating Itineraries | Valerie Dulin, Tauck Tours
3:00 p.m. Networking Break
3:15 p.m. Are You International Visitor Ready? | Mary Motsenbocker, International Tourism Marketing
4:15 p.m. End of Day
Tuesday, January 29
8:00 a.m. Registration and Badge Pick-up
8:30 a.m. Understanding Contracts | Lael Echo-Hawk, MThirtySix, PLLC
9:30 a.m. Promoting Your Destination on NativeAmerica.travel | Sandra Anderson, AIANTA
10:30 a.m. Networking Break
10:45 a.m. Promotions Through Experiences & Marketing | Talia Salem, George Washington University
11:45 a.m. Lunch (on own)
Marketing and Packaging Opportunities
1:00 p.m. Preparing for a Successful Trade Show | Mary Motsenbocker and Camille Ferguson
2:00 p.m. Pitching Your Product or Destination to the Media | Monica Poling, AIANTA
3:00 p.m. Networking Break
Hands-on Workshop
3:15 p.m. Build and Pitch Your Custom Itinerary – A Hands-On Workshop | Mary Motsenbocker, Dawn Melvin, Valerie Dulin, Monica Poling and Camille Ferguson
5:00 p.m. Safe Travels
Click here to view a downloadable version of the  2019 Go International Agenda.
* Please note, the Mobile Workshop to Kasha-Katuwe Tent Rocks National Monument and Cochiti Pueblo on Sunday, January 27 has been canceled due to the Federal Government Shutdown.
Go International Sponsors
AIANTA extends a warm thank you to all our valued sponsors and partners who help make Go International possible.
AIANTA's International Program is made available in partnership with the U.S. Department of Commerce International Trade Administration, through the Market Development Cooperator Program.