O me'a"kwa: A Season of New Beginnings
(I'm going to travel over there, Northern Paiute)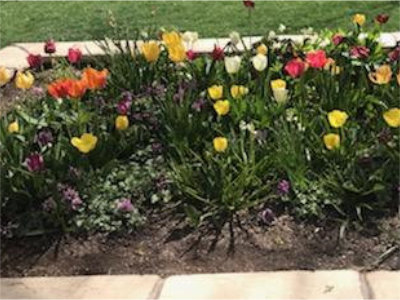 Photo: Albuquerque BioPark // (c) Sherry L. Rupert
At AIANTA, we've been enjoying an eventful start of the spring season.
Just last week, newly appointed Secretary of the Interior Deb Haaland visited tribal leaders from the Pueblos of New Mexico at the Indian Pueblo Cultural Center, where AIANTA also has its offices. Joined by New Mexico Governor Michelle Lujan Grisham, Haaland listened to feedback from dozens of leaders, who called her a "formidable guardian" and steward of their interests.
It was an exciting start to what is typically considered a season of new beginnings. If spring is a time of change, we're certainly seeing that at AIANTA. This month we welcomed our newest staff member, Maureen Chavez (Pueblo of Acoma), our Visitor Outreach Manager. We are excited to introduce this new AIANTA department, and I'm sure you all will be hearing from Maureen soon, as she reaches out to introduce you to our tradeshow and visitor outreach schedule for 2021 and beyond. In the meantime, don't hesitate to say hello by sending her an email at mchavez@aianta.org.
If you are interested in attending tourism tradeshows or growing your presence within the packaged travel  industry, I also strongly encourage you to register for our Go International workshop (April 21-22, 2021). If you've attended this program in the past, you'll notice this year introduces an all new format, including a strengthened focus on domestic and global markets. This year's virtual program welcomes product planners and buyers from celebrated travel companies Destination America (DA) and Collette, which both work actively to promote indigenous destinations in their tour programs.
Product buyers from both companies will interact directly with Go International attendees in helping them craft their itineraries. Each attendee will be able to "pitch" a one-day itinerary and receive valuable feedback from these buyers on what they are looking for when building travel programs. If you are looking to work more closely with domestic or international tour operators, I strongly urge you to register for Go International now.
Speaking of new programming, this month also welcomed a lively dialog with our Board of Directors in two strategic planning sessions that will serve to map out AIANTA's programs and strategies for the next three years. We've been listening to all the wonderful feedback from our members, partners and other stakeholders over the past year and will be incorporating that into our strategic planning, but we always welcome more dialog from all of you.
To that end, please save the date (and sign up) for the first session of our new AIANTA Town Hall Series. Scheduled for April 28, 2021 at 1 p.m. (MDT), I'll be co-hosting the session with Emerson Vallo (Pueblo of Acoma), President of AIANTA's Board of Directors. We'll be announcing the results of our recent State of Indian Country Tourism Survey as well as unveiling some of our major new initiatives for the coming year. This session will also give us the opportunity to hear from you, so come prepared to share your own initiatives, challenges and tourism priorities.
We do appreciate your continued support of AIANTA's programs. Our recent webinar, Mapping Indigenous Place Names had more than 500 registrants! A new record for AIANTA! If you missed this engaging dialog between cartographer Margaret Pearce (Citizen Potawatomi Nation) and language master Carol Dana (Penobscot Nation), please take a moment to watch it on-demand now.
Looking forward to May, which happens to mark my two-year anniversary as AIANTA's CEO, we'll be celebrating National Travel and Tourism Week (May 2-8, 2021). We'll be unveiling our own programming in the coming weeks, but if you have your own initiatives, please let us know, so we can incorporate them into our messaging. In the meantime, follow the conversation on social media at #nttw21 and #PowerOfTravel.
Of course, we are deep into the planning stages for our 23rd Annual American Indian Conference, which will be held in Fort McDowell, Arizona (October 25-28, 2021) and hosted in partnership with the Fort McDowell Yavapai Nation. Online registration will open shortly, but in the meantime, please let us know if you are interested in sponsoring AITC or speaking at an AITC breakout session, or if you are able to contribute an item to our Silent Auction, the proceeds of which go to support AIANTA's Hospitality and Tourism Scholarship Program.
As you can see there is quite a lot going on at AIANTA. As always, our programming is intended to help our Native American, Native Hawaiian and Alaska Native communities and indigenous-owned businesses succeed when it comes to creating and growing their own cultural tourism programming. We look forward to connecting with you at our upcoming Town Hall Series, and as always feel free to reach out to us if we can provide any assistance with your tourism efforts.  We love to hear from you!
Boneedwa,
(See you later, Northern Paiute)
Sherry L. Rupert, Chief Executive Officer
American Indian Alaska Native Tourism Association