Tribal Row Returns to IPW 2023; American Indian Alaska Native Tourism Association Breaks Record & Showcases Cultural Diversity of U.S. Tourism with #DiscoverNativeAmerica
FOR IMMEDIATE RELEASE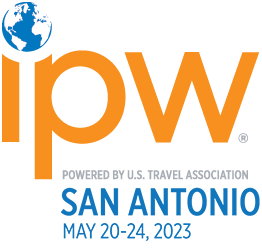 Tribal Row Returns to IPW 2023; American Indian Alaska Native Tourism Association Breaks Record & Showcases Cultural Diversity of U.S. Tourism with #DiscoverNativeAmerica
More than a dozen Native exhibitors join AIANTA to bring Native Nations to the travel industry's premier international marketplace and the largest generator of travel to the U.S.
ALBUQUERQUE, N.M. (May 24, 2023) – The American Indian Alaska Native Tourism Association (AIANTA), returned to the U.S. Travel Association's IPW 2023 in San Antonio, Texas May 20-24 with its signature "Tribal Row", showcasing cultural diversity of American Indian, Alaska Native and Native Hawaiian Native Nations and communities across the United States.
As the leading inbound travel trade show, past IPWs have generated more than $5.5 billion in future travel by connecting U.S. travel exhibitors with travel buyers and media to promote their product and negotiate future business, securing America's position as a foremost global travel destination and showcasing the best of what the U.S. has to offer.
AIANTA, the only national organization dedicated to advancing cultural tourism in Native Nations and communities across the United States, celebrated a record high attendance of participants at its shared booth and on Tribal Row this year – the highest engagement since the organization's first IPW in 2012.
Attended by more than 3,000 international and domestic travel buyers, travel suppliers and international journalists, AIANTA was thrilled to welcome more than a dozen Native exhibitors from across seven U.S. Native Nations and communities to its shared booth and Tribal Row. Together, participants presented a cohesive tribal tourism message and provided participants with enhanced marketing opportunities through cross-promotional efforts as well as pre-show technical assistance and training. This year AIANTA welcomed:
Akwesasne Travel
Black Streak Canyon Tours
Choctaw Nation of Oklahoma (Tribal Row)
Dineh Tours, LLC (Tribal Row)
Mandan Hidatsa Arikara Tourism
Navajo Nation Hospitality Enterprise (Tribal Row)
Nevada's Indian Territory
Nez Perce Tourism
Sitka Tribe of Alaska
Tse Bighanilini Tours
"As our Native American, Alaska Native and Native Hawaiian partners look to expand awareness for their tourism programs internationally, they join AIANTA at IPW to meet with international tour operators, media and other buyers to showcase the transformative and authentic experiences visitors can only find in Native Nations and communities across the U.S.," Sherry L. Rupert, AIANTA Chief Executive Officer. "There is no other event like IPW and there is no one better to showcase all that our Native Nations and communities have to offer than AIANTA and our Tribal Row partners here at this signature event."
Travel serves as a catalyst for a productive U.S. economy and helps power the success of other industries. American Indian, Alaska Native and Native Hawaiian owned hospitality businesses contribute $14 billion in annual sales to the tourism and hospitality sector in the U.S., according to the Economic Impact of U.S. Indigenous Tourism Businesses Report. AIANTA's participation at IPW is funded by NATIVE Act funds in partnership with the Office of Indian Economic Development.
AIANTA has delivered on its mission over the last two and a half decades to define, introduce, grow and sustain American Indian, Alaska Native and Native Hawaiian tourism that honors traditions and values with several key accomplishments, most notably its successful legislative work that led to the Native American Tourism and Improving Visitor Experience Act (NATIVE Act) funding in 2018, as Indian Country Tourism was recognized through federal appropriations via NATIVE Act implementation; and in 2016, as AIANTA was awarded the U.S. President's "E" Award for organizations contributing significantly to increase U.S. exports.
Tribes who are looking to start or expand their cultural tourism footprint can find resources at www.aianta.org and visitors interested in learning more about Native culture can visit www.nativeamerica.travel. To learn more about the U.S. Travel Association's IPW, visit IPW.com.
About AIANTA
Celebrating 25 years this year, AIANTA was established by tribes for tribes to address inequities in the tourism system. Governed by an all-Native board of directors, AIANTA serves as a united voice for the $14 billion Native hospitality sector. AIANTA's priorities are; 1) to provide technical assistance and training, research, and publications to American Indian, Alaska Native and Native Hawaiian communities engaged in tourism and hospitality; 2) to facilitate conversations with the Native communities, federal agencies, non-profit associations, and elected officials on the economic and cultural importance of a healthy hospitality industry; 3) to highlight the importance of visiting authentic Native destinations, including cultural, heritage, historic, and artistic sites; and 4) to generate awareness, interest and demand for these destinations with domestic and international travelers, the travel trade and the media. www.aianta.org
Contact:
Liz Slobodian on behalf of AIANTA
(904) 237-1285 or Liz@shipwrightcommunications.com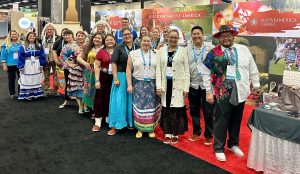 Photo credit: AIANTA // Pictured: AIANTA & Tribal Row at IPW 2023