This year's American Indian Tourism Conference artwork was inspired by First American Art Magazine's virtual art exhibition, Masked Heroes: Facial Coverings by Native Artists.
"Through Masked Heroes, we want to celebrate the resilience of Indigenous peoples and help share the beauty that Native artists have created in the face of our shared crisis." 
AIANTA would like to thank all the participating artisans for allowing us to feature their distinctive designs.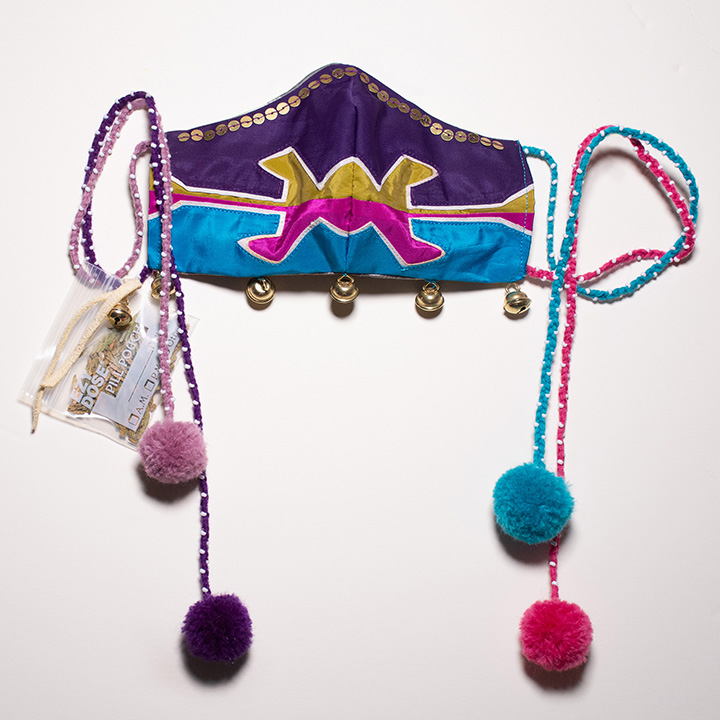 Anita Fields (Osage/Muscogee), IG:: @nativefields
"All My Heroes Wear Ribbon Work," taffeta ribbons, thread, yarn, beads, brass bells, metal sequins, plastic pill pouch, photo images printed on silk, and embroidery thread. Techniques include snip-and-turn ribbonwork techniques, sewing, and four-ply braiding with beads. Judge's Choice: Staci Golar, Jami Powell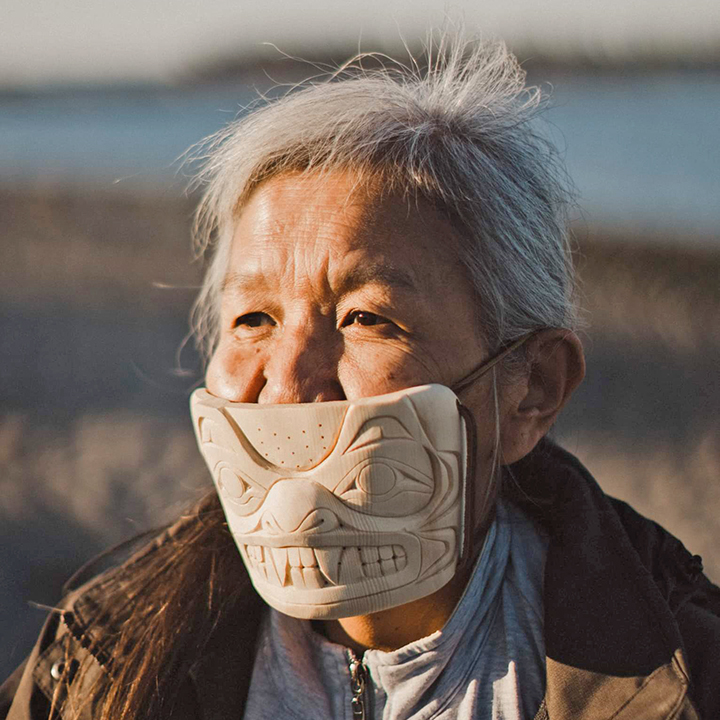 Howard La Fortune (Tsawout First Nation), Bear Snout
"Bear Snout," yellow cedar and leather, hand-carved, sanded inside and front, hollowed by hand with curved knife. Photo: Sydney Woodward.
FB profile: Howard La Fortune, Twitter @howardthduck64, IG @thduck64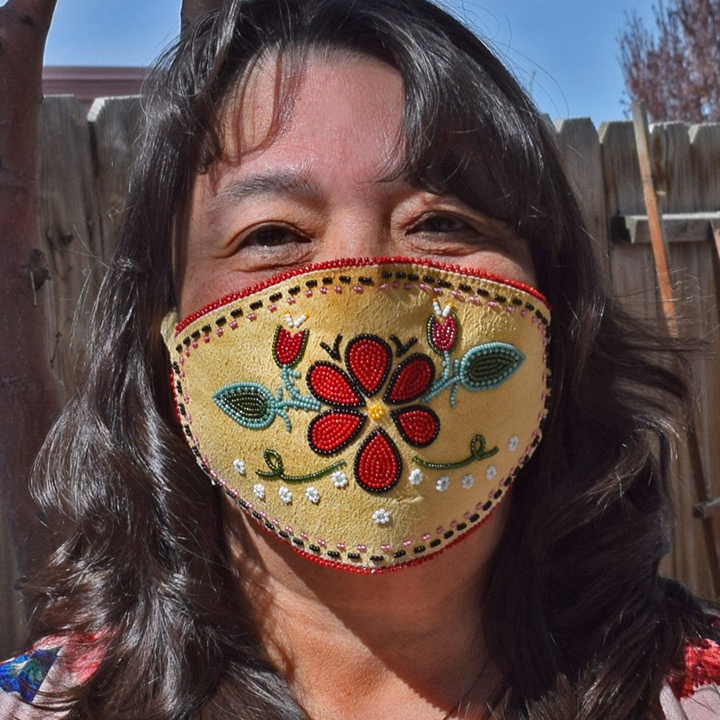 Brenda L. Mahan (Koyukon Athabascan), Spring
"Spring," moose hide, 11° seed beads, Ultrasuede, using two-needle bead embroidery. This spring everything is budding, everything is new and fresh just like my flower.
FB profile: Brenda Mahan (Brenda LaPlante), IG @flwrquilt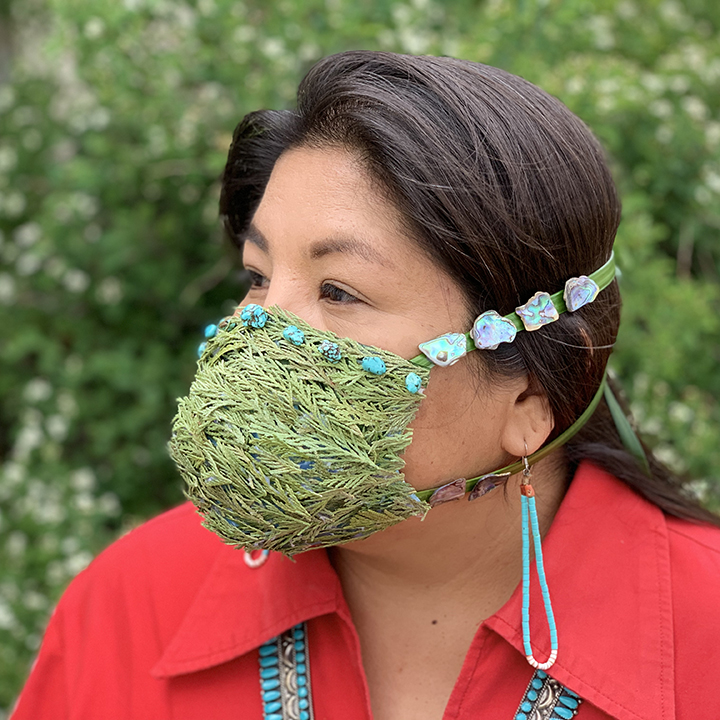 Shayai Lucero (Acoma/Laguna), Breath of Life:
"Breath of Life," Medical face-mask covered with dried juniper leaves and accented with genuine turquoise stones, lily grass ties accented with abalone shells. In my Pueblos, juniper (Keres: k'aani), an important medicinal plant, is one of my favorites. I have studied medicinal plants since I was 13 years old. I wanted to create a piece that integrates my skills as a floral designer/artist and medicinal plant healer.
www. earthskyfloral.com, FB @EarthSkyFloral, IG @EarthSkyFloral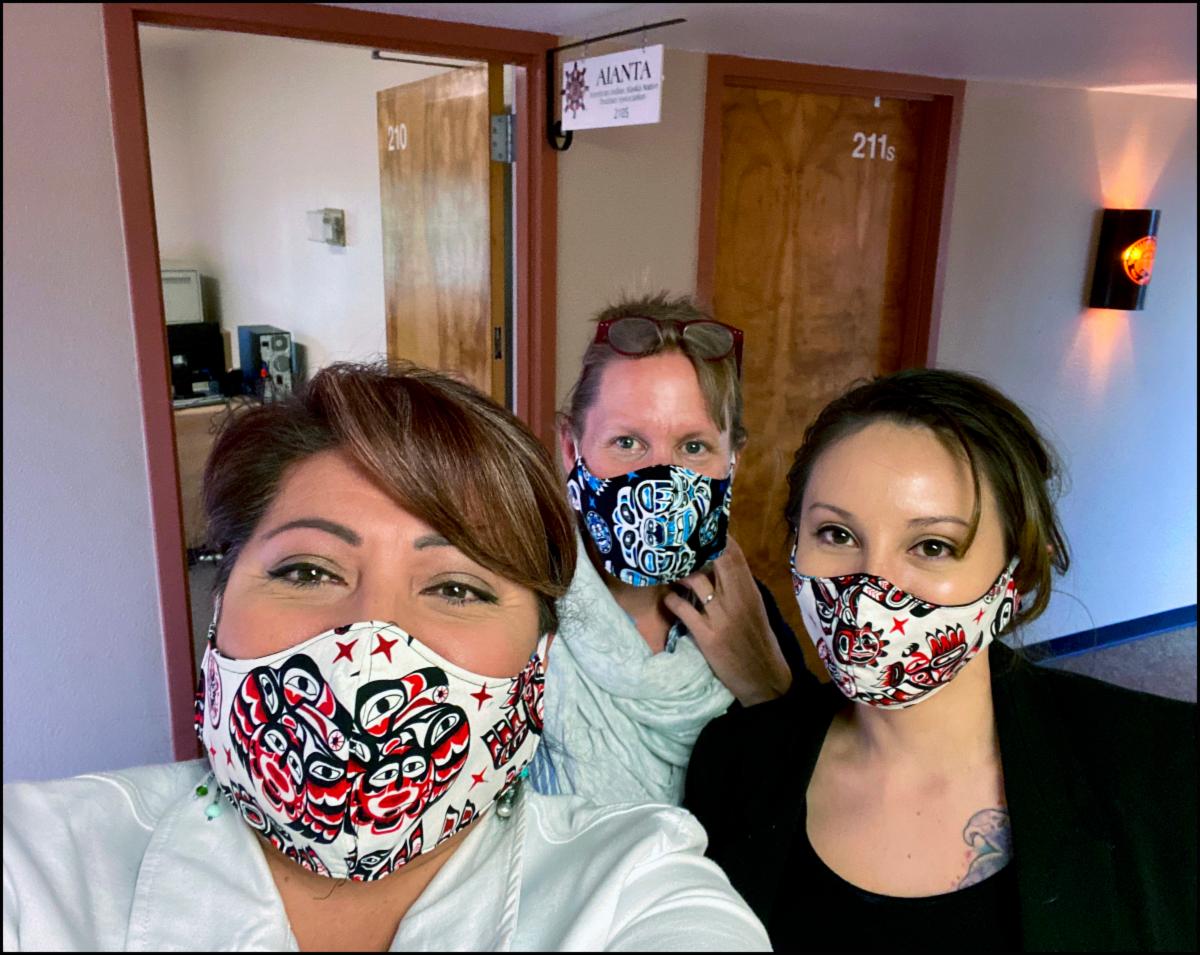 Rachel Moreno (Tlingit)
The Tlingit designed masks were made by Rachel Moreno, an AIANTA board member for AIANTA's  Alaska Region.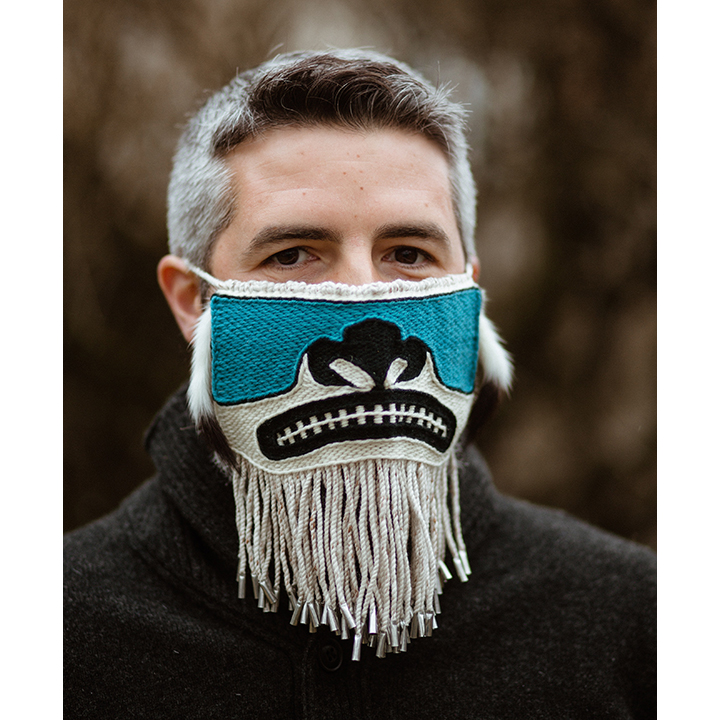 Lily Hope (Tlingit), Chilkat Protector
For hundreds of years now, Chilkat Blankets have documented history, clan migration, and stories for the Indigenous peoples of the Northwest Coast of America & Canada. "Chilkat Protector" will serve as a record of this time. In the future people will know we were here, we took care of each other and we survived. We are still weaving. Materials/Techniques: Chilkat Weaving using thigh-spun warp of merino wool and cedar bark. Merino weft yarns. Ermine tails. Tin cones. Model: David Eckerson, Photography: Sydney Akagi
www.lilyhope.com, IG @lilyhopeweaver, #lilyhopecouture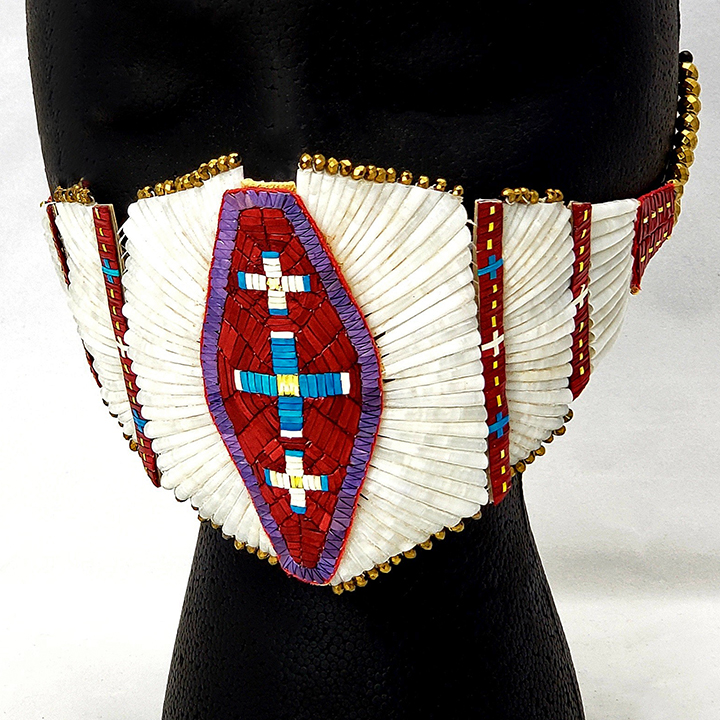 Bill Mendoza (Oglala Lakota/Sicangu Lakota), Dentalium and Quilled Mask
"Dentalium and Quilled Mask," quillwork, Dentalium, braintanned leather. It is said that porcupine quillwork is sacred and healing, both in it's creation and adornment. Mendoza creates high-quality Northern Plains quillwork and beadwork and pursuing a doctoral degree in Education Leadership at Montana State University.
www.quillbillcreations.com, FB @QuillBillCreations, IG @quillbillcreations